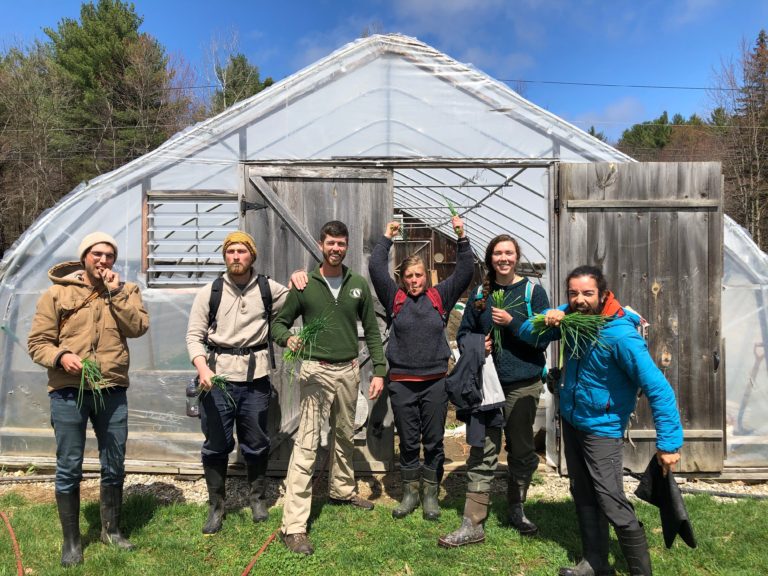 Job Opening:  Kroka Community Farmer
Kroka Expeditions is a residential wilderness school based on a year-round organic farm in Marlow, NH.  We are seeking both farmhands and an assistant farm manager to join our dynamic team. Our diversified farm comprises 30 acres of pasture, hay fields, 3 greenhouses, and 2.5 acres of expanding vegetable production amidst a beautiful 100-acre campus. Livestock includes dairy cows, laying hens, and a draft horse. With plans to add broilers. Our vegetable plots produce a variety of greens, root crops, fruit and berries to feed 1,000 students who join Kroka's programs annually. The farm is managed by a lead farm manager and aided by farmhands, staff and students. Working in a close-knit team, our farmers plan and execute food production and farm education while tending to the land and the animals using biodynamic and organic practices.  The position includes on-campus housing and meals, shared with our seasonal community of educators and wilderness guides. 
Compensation:  Salaried, based on experience.  Housing and meals included, as well as farm produce and full participation in the social life of our community. 
Schedule: Our farm season runs from March 1st – October 31st.     Our typical daily schedule is 6:30 AM – 6:00 PM, with hour-long breaks for breakfast and lunch.  Staff receive one full-day-off and one half-day-off per week.   The possibility exists for year-round work for those who demonstrate the interest and capacity to be useful throughout the winter season. 
Responsibilities: The farming team manages all aspects of Kroka's diversified, organic, educational farm including:
Diversified vegetable production: seeding, cultivation, harvest, distribution

Intensive rotational grazing including fencing and pasture management

Animal husbandry including dairy and poultry

Care of fruit trees and perennial crops

Daily farm chores: morning, noon and evening – including milking

Production of value-added products including cheese and yogurt

Leading daily and weekly work projects with students of all ages

Maintaining farm equipment and barn spaces

Carry out other responsibilities inherent in being part of a working farm and residential community!
Qualifications & Experience:
a minimum of 1 full season professional experience in commercial or educational organic farming/gardening.   

A willingness to work with students ages 9 – 19, apprentices and staff in farm education.

Excellent verbal and written communication skills, proven work ethics, consistent positive attitude, attention to detail, and capacity for cooperative teamwork

a valid drivers license with clean record

the ability to work outdoors in all seasons in a physically active role