Risk Management Committee

Kevin Slater
An active guide for over 35 years, Kevin has traveled extensively in the north by canoe and dog team with Natives. This has provided him with a deep respect and understanding for the people and their culture. Kevin has done numerous canoe expeditions in Maine, Quebec, Labrador and a pioneer descent of the Grand Canyon. He is an excellent teacher and a certified instructor-trainer for the American Canoe Association. Kevin has been a registered Maine Master Guide since 1976. He is a former Program Director for Outward Bound and taught at the University of Maine where he received a Masters of Education degree in 1984. Kevin is a true craftsman who takes great pride in what he produces from his workshop. In his rare moments of free time, he enjoys listening to Celtic music and writing occasionally for Mushing magazine. Kevin and his wife Polly founded and run Mahoosuc Guide Service in Newry, ME.

Bruce Lessels
Before starting Zoar Outdoor, Bruce was a member of the U.S. Whitewater Team and won the bronze medal in C-1 at the 1987 World Whitewater Championships in France. He and his wife, Karen both served as board members of the Deerfield River Watershed Association, the US Canoe & Kayak Team and New England FLOW. Bruce is past chair of the Franklin County Chamber of Commerce board of directors as well as being an ACA certified canoe and kayak instructor. He has written several whitewater books for the Appalachian Mountain Club (AMC) including The Whitewater Handbook, an excellent source of whitewater technique information for all levels of canoe and kayak paddlers and Classic Northeastern Whitewater Guide, a comprehensive guide to the best whitewater runs in the northeast region for novices to experts. Bruce and Karen co-authored a book in 2002 for the AMC entitled Paddling With Kids. At Zoar Outdoor, Bruce is in charge of overall operations, marketing, finance, and business development.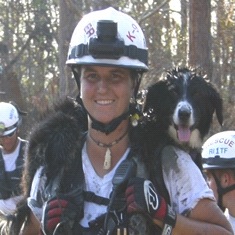 Michelle Murphy
Michelle is a full-time firefighter for the city of Pawtucket, RI (the first and only female in the city's history). She currently is an EMT-C, working for both the RI fire academy as a technical rescue instructor and the Barnstable County, MA fire academy. Michelle likes to keep busy and never stops craving new adventures and opportunities for learning. Over the past 20+ years she has been a USAR FEMA instructor, USAR K9 handler (deployments include the Atlanta Olympics, WTC, and Hurricane Katrina), wilderness SAR K9 team member, dive rescue team member and wildland firefighter. For fun she loves hiking, mountain biking, camping, kayaking, horseback riding, and traveling. Michelle lives on Cape Cod with the world's greatest family: her awesome husband "Murph", her daughter Scout, 5 dogs, 3 horses, and 1 pony (for Scout of course). Michelle also has a son Zach, who is a Captain for his fire department, chemistry major, and about to enter Marine OCS. Michelle has been teaching Wilderness Medicine at Kroka for many years.

Jed Williamson
Jed is a member of Kroka's Board of Directors and is President Emeritus and now Adjunct Faculty – Sterling College in VT.  He is co-author of the AEE Accreditation Standards for Adventure Programs, was editor of Accidents in North American Mountaineering for 40 years, and co-designer of the "Live, Learn, and Teach" graduate program in experiential education at UNH, where he was on faculty for ten years. He was an instructor, program director, and director at various Outward Bound Schools. Jed is one of the founders of the Wilderness Risk Managers Committee. He has conducted over 50 on site accident investigations and 20 accreditation reviews. He has served on several boards, including Central Asia Institute, NOLS, SCA, and AEE. He currently serves on the Heartbeet Lifesharing and Upper Valley Educators Institute boards.  He lives with his wife Perry in Hanover, NH. They have two daughters and four grandchildren.

Brian Kunz
Brian is a skilled outdoor educator and administrator with thirty-five years of experience working in the field of outdoor programs, primarily with university programs and Outward Bound schools, but also with corporate and international groups. He was the Deputy Director of Outdoor Programs at Dartmouth College from 2008 to 2018, where he supervised program and facility staff, advised clubs within the Dartmouth Outing Club, worked closely with the director, and oversaw outdoor educational and recreational programs. He has reviewed many outdoor programs for accreditations and safety reviews, and is a wonderful asset to our risk management committee. 

Lindsay Putnam
Lindsay has worked in the field of adventure education and as a classroom teacher for over thirty years. Currently, Lindsay directs the environmental education program at the elementary school in Norwich, Vermont. In this position, she engages children in field based environmental science, stewardship, and community service experiences. A recent focus has been using adventure education in the context of social and emotional skill building. She worked at Dartmouth College for thirty years where she created team building adventure programs for college and professional groups, and was the head facilitator and trainer for new staff. Lindsay has worked with international corporations as well as groups of young adults from countries with political, economic, and social challenges. Lindsay has traveled to Nigeria, Uganda, and Ghana to help develop adventure education and teamwork techniques in a variety of programs. In addition, she has been an ongoing partner in the development of adventure education in Russia with the "Russia Project" since its inception in 1988. Lindsay has co-led students on mountaineering expedition in Ecuador, and has enjoyed wilderness expeditions climbing, ski mountaineering, and whitewater paddling in Peru, Canada, and the northeastern U.S.

Dr. Michael Ennis, MD – Medical Advisor
Dr. Ennis is a family physician in Worcester, Massachusetts and is our medical advisor. He is currently licensed to practice medicine in Massachusetts and is a professor at the University of Massachusetts Medical School.

Echo Bein, MS, C.A.G.S, LMHC – Mental Health Advisor
Echo grew up in a cohousing community in Acton, MA and first came to Kroka as a summer program student in the early 2000s. Echo now works as a mental health clinician and group therapist at the progressive Boston-based firm Reimagine Counseling, where he specializes in work with transgender and nonbinary youth. Echo is still an avid outdoorsperson, and he can often be found camping and practicing bushcraft skills on the weekends.