A Living Building for the Future
Beginning in 2018, Kroka launched a capital campaign to bring its campus into the future for generations to come. The heart of Kroka, our two-hundred year-old farmhouse welcomes a thousand students and families each year as a home away from home. As the hub of Kroka's operations, it functions as a classroom, meeting space, expedition planning center and office, and is also our main cooking and dining facility during the fall, winter and spring.
It became clear that Kroka had greatly outgrown the farmhouse and it was time for a major renovation. This created an opportunity to create a strategic and efficient building that would preserve the simple, authentic, and rustic qualities of the farmhouse while showcasing innovative technology towards a more sustainable future.
Thus began a grand reconstruction project aligned with Kroka's values to create the very first Living Building in the state of New Hampshire. Living Buildings are: (from living-future.org)
Regenerative buildings that connect occupants to light, air, food, nature, and community.
Self-sufficient and remain within the resource limits of their site.
Create a positive impact on the human and natural systems that interact with them.
Farmhouse Reconstruction Design Process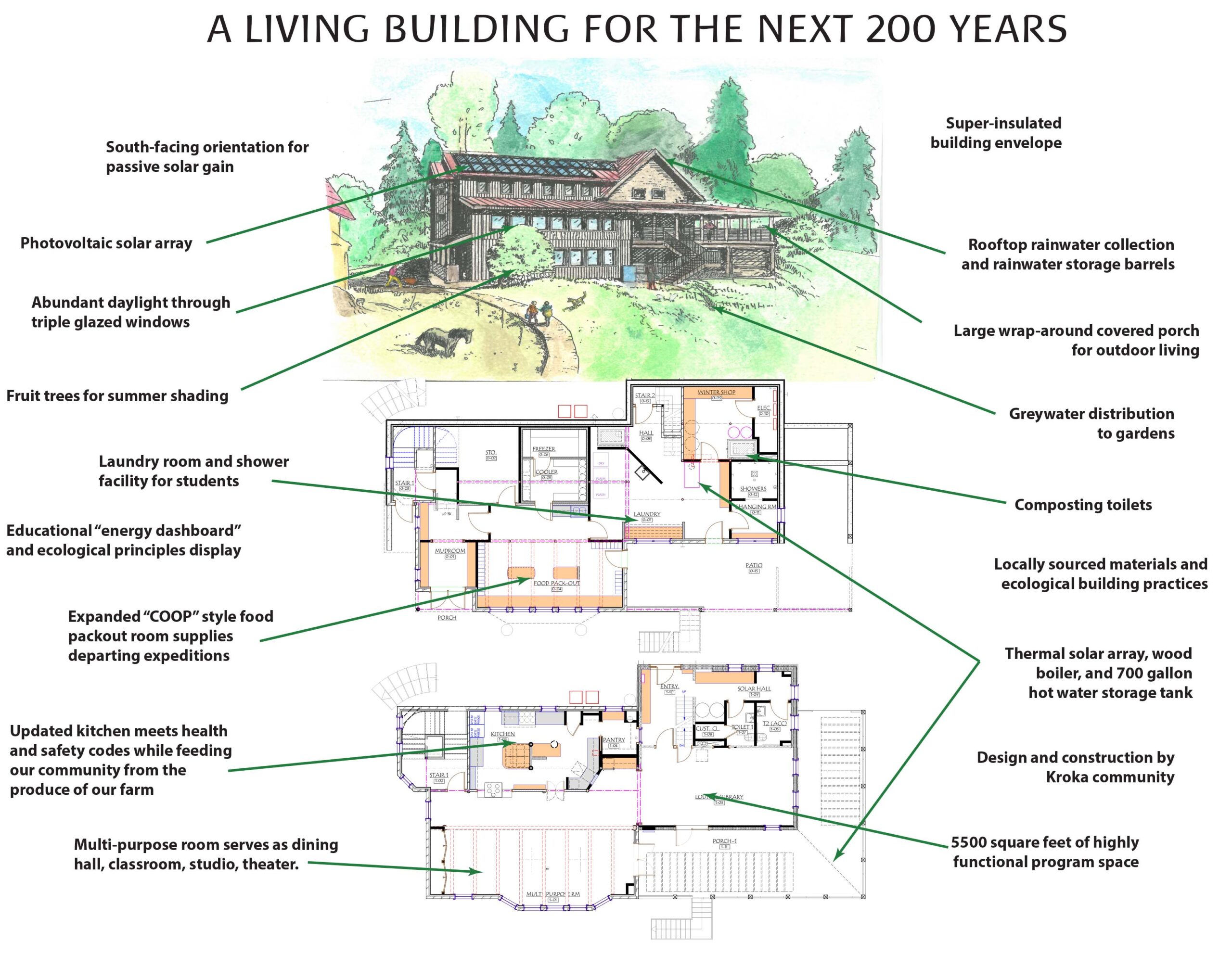 While our Farmhouse is still under re-construction, we are almost there! See our progress outlined in the below table:
Deconstruction of old farmhouse: move office & kitchen, strip building, move farmhouse & pour new foundation.

Rough framing, plumbing & electrical,re-establish essential services, wood boiler, composting toilet, rough wiring & plumbing,

Rough framing, plumbing & elecrical. Redo old farmhouse exterior walls and windows for energy efficiency

Finish Basement: (Food storage rooms, showers, utility rooms)
New metal roof installed

Finish main floor: (Kitchen & Dining Hall)

Finish office floor: (New office space)

Renovate old farmhouse: meeting rooms, lounge, library, bathrooms

Exterior work: exterior siding & masonry

Exterior work continued: photovoltaic & rainwater catchment system installation

Competion of: exterior siding, electrical work, library & lounge, thermal solar system, deck & deck roof

Final touches completed: fire safety system, handicap accessibility, porch roofing, deck railings, main stairwell, decorative shingle artwork (many of these projects will provide educational opportunities for semester students)

Expected completion date Oct. 2nd!
With our photovoltaic solar system now installed, we are generating the electricity we need to operate. Our system is connected to the grid so that any excess power generated is given back for others to use. Track our energy production here!