Grades 8-12
Lost Coast, CA
Strikingly beautiful and accessible only by foot, the Lost Coast of Northern California is a rugged mountain chain spanning 60 miles of spectacular Pacific coastline. Home to an elk herd, majestic redwoods, oaks and Douglas fir, an array of wild flowers and abundant sea life, it is truly a magical place. The narrow trail leads along ridges, across clear mountain streams, and down to hidden sandy coves framed by rugged cliffs. The crash of the waves, cries of the seals, and spectacular vistas make for an unforgettable experience in nature. Students practice challenging hiking and navigation, carve redwood spoons, and at the end of the day are rewarded by a refreshing bath in the stream, running barefoot on the beach and, if they are lucky, close encounters with the elk.
Our journey begins at our Redwood Valley basecamp located at the homestead of our dear friends Luke and Emily Frey in Mendocino County. In 2017, the fall wildfires raged through the property, burning much of the farm infrastructure and personal homes. Along with this devastation however has come incredible resilience and new growth within the community and landscape alike. Here, we will do service work and prepare for our expedition, after which we will embark on a scenic two-hour drive to the Lost Coast.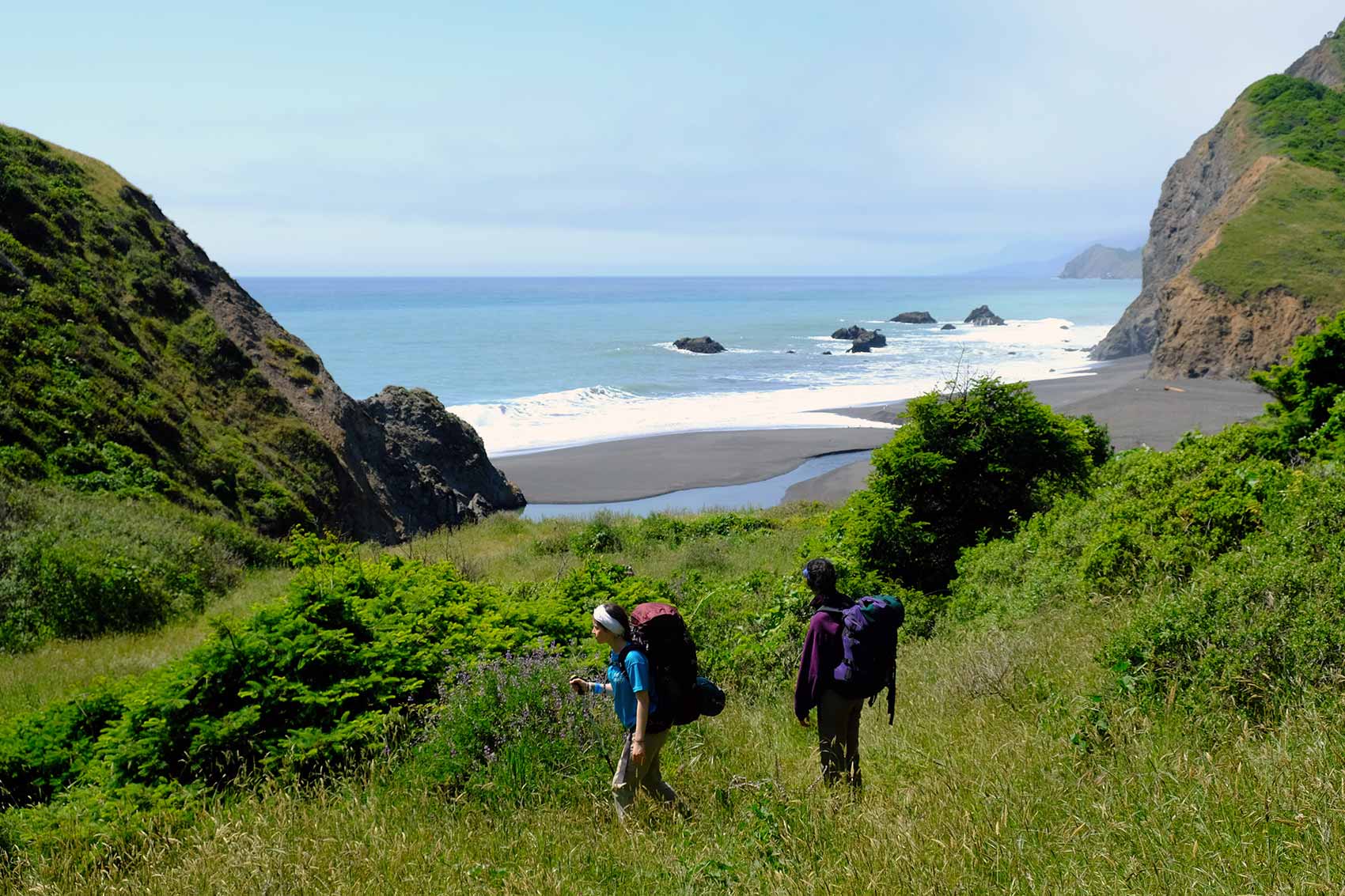 You will arrive at our Redwood Valley Basecamp at 12:00 PM where you will meet your Kroka Instructors. After lunch we will turn our attention to service work and preparing for our expedition.
Up early, we will pack up and drive about 2.5 hours north to our beginning location on the Lost Coast. We will hike along footpaths that wind between forest and mountain and sea. We will reach our first camp and cook dinner together over an open fire.
Expedition! Each day is filled with new adventures as we hike along the lost coast. We will swim, play, and explore the landscape around us as we make our way. In the afternoon we will find camp and busy ourselves to make our home for the night. At night we tell stories, sing songs, and reflect on the day's events.
Coming to the end of our hiking expedition, we will stop to work on de-issuing our gear before driving the distance back to basecamp. There, at 4:00 PM we will have a closing circle, say our goodbyes, and you will drive back to school.