Labyrinth Canyon Expedition
Grades 8 – 12
Labyrinth Canyon, UT
Imagine…
As canyon walls rise above our heads we will observe millions of years of Earth's geological history and thousands of years of human habitation. Students will learn tandem canoe techniques and work as part of an expedition team as we navigate the Green River in Southern Utah. Around every bend in the river await new and exciting opportunities. We will climb, swim, explore and enjoy simple wilderness living. We will learn about river dynamics and desert ecology with the land itself as our teacher.
During the day we will swim in the river and enjoy the warmth of the sunlight reflected off the canyon walls. We will cook delicious meals on the campfire, sing songs and listen to stories about ancient people of the canyons, explorations of John Wesley Powell and adventures of Butch Cassidy and the Wild Bunch. At night as the temperature falls we will gather in our tent where the welcoming heat of the portable wood stove will keep us warm until the sun rises above the rim of the canyon.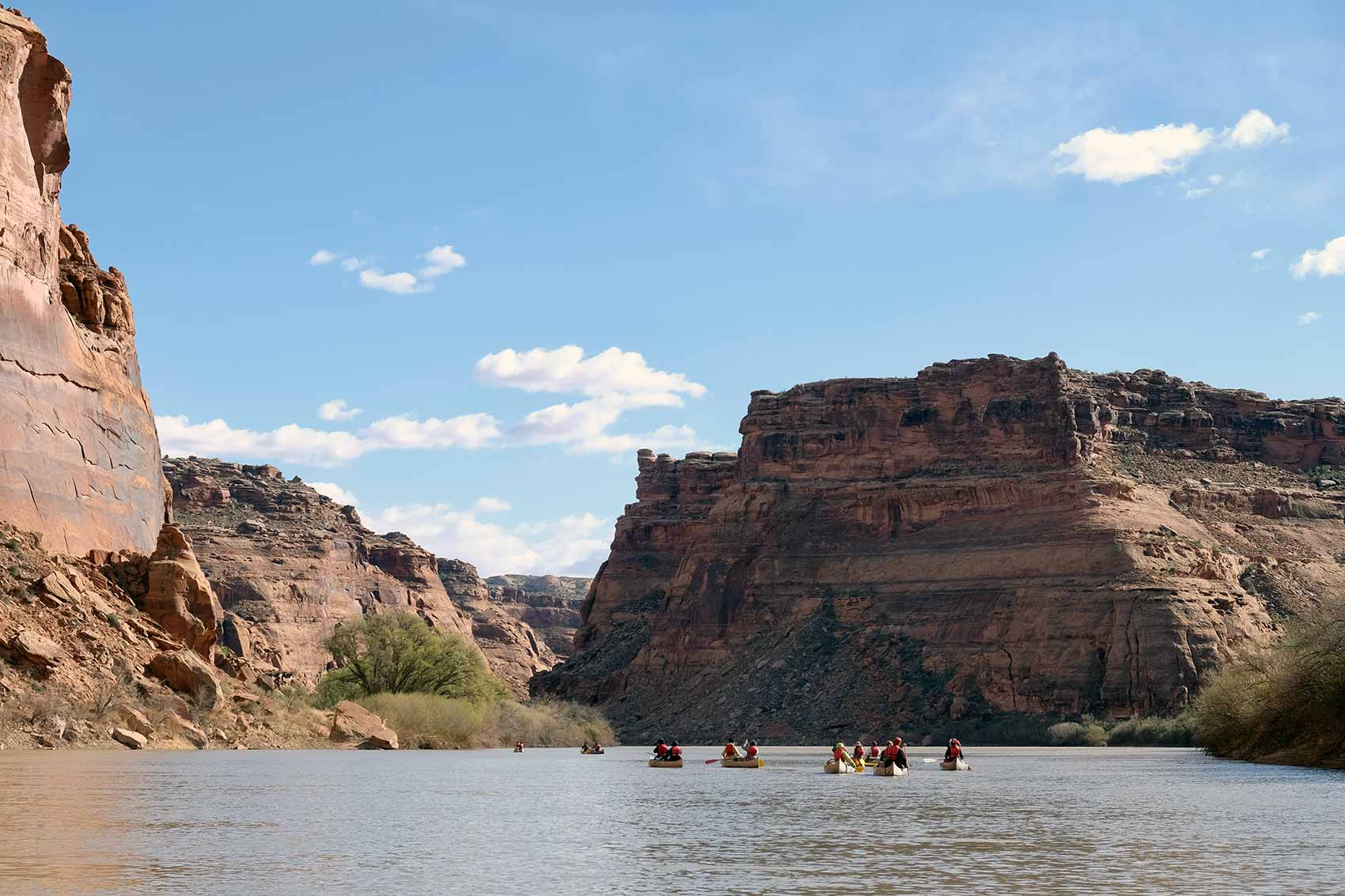 You will meet your Kroka guides at the river in the town of Green River, Utah. We begin our expedition on the shore of the mighty Green River. We will learn some basic boat care and paddling instruction before we pack up and head out onto the river that very same day! Ahead of us are 70 miles of fast-moving river cutting through some of the most spectacular desert scenery on earth. As evening falls we will find a site on the shore of the river to settle into our first camp and cook diner over an open fire.
Up early, we will eat breakfast at our camp and pack all of our gear into the boats for another day of paddling. We will travel through the canyon, exploring the unique scenery and geography of the Green River. In the afternoon we will set up our camps on sandy beaches at the base of side canyons, ripe for exploration and discovery.
Downriver ho! Each day is filled with new adventures as we navigate through the canyon. We will travel an average of ten miles each day. Each day we will have opportunities to swim and bathe in the river and explore sandy beaches, waterfalls, and winding side canyons.
This will be our last day on the river. We will reach our take out by mid morning, returning to the town of Green River in early afternoon. Here, the group will have a chance to visit John Wesley Powell Museum and have a meal at the famous local "Frontier" restaurant, before departing and returning home.