With a successful summer season behind us, the new and improved Kroka Farmhouse has been put to the test while the final stages of construction are completed. Throughout the summer staff packed food, planned routes, held meetings, and shared meals all in newly (or soon-to-be) finished spaces, finessing new systems as they went. All the while, students helped complete projects during their morning chores and our dedicated building crew continued to work as they completed the exterior siding, built the covered outdoor wrap-around deck, installed the photovoltaic and rainwater catchment systems, and much more. It has truly been a summer to remember!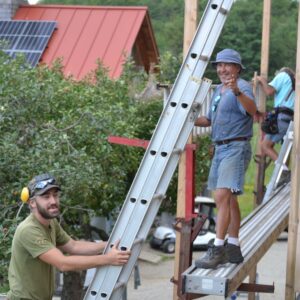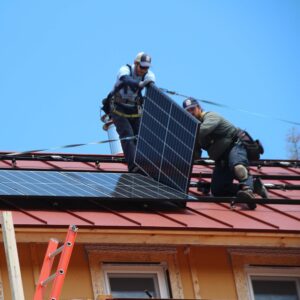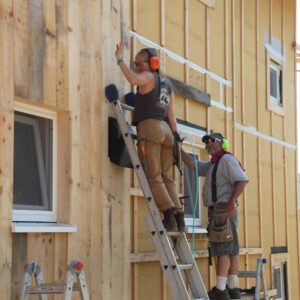 Amazingly, we have stayed mostly on track with our construction timeline despite the busy summer months. Many families, friends and donors had the opportunity to tour the new Farmhouse, and all were impressed and eager to support our work. If you have not done so already, please consider donating to help us reach our final goal of $950,000 – we only have $100,000 left to go!
CONSTRUCTION TIMELINE
Deconstruction of old farmhouse: move office & kitchen, strip building, move farmhouse & pour new foundation.

Rough framing, plumbing & electrical,re-establish essential services, wood boiler, composting toilet, rough wiring & plumbing,

Rough framing, plumbing & elecrical. Redo old farmhouse exterior walls and windows for energy efficiency

Finish Basement: (Food storage rooms, showers, utility rooms)
New metal roof installed

Finish main floor: (Kitchen & Dining Hall)

Finish office floor: (New office space)

Renovate old farmhouse: meeting rooms, lounge, library, bathrooms

Exterior work: exterior siding & masonry

Exterior work continued: photovoltaic & rainwater catchment system installation

Competion of: exterior siding, electrical work, library & lounge, thermal solar system, deck & deck roof

Final touches completed: fire safety system, handicap accessibility, porch roofing, deck railings, main stairwell, decorative shingle artwork (many of these projects will provide educational opportunities for semester students)

Farmhouse completion by the end of the month!