Grades 8 – 12
Bluehill Bay, ME
Imagine… giant wooden canoes slicing the ocean swells, a stiff salty breeze and paddlers dipping and swinging in unison. We are nomads of the seacoast, on our way to a distant island. Each evening we sit and laugh in a circle of friends around a crackling fire as the sun sets and the ocean grows calm…
We will start our journey in a calm harbor near Blue Hill Bay, Maine. From there we will load our boats and launch into the cold, clear ocean water. The coast of Maine is dotted with small islands, and each day we will paddle and weave our way amongst them, together with the wind, tide, and fog. At night we will find a sheltered island cove, pull up our boats, and set our camp. Our focus will be on coastal navigation, paddling, craftwork, wild foods, and the ancient art of making a home in the wilderness. This is a trip about living off the land and the thrill of the ocean. It is about accomplishments, searching for meaning and sharing the joys of our salty, nomadic life.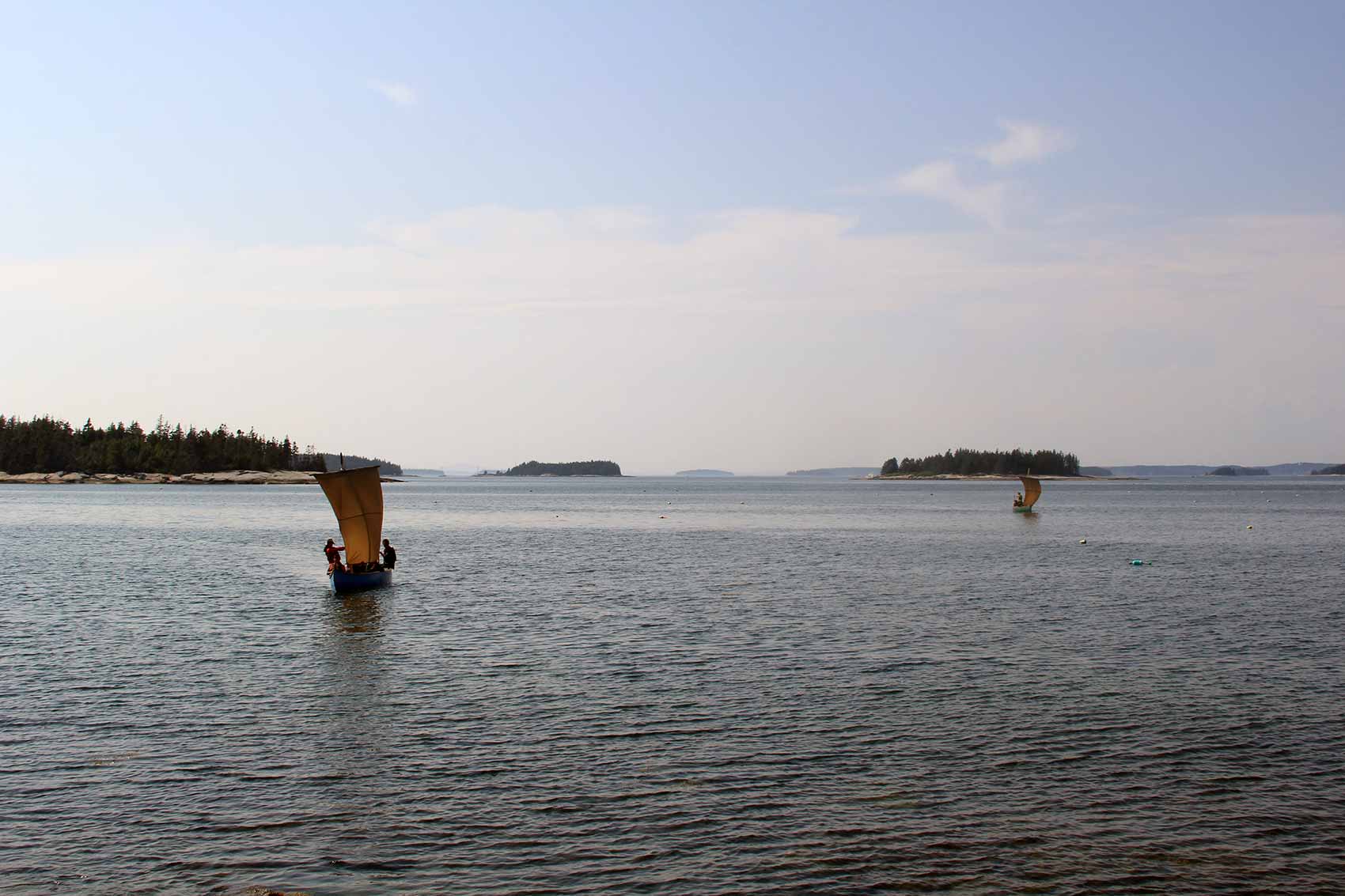 After meeting your Kroka teachers in Freeport, ME, we will head north along the coast to a secluded spot beside the ocean. There we will share an opening circle, and after a paddling lesson we will begin our journey to our first camp on a nearby island.
In the morning we will cook our breakfast and pack up our camp. We will continue to study the basics of safety and paddling as we load our canoes and paddle 3 – 5 miles to our next camp near Deer Isle.
We will spend our days studying navigation, tides and currents, and exploring the Deer Isle archipelago. We will carve beautiful wooden spoons from the driftwood we find on the shore. We will explore tide pools and hidden coves. We will meet the birds and fish that live amongst the rocky shores. Each day brings new and unforeseen adventures as we will paddle through the waves to our next camp. At night we will set our tents, watch the sun set, eat dinner, and share stories around the fire.
Our paddling journey complete, we will return to the harbor from which we started and set up camp once again for our last night alongside the ocean.
After breakfast we will pack up our gear, say goodbye to the ocean, and your Kroka teachers will return you to Freeport by early afternoon.