Grades 7 – 12
Batten Kill River, VT
Surrounded by the peaceful Vermont countryside with breathtaking views of the Green Mountains, we will float down fast moving clear rivers. Around every bend the river holds a surprise for us: a fast moving rapid to navigate, an inviting swimming hole, or a beaver splashing his tail in greeting.
We will paddle between 5-8 miles daily as we wind our way downstream, surrounded by Vermont's beautiful Green Mountains. In the afternoons, we'll set camp on gravel sidebars or in the forested riverbanks. We'll swim in the clear river and cook delicious dinners over an open fire. Life on expedition is both rhythmic and exciting; it invites us to appreciate routine and adventure, anticipation and tranquility, and to realize the strength that lies within community.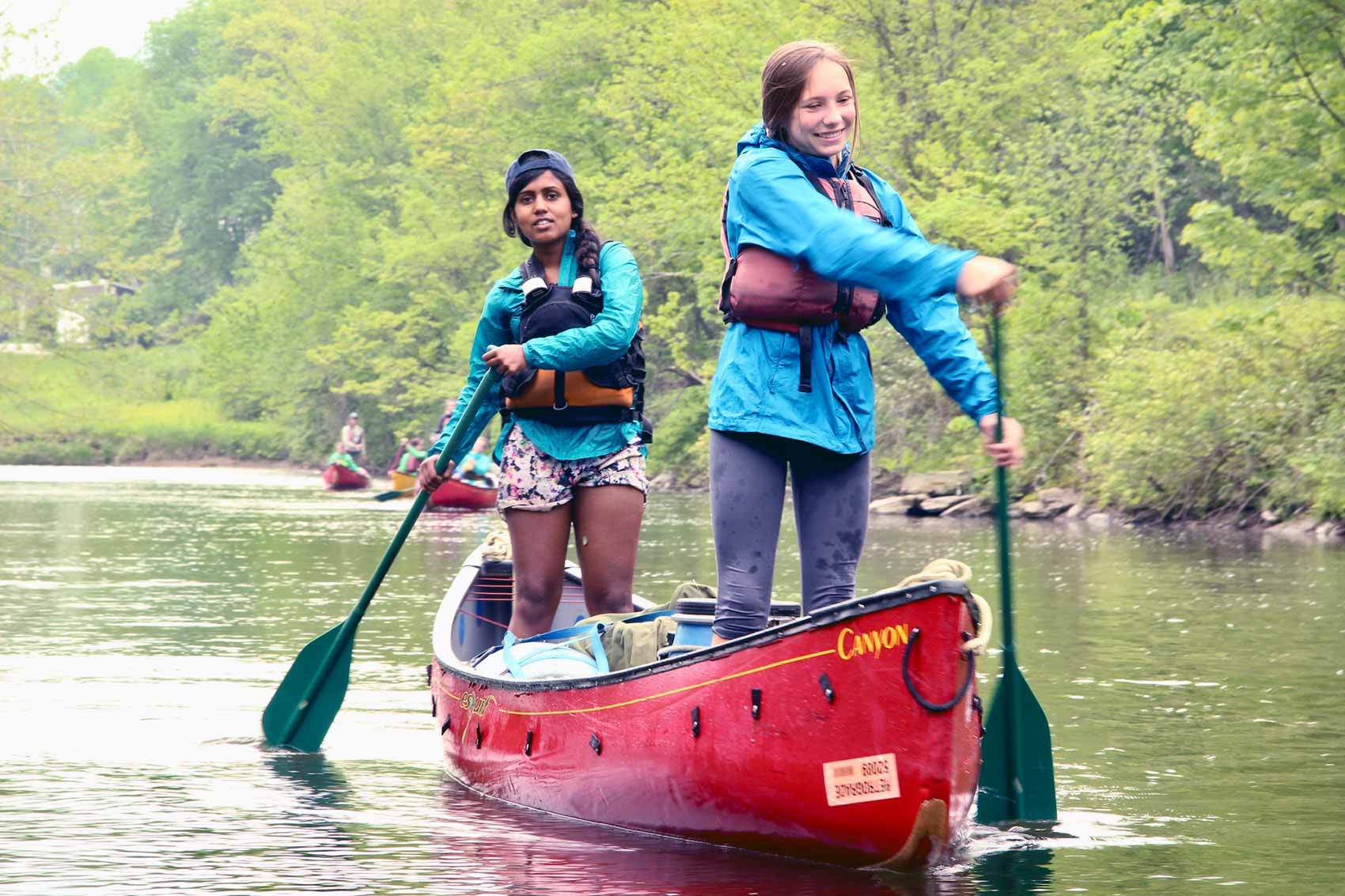 Upon your arrival at our campus in Marlow, NH, the students will meet their Kroka teachers and become acquainted with our beautiful base camp and farm. Students will settle into life in the village on the edge of the forest and sleep in our traditional earthen lodges. In the evening we will hold a circle to discuss the adventures that lie ahead.
We will rise with the sun and start our morning with chores, helping on the Kroka farm and around camp. The day will be spent learning paddling skills on the Ashuelot, our friendly neighborhood river.
With our paddle strokes fresh in our mind, we'll rise early, pack the van and trailer, and depart for the river! We will load our canoes in the water and paddle down the winding river to our first campsite.
We will paddle between 5-8 miles a day as we wind our way downstream, surrounded by Vermont's beautiful Green Mountains. At night, we'll find our camp along the banks of the river. We'll cook a delicious dinner over an open fire and swim in the clear river.
In the morning, we will pack our camp and meet the van and trailer, ready to take us back to Kroka Village. We will spend the afternoon rock climbing near campus, swimming in Kroka's pond, and unpacking from our expedition. We will eat dinner together in camp and share memories from the journey.
After morning chores and a hearty breakfast, students will spend the morning working with the Kroka Staff on service projects around campus. We will join together for a celebratory lunch before departing for campus in the early afternoon.