What to Bring
General notes for all programs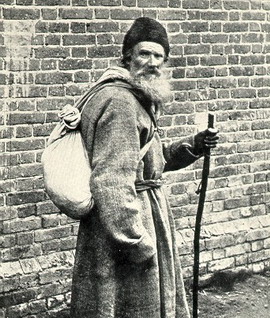 Use this picture of Leo Tolstoy
as a visual aid in how to pack
for your trip!
Packing
The gear list is very simple. It is our intention to bring less so we can experience more, and we try to provide all the items that people don't commonly own. We have a limited supply of items from the list to rent to students, and other items available to purchase. If you have a choice, pack old things rather than new – there's less chance of upset if you rip them or get them wet and muddy, not to mention losing them! With all of the above in mind, it is important to prepare well and follow the gear list precisely. If you need to buy new gear, we encourage you to purchase items that are made with respect for the Earth, and by people who are treated fairly. We can suggest responsible gear manufacturers and distributors, or you can purchase certain items in our store. Regarding personal gear, please LABEL ALL ITEMS and do not bring anything other than the items on the list, unless special needs have been previously discussed with your teachers. During program starts, your teachers will go over all your personal gear making sure you have everything you need. You will be asked to leave anything extra in the student gear bay until your program ends. Extra items take up time and space, so it is better not to bring them.
Appropriate Clothing
When packing for Kroka programs, we ask that you pack appropriate attire. Clothing should not be distracting, disrespectful, offensive, or suggestive. *Please do not pack clothing that advertises products, contains vulgar or sexual language, or offensive and scary pictures. Any clothing instructors find inappropriate will be put in student's gear storage and returned at the end of the trip.
Insect Repellent
We carry all natural bug balm and "Tick Shield" tick repellent in our first aid kit. During the buggy times of day our teachers will make sure students are covered with long sleeved, light weight clothing or anti bug salve. Homeopathic Sting Stop is offered to students who are bothered by bites.
Footwear
Some modern footwear is hard on the wilderness, compacting and damaging the ground cover. Students are encouraged to walk barefoot whenever appropriate, to develop the awareness of a fox and experience direct contact with the Earth. Since most children have little practice walking barefoot, cuts and bruises to feet are not uncommon. We encourage students to wear moccasins at camp as a great medium between barefoot and shoes, but sneakers and sandals are required for daily activities.
Cameras and Photographs
We ask that students do NOT bring cameras, as they distract from direct experience in nature. Our staff take photographs throughout the program that are made available afterward.
Electronics
We ask that students do NOT bring any electronic devices. Each program that heads into the wilderness carries a cellular phone as an emergency communication device. The ocean programs carry a marine VHF radio. Electronic devices will only be used in emergency situations.