The week of Sep. 27th-Oct. 3rd, High School and Gap Year students set off on a second expeditions, retracing each other's paths through peak New England colors. The groups switched: GY students paddled, while HS biked up and over the Green Mountains.
GAP YEAR BLOG
We struck south on the Connecticut river in the late afternoon of September 27th, excited for a week on the water. A mix of skill levels made for an interesting first few kilometers, with some boats gliding through the water while others zig-zagged and circled. As the sky darkened, we spotted over a dozen juvenile bald eagles, as well as a few bats flitting overhead under the yellow moonlight.
The first few days were spent learning the ins and outs of paddling, both on flat water and whitewater. A night was spent at Sumner Falls, where we practiced rescue techniques, swimming, and maneuvering our canoes through the rapids. It was an exercise of trust to plunge into the roiling water with our arms across our faces, knowing our partners would throw us a rope from shore. Eddying, ferrying, and a variety of strokes slowly entered our collective vocabulary.
Sumner Falls

Smooth water shaken into white foam

The river, the Earth, this land I roam

One with the boat and one with the paddle

I work with the rapids, this isn't a battle

Everything blurs, the time around me

Under my clear focus, ceases to be

A bump and a chute, then I'm spit out

I turn back to perceive a new angle of my route

I had forgotten how long I had longed for this

Feeling the pressure on my paddle, snapping my hips

-Emmett Marks-Froot
Halfway through the week, we loaded our canoes into the van and set off for the Deerfield River in Massachusetts. Our home for the next few days was a leaf-carpeted campsite beside Dunbar Brook (a tributary of the Deerfield). We hiked in through old growth forests, with barrels strapped to our backs and firewood slung over our shoulders. The stream was clean enough to drink from, and cold enough that our swims could better be classified as mandatory full-body submersions.
Our daily canoeing was supplemented by Misha's classes on hydrology and human impacts on nature. We read and gave presentations about colonization and its detrimental effects on indigenous people and the land. The rivers we paddle are steeped in history. The Connecticut was once too polluted to swim in, and caught fire every spring as industries pumped waste into the water without thought. Although things are better in New England than they were in the past, our world as a whole is suffering. Misha left us with a lasting message: the power we have over all living things is not power, but a responsibility of stewardship.
Our week on the water culminated in a trip down Zoar Gap, a challenging class III rapid. I'll let the pictures tell the story.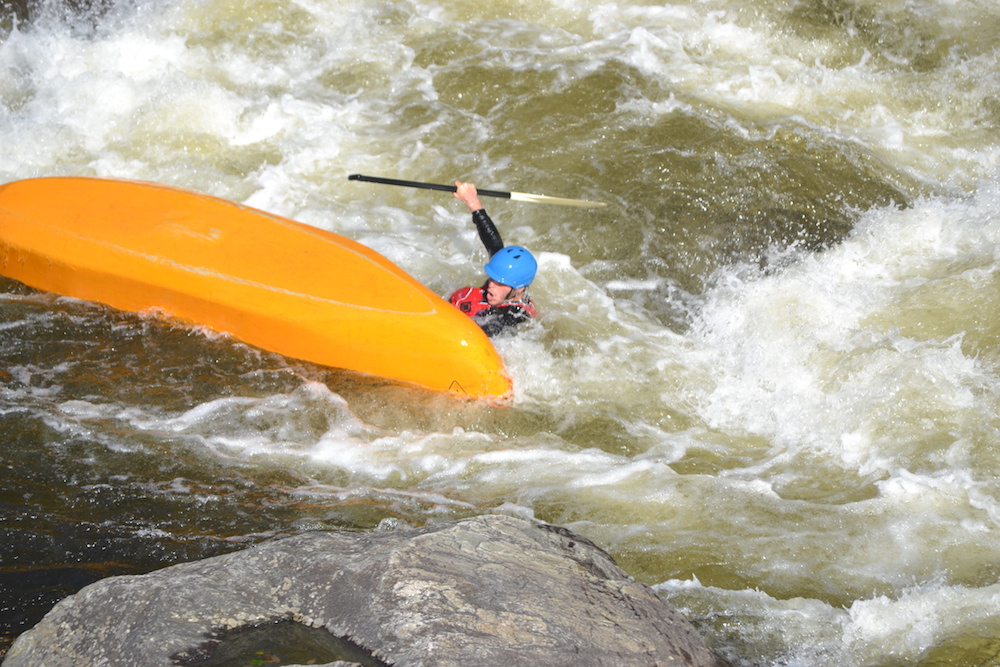 HIGH SCHOOL BLOG
Taking some final glances at Basecamp's fall foliage, we set off on our 127km bike packing expedition. Traveling through the forest, we began to get a feel for our packed bikes. Soon we were met with a thick marsh, where we bushwhacked to our campsite. We slowed down and took in all the beautiful hues of fall reflecting off the water, cattails, and tall dead grass.
The second day was our first challenge. We were supplied with fresh food, and we could feel it weighing down our bikes. 20km lay ahead of us, along with our first big hills. As we moved throughout the day, our leg-aching, sweat-covered bodies were rewarded with a blizzard of golden leaves and relieving downhills. We reached our campsite feeling pushed to our limits. After eating dinner we looked back at our day under the moonlight, ready for a good night's sleep and the challenges that were to come.
We woke up early to prepare for our climb–4km uphill to the Pinnacle in Vermont. Steep hills led to views that looked over miles and miles of beautiful rolling hills and colorful trees. We had a lesson about tree identification, and learned more about the trees that create the forest and how to tell them apart. We stopped to hug a few along the way.
We spent the rest of the day biking a steep and technical downhill, experiencing some of the true rewards of mountain biking. Arriving at our campsite at the Old Kroka Farm to rain showers, we cooked dinner and bathed in the river. We sang and then slept through the powerful gusts of wind and water.
We rose to clearer skies and helped out on the farm while breakfast was prepared, meeting some friendly sheep and turkeys as we mucked the barn. Leaving Old Kroka, we had 15km to travel. Biking was getting easier as our bodies grew stronger, and before we knew it we had arrived at our campsite along the West River.
Our next day we had a layover in East Jamaica, VT, where we learned about the rock cycle with Jackie and spent the rest of the day rock climbing. We continued to push each other out of our comfort zones, breaking fears of heights, getting better at climbing, and being on belay with each other. We ate dinner under the full moon, ending our day with just the light from the moon and campfire.
We woke up with well rested legs, broke down camp in the rain, and set off towards Londonderry, VT. After learning some history about the West River, we rode up the West River Dam. Its steep and rocky switchbacks had us on the edge. We reached the top once again covered in sweat, ready for whatever the day could throw at us.
With the following day's impending 30km to travel, we woke up early to set ourselves up for success. Soon after leaving our campsite, we reached the base of our challenge: an 8km uphill climb gaining 429 meters of elevation. At this point, we were ready. Our bodies worked to their highest extents. Aching legs and sweaty backs felt good, aching legs and sweaty backs are good. Reaching the top felt amazing, but we knew it wasn't just about the destination. The push, the discomfort, the sweat! This is what we came here for. We left basecamp with little biking experience but with hard work and dedication we were cruising up hills and flying down the other sides. The remainder of our day was spent navigating technical downhills, launching over water bars on the trails and feeling the freedom of downhill biking in our souls (and our legs).
On our final day of expedition we had just 6km to bike, bringing us to Morris Cave in Danby, VT. Approaching the crack in the rocks, we all had our doubts. Most of us had little to no caving experience and the fears of crawling through small cracks and tunnels of rock were upon us. One after another, we squeezed through the tight slabs of marble. We applied the knowledge we gained of geology and learned about cave formation in the best environment possible. After we reached the underground lake and a few of us decided to dive in, we gathered in an opening to sit and experience the darkness and feel the energy of the cave. We sang and made our way, working together to squish through and get each other un-stuck. We broke through the fears that we thought could stop us.
I went into the cave not knowing much

At first it was scary, I gripped the rocks in tight clutch

After a while I began to notice things

The rocks wrapped in mud and a bat with flapping wings

The bottom of the cave was cold and wide

When we turned off the lights it was black and I wondered

If that is what it's like when we die

On the way out some people got stuck and I got lost

But soon we saw daylight snd when I got out I kissed the green moss.

-Sonai Donnell
Arriving back at basecamp, we reconnected with the whole community and looked back at our experience. The physical and mental growth left us feeling more confident than ever before. We are starting to realize and understand all that we are truly capable of.