On November 21st, Gap Year students drove with Jackie and Magda from desert scrub to the alpine forests of Flagstaff, Arizona. After going over the expedition plan with Misha and Lynne, we packed our bikes and set off on the Arizona trail! After two weeks of paddling and a day in the car, it felt good to stretch our legs as we swooped along packed-dirt trails, although the altitude and our out-of-shape-ness left us gasping for breath at the top of each hill. That first night we camped about five miles from the trailhead, among Ponderosa and Pinion pines, and Juniper that made delicious tea. Beneath the stars and around the fire, we set goals for the coming weeks, looking forward to the challenges and adventures ahead.
For a week we traveled south along the AZ trail, marveling at expansive mesas, dry lakebeds, pine forest and swirling sandstone cliffs. Each day we navigated technical, rocky terrain interspersed with smooth, banked sections, growing stronger in both body and mind.
Because we were now on the Colorado Plateau instead of the low banks of the Rio, the nights froze our toes and our water bottles. (Pro tip: warm hot rocks on the fire to put in your sleeping bag). Nights 2 and 3 were spent in Sandy's canyon, where Jackie taught us that the orange and pink cross-striations on the canyon walls were formed by long-ago sand dunes.
We learned to deal with the scarcity of living in the desert. We could only carry as much water as could fit in our packs, and dropped lunch in favor of lighter bikes, subsisting on breakfast, dinner, and plenty of snacks. This meant we especially appreciated the ice cream we bought at the Mormon Lake general store after a full day of rocky singletrack!
Our longest day began in a frosty pine forest on Thanksgiving morning. We rode on winding trails, slowly shedding layers as the sun flickered between the trees. Saying goodbye to the AZ trail, we traveled towards the Black Canyon Trail via Stoneman Lake Rd. Without topographic maps, we had no idea we were about to descent a few thousand feet—all the way from the Colorado Plateau to the red rocks and cacti of the Sonoran desert! As we sailed down, the sky opened up and a faraway haze of mountains and mesas came into view. For hours we soaked in the landscapes around us, and at one point rode along the edge of a cliff, looking down into the golden valley below.
Over thirty miles later, we were camped near Beaver Creek, back in the land of sand and spiky things. We ate a mac n' cheese dinner beneath the stars, grateful for all that had brought us here together.
Our second week of expedition took place on the Black Canyon Trail, a beautiful but challenging path through the desert. On our first day, Jackie fell sideways into a Prickly Pear! Her arms, neck, and hands were covered with large spines and tiny, hair-like needles. In true Jackie style, she laughed it off. "Maybe this means my spiritual animal is a porcupine." We all clustered around her, carefully removing the spikes.
We set off again through Antelope canyon, swooping and switchbacking along heart-pounding cliffs. Two nights were spent in a town called Bumble Bee (population: 11) where we marveled at the iconic Saguaro cacti that populated the hillsides. They look so humanoid that we're sure they walk around at night and have meetings under the full moon.
A day-loop with light, unloaded bikes showed us just how far we'd come. Tackling technical drops and uphills and weaving around obstacles had worked its way into our daily rhythm and we all took on challenging sections of the trail with a smoothness that wouldn't have been possible at the beginning of semester or even at the beginning of this expedition.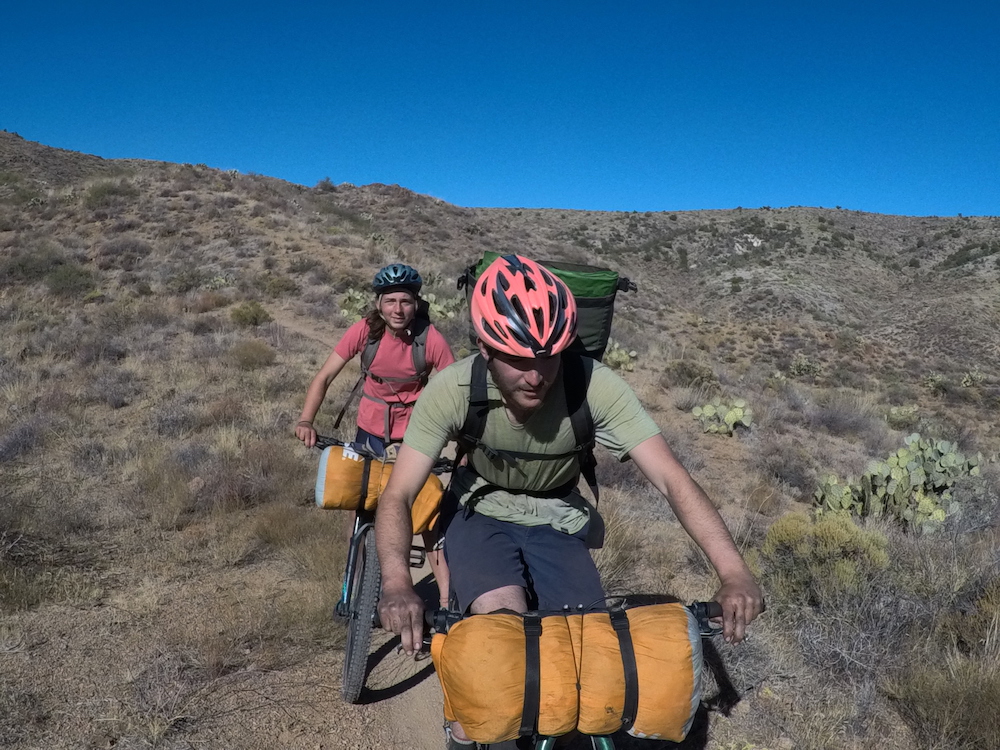 It was time for our final leg, the group solo. We had our own 80 miles to cover, over the course of our last four days on the trail. On day 1, we made our way to Black Canyon City, working through some navigational issues to find the beaten-down ATV road that would take us into town. Jackie and Magda met us briefly for our resupply, and breakfast-for-lunch at the Two Brothers restaurant. Then we headed up towards the trailhead, switch-backing up a section of table mesa as sun set against a glowing pink backdrop.
We camped along the Agua Fria River, which we would roughly follow for the next couple days, winding and bumping and sometimes pushing our bikes up the trail before dipping back down to the streambed to rest and consume copious amounts of orange cheese powder with every meal.
Every night on the trail we took turns telling the stories of our lives. One by one, the nine of us spent an evening around the fire deeply sharing our childhoods, the ways we changed and grew and what made us who we are today. The rest of us listened and asked questions afterwards. Our sharings constituted anywhere from half an hour to two hours of vulnerability; it was an extremely powerful experience for all.
Our last stretch of expedition was full of bike problems. Big shout-out to Aislyn and Sam, our gear managers–they dealt with over 15 flats in the course of a few days! Cactus spikes are brutal, but they did everything possible to make sure we could continue, including replacing and patching tubes, and putting small tubes in larger tires to make it work. After many delays, we were finally pedaling the final thirty-five miles to Phoenix. The miles went by fast, and soon we were biking in pods of three through endless suburbs. The buildings rose around us, and finally we were gazing wide-eyed at the glass towers and greenery of downtown Phoenix. We met the instructors in Central Arts Plaza, and hugged before resting in the grass. Taking off our shoes was a mistake; the collective smell was very "cheesy," as Jackie put it.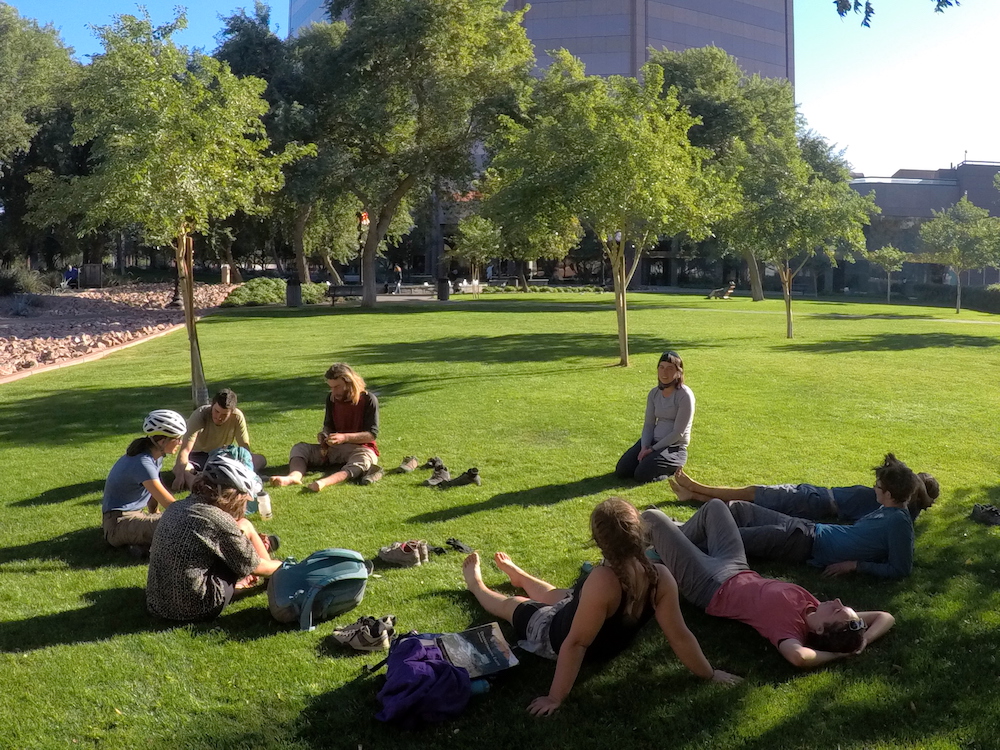 Over 186 miles later, here we were; at the end of not only our bikepacking trip, but our last expedition together. We've been through cold, freezing nights and pedaled up hills in the blazing sun. We've witnessed the desert glow pink every night, and learned the names and stories of the constellations. (We saw some UFOs too, but that's a tale for another time.) We've been cactus-spiked and rock-scraped until we bled, climbed canyon walls and plunged in frigid water, heard each other's life-stories around a fire and beneath the omnipresent moon. We've smelled the vanilla bark of Ponderosa pines, and craned our necks at crazy tall Saguaros.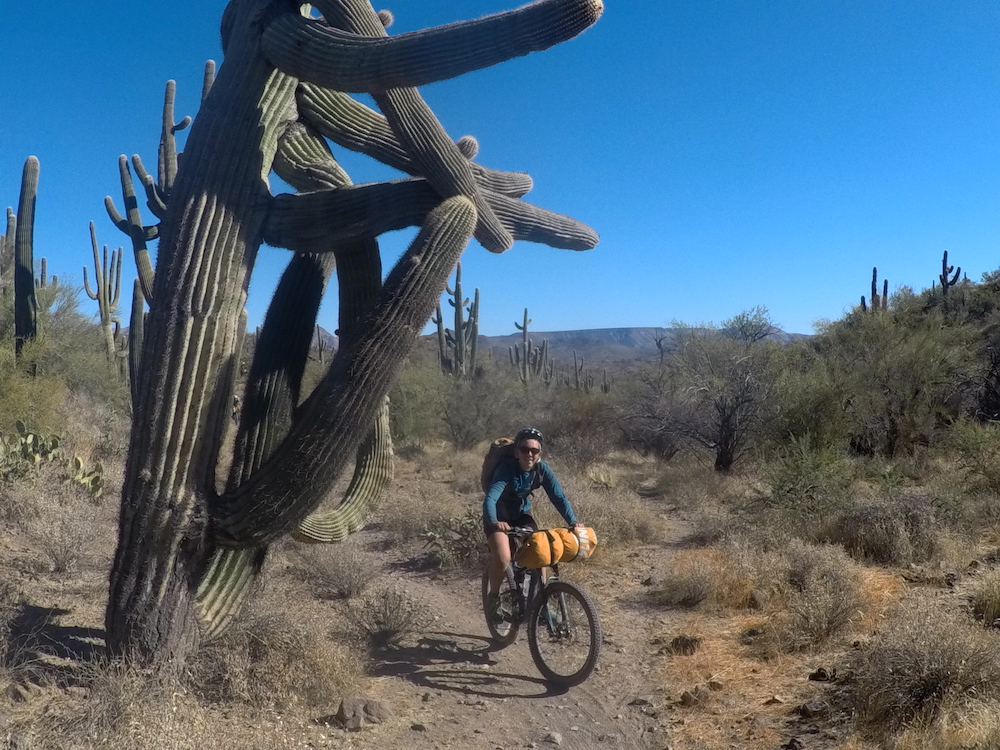 This is a land of extremes, and the emotional highs and lows were as sharp as the change in temperature as the sun went down. Through it all, we've learned to thrive in community, and developed an inner strength that will burn within us far beyond our time in the desert.