2021 LEGENDS OF THE RIO GRANDE SEMESTER BLOG #8
Hello! Welcome back. And don't worry, we are all still happy and very much alive. Seeing our bikes again after all those weeks we spent apart felt like a uniting of old friends. They have carried us on 270.5 miles of rocky trails, between boulders, aspens, canyons and saguaro, growing like great, looming beings, watching us with countless eyes.
We have climbed Humphreys Peak, up to where the air is thin and cool and little mountain plants grow under bare feet. We have sailed down into plains of wild grass, turned gold in the light of the setting sun, our tires disappearing in the glowing hues. Biking is rhythmic: the action itself, and the routines we have in place to keep us moving smoothly, like an oiled chain.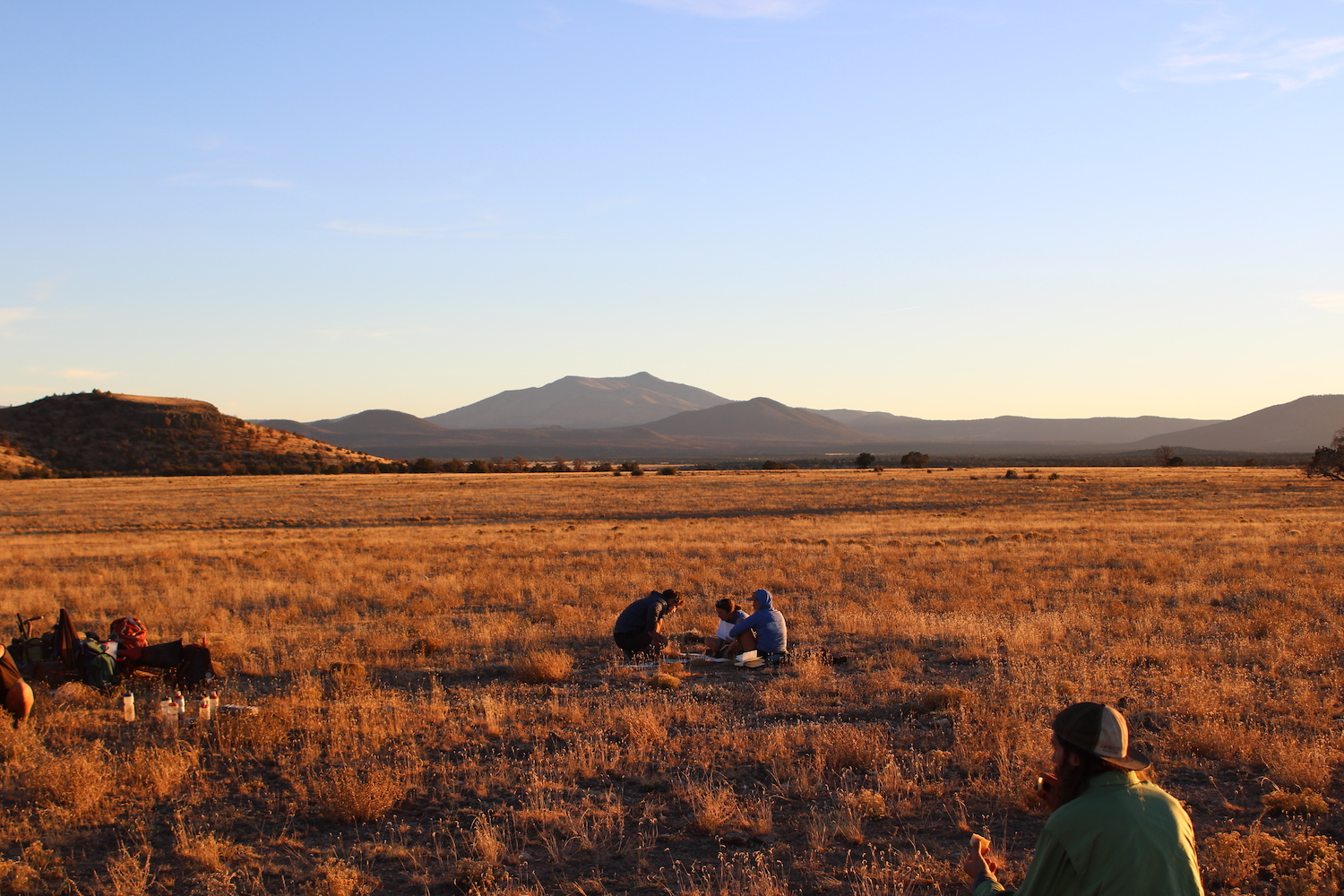 There is not time enough to tell every story, for every day of riding is a journey by itself. I have fallen deep into my own mind, almost meditative, eyes soaking up the landscape around me.  Ride with us, and as you read I invite you to become conscious of the space you hold.
The leader of the day–a volunteer from the crew to lead all of us for the day–sings us awake in early morning twilight. We emerge from our tents, stretch, break down camp, pack up our bikes, and go. Having leaders of the day has been a chance for each of us to practice and teach each other with our unique leading styles.
At the end of the day, bathed in flickering firelight, the leader has ten minutes to share their life story. I am continually amazed by how I'm still getting to know these people. We have learned to travel as a group, supporting each other throughout our rugged travels, with each rotation of the pedal, we grow stronger.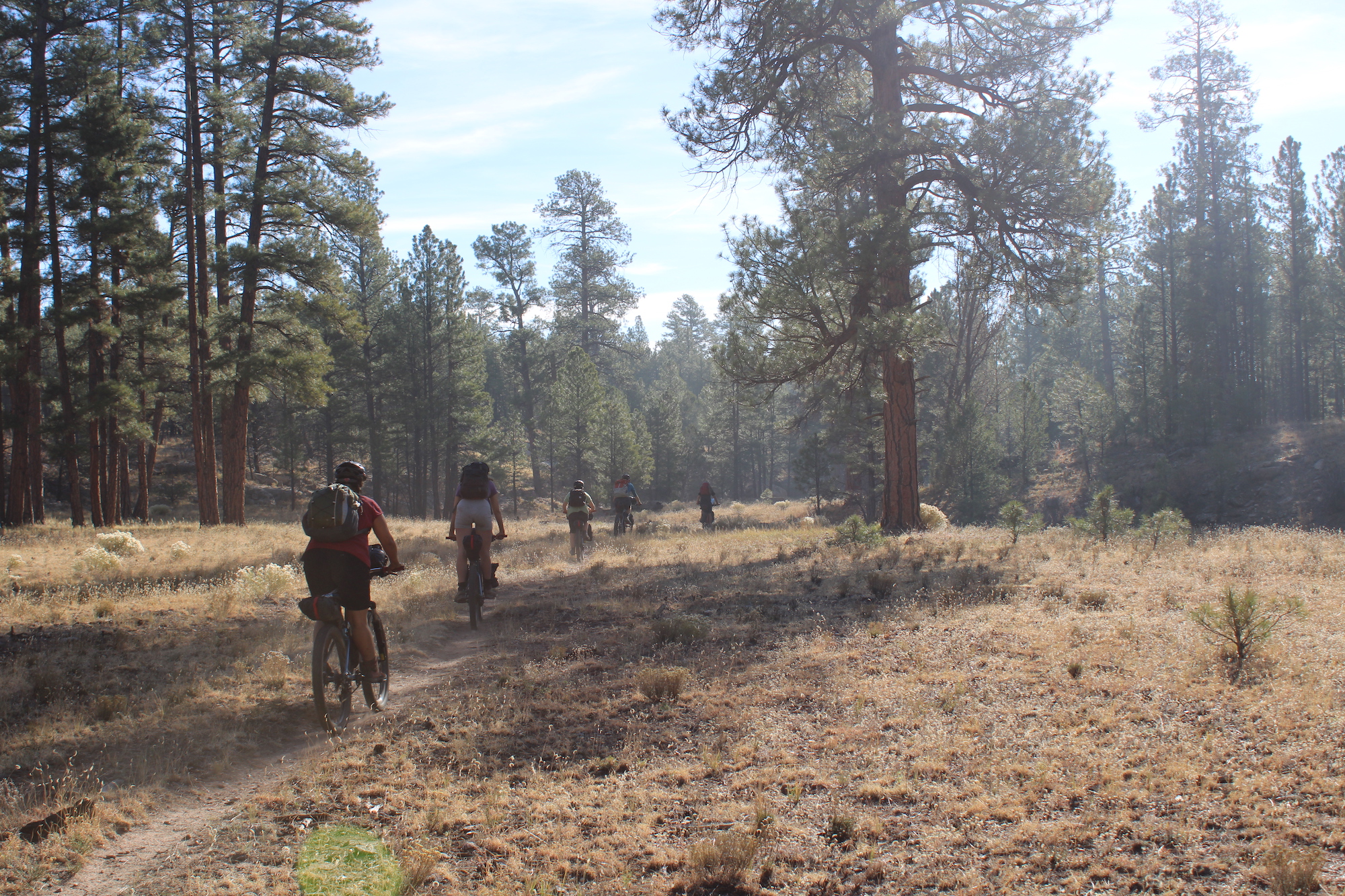 From Cecily's journal: "I told Ayama and the Thorn Wood to Ave, and some others caught bits of it. I was overjoyed to tell a story again. We had a long day, with a lot of climbing. Zzyn led today. We stopped for lunch at a cliff/cave thing. The stone had been marked in many directions by the wind.
The singletrack was difficult today, but I went up and down many things I would never have thought possible when I was crying at Hermit Hollow two months ago.
The bike gods were merciful today, with few, and minor, issues. It was dark when we got to camp, and the coldest night we have faced so far."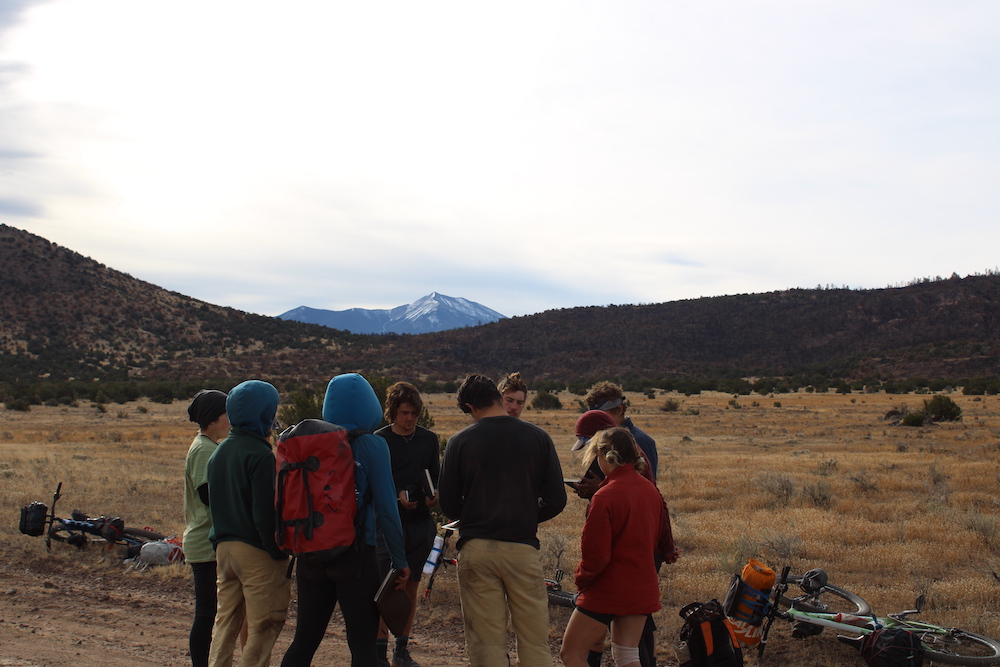 The AZT is a trek of grace, and as we rode I was repeatedly surprised by how well maintained the miles were, and how much dirt we had accumulated on our hands and faces. To combat this we took bird baths out of soapy dinner bowls. Clear water turned brown in seconds. I recall being glad to see my toes for the first time in a long time. Collectively, the group decided to become gremlins, collecting rocks from the ground and stashing them in our pockets, bags and backpacks. We seem to recognize the soul in them.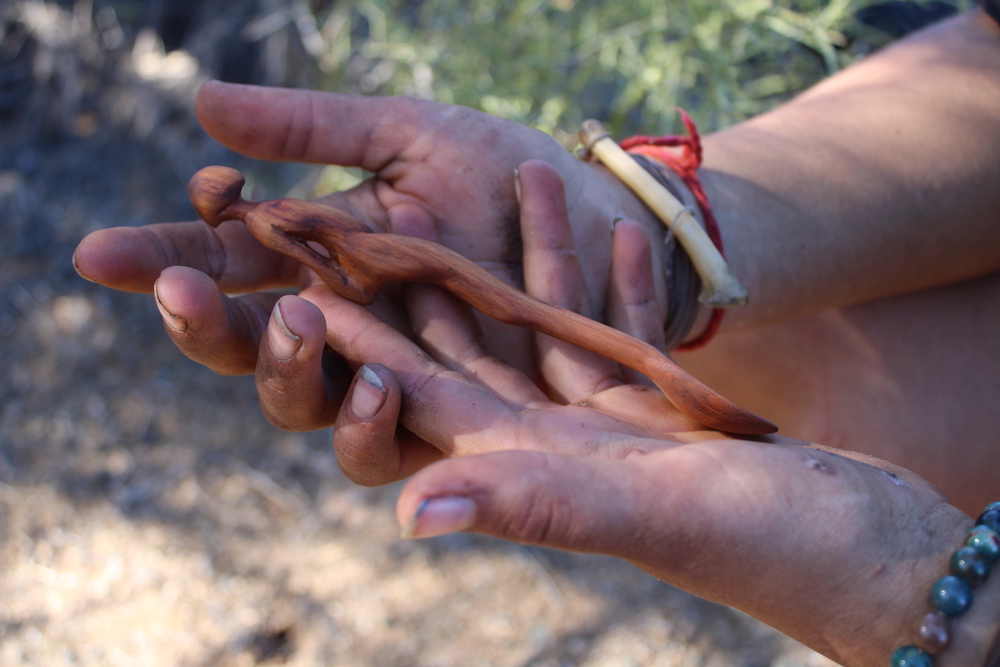 "I watch as time pushes me to the surface
landscape changing as I remain.
The greens are always different
But I, always the same.
A blink of an eye and quartz friends disappear
shiny rocks taken by those short-lived.
But I remain behind
Until someone takes me, and puts me on their neck.
When they're done, I return and remain."
– Zzyn, on rocks
Our most technical ride of the trip was ascending Humphreys Peak on the 7th of November. Cold nights and sweaty days carried us miles and miles, and throughout our journey, we repeatedly ran into a fellow traveler, Acadicus, a backpacker on his way to Mexico, who had just spent the summer in Warren, New Hampshire! Drawing a stranger behind the setting sun. Big white teeth behind a wiry beard. Big, bright eyes. Stars come out against desert skies.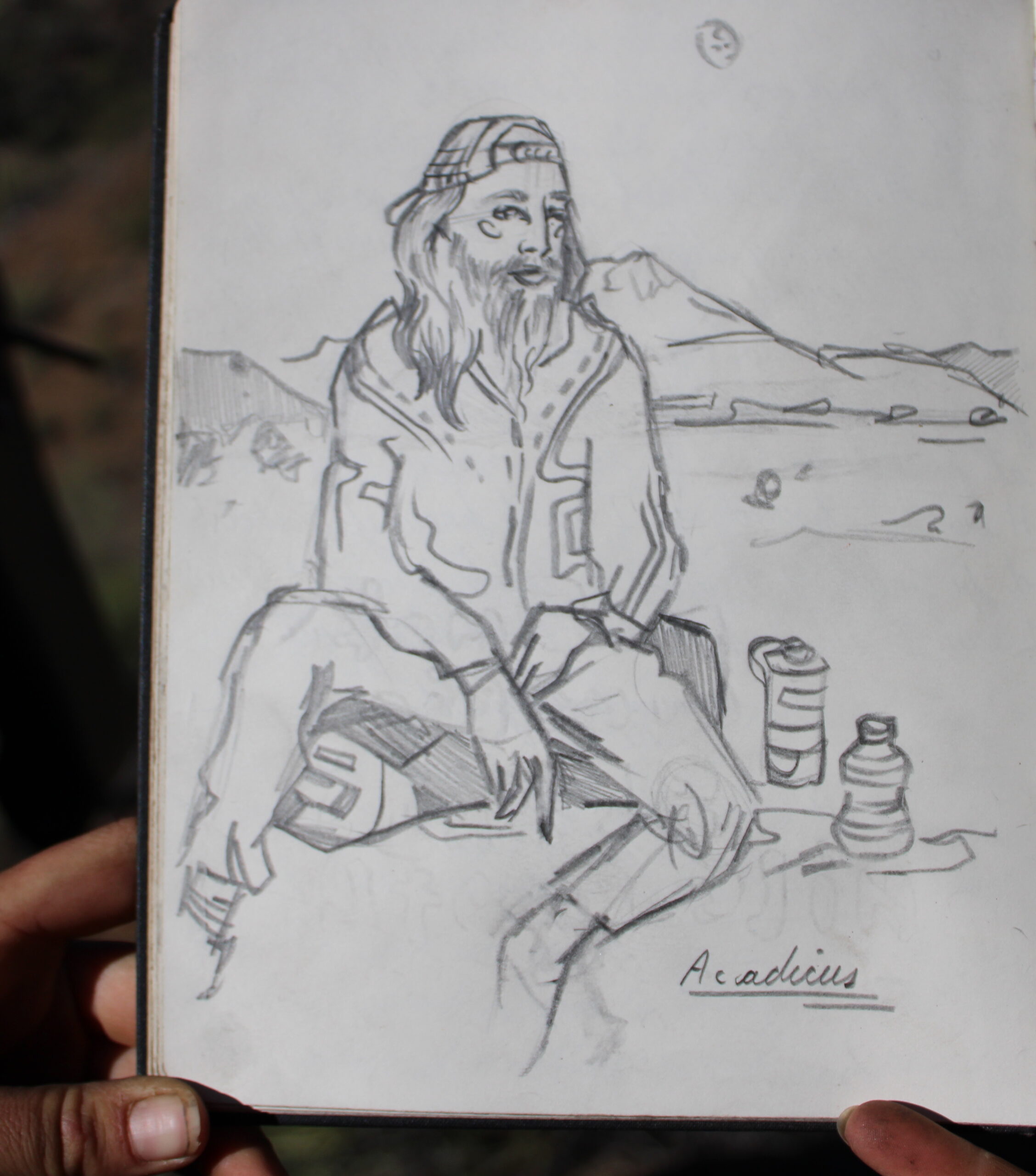 Sharing stories over dinner with Acadicus, I rediscovered the ground we have all tread together, the struggles we have faced and conquered: Rock climbing, baskets, biking, and bulls! Steaming my face over a pot on the ground under apple trees. Walking under autumn leaves. Canoeing Zoar Gap rapids. Trollhaugen Farm and the Pinnacle Trail, and our very first night of sharing. Familiarity. Family.
During our layover to repair bikes, we took a surprise trip to the Lowell Observatory in Flagstaff where we learned the story of Pluto and the little girl who named the planet. We looked at the stars and planets through massive telescopes positioned out over the indigo sky and listened to lectures about the birth of stars and dark matter. We learned of the three different theories on the birth and destruction of the universe: The Big Rip is the expansion of matter until it will disperse into nothingness; The Big Crunch is when dark energy will become more powerful than gravity, reversing the expansion and crushing the entire universe into a marble-sized ball; And the last, which is cold and lonely, is the Big Freeze, when an expansion happens that is so vast, planets and stars moving so far away from each other that the notion of relativity is lost. As we looked upon the speakers I was again reminded of where someone's passion can take them. A special thanks to Jed Williamson for our visit to the Lowell Observatory!
A technical ride down the mountain, crashing into rocks, embracing the bumps, the roots and falls, along with the smooth sections of the trail. I sang, or really I yelled, all the way, my voice coming out in odd distortions as my body quaked over the ba-dum, ba-dum, ba-dum…getting to a makeshift camp on the side of the trail, coyotes laughing in the trees.
Tuesday, 23rd of November, 2021
Semester day 80
Changes in land: Hilly, rocky, wet
First time I've seen mud in a long time.
Weather: Low clouds and light then heavy rain
Moon: Waning gibbous
Double Springs → Big Lemon Camp
12 mile ride
Early morning, I heard rain on the tent fly. No. Not rain…rain in the desert…RAIN in the desert! It rained on our solo. In the desert of Arizona. And as we biked up the rocky, hilly trail, our tires got caked in wet dust. I spoke with Cecily and Finn in the back about a regular day back home. It is funny we are out here, in the middle of nowhere, speaking of home. We crossed a road, the smell of banana Clif bar on my breath, and the boxy gray shapes of the water canisters came into view in the ditch, behind the gate.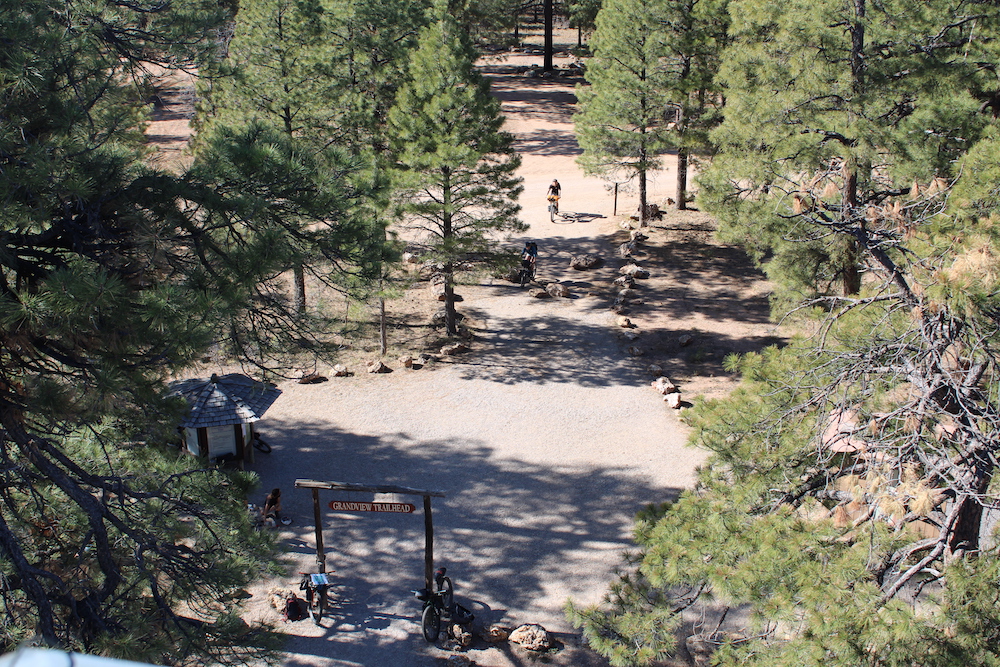 ---
Now we are off to tighter places, weaving trails in expansive spaces. Saguaro cacti looming, yellow flowers blooming, we all come together under twilight sky. Red tails float, and by and by, we found our way to Phoenix.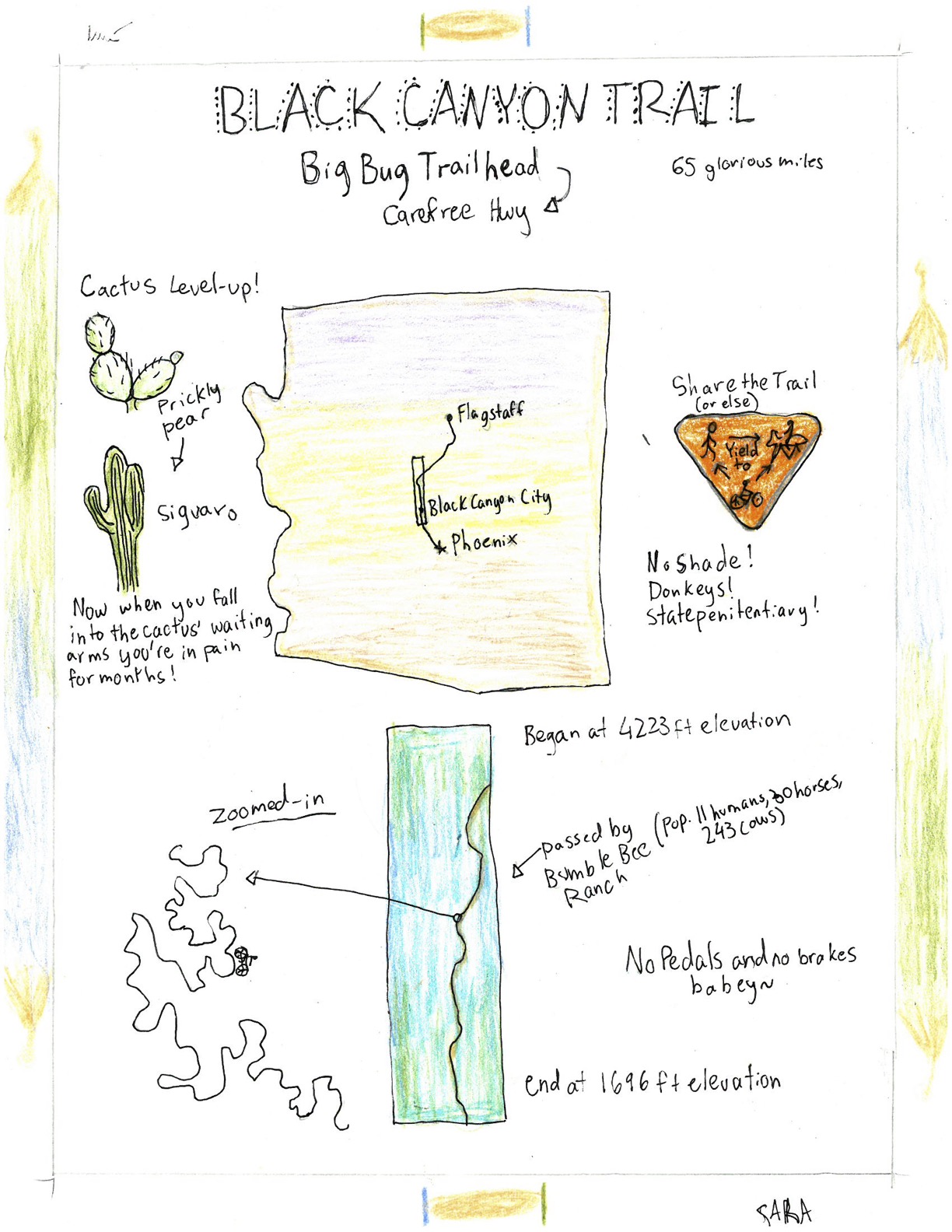 From Happyjack, we rode in the van to Big Bug Trailhead (where there were, in fact, big bugs!) and camped the night in a dry river bed. The next morning, we mounted our bikes once again, and off into the desert we rode.
(Happy Thanksgiving! Pumpkin pie filling and chocolate squares…yum! Is it really winter back home?)
There is something about being in the wild–if you sit very still, if you let your mind wander the landscape, a shimmering thread that brings sky and earth together–there is something to be learned from the lay of the hills, and the creatures and plants that occupy them. A handful of dirt and dust in your nose…can you hear it? Are you truly listening? They are singing for the rains and water.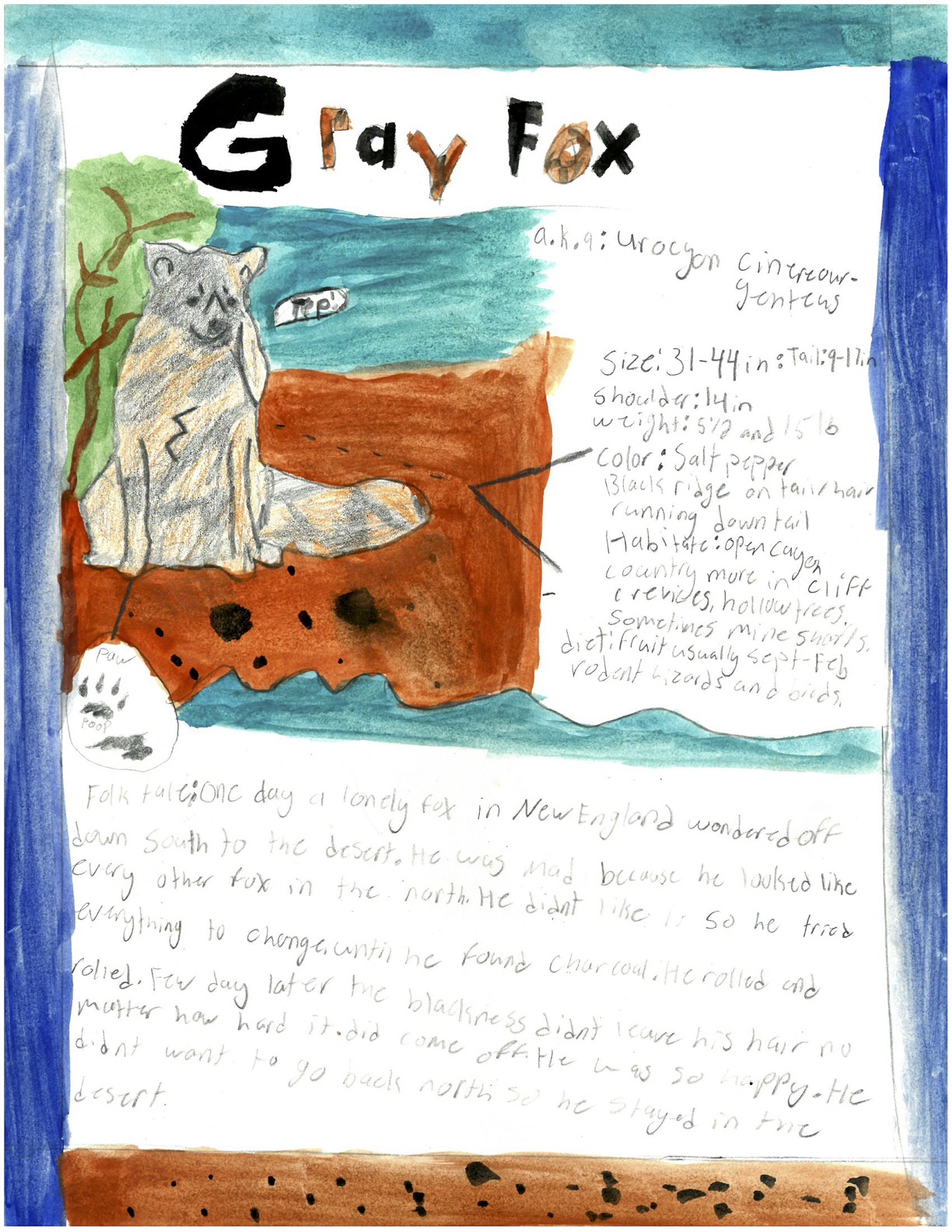 For every one square inch of water that precipitation offers to the land, two evaporate. This is the ratio that makes a desert. Here in the Sonoran things grow low and dense, sprouting thorns and prickers and spines to protect the water they do have. It is hostile and wonderful, as only Earth mother may be. We studied these fauna and flora as we traveled, becoming familiar with each other.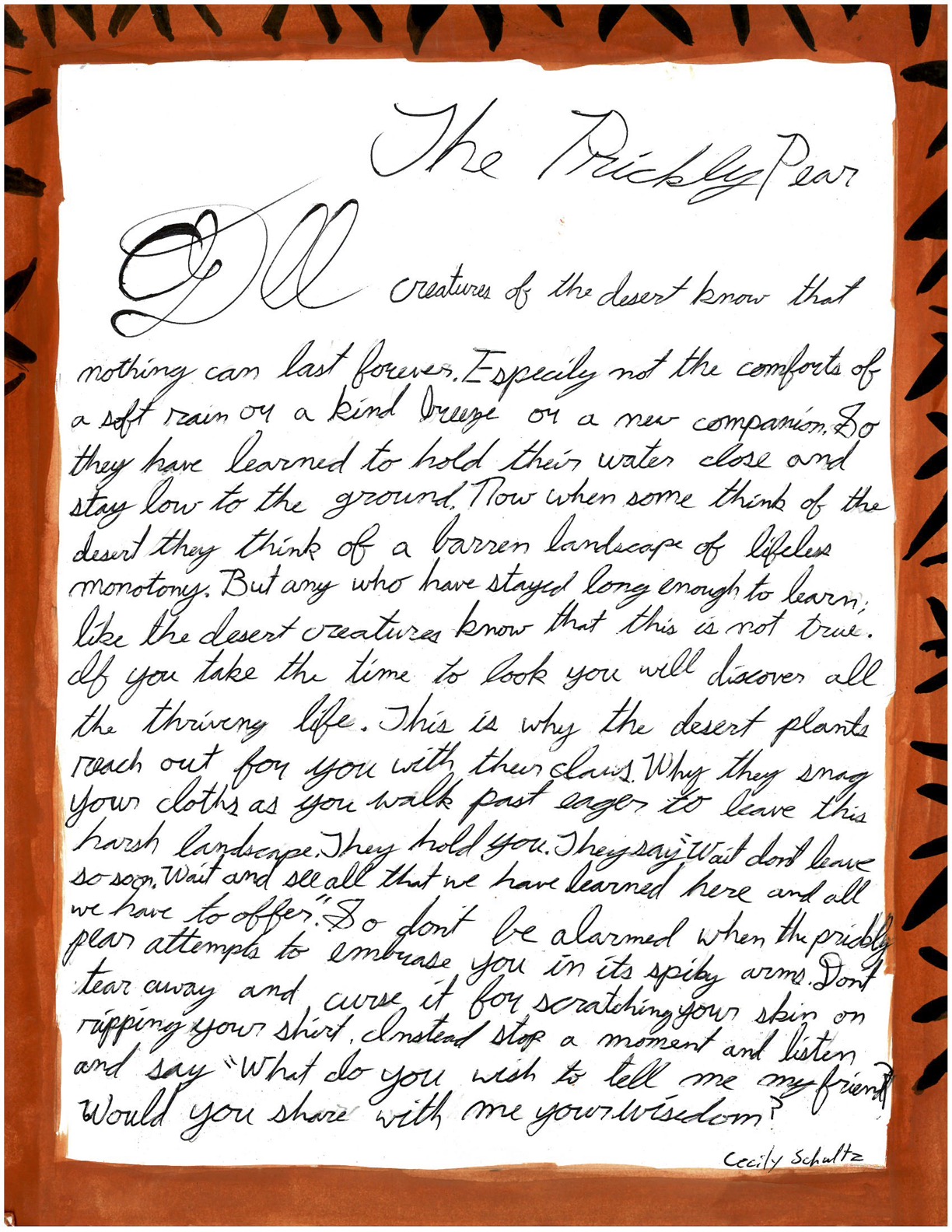 The trail, itself, is dreamlike. A flow of sand and crossbacks masterfully placed. Vegetation and cacti of many kinds lining our path. Scraped, bruised legs carried us each day, but through any discomfort, our spirits were never dampened. And no water was found…
…until it was! Found as we were separated and lost, of all things. A sweet cold stream, dancing through the valley of Black Canyon City. Stripping off our clothes, we bathed in the water, under the midday sun, scrubbing and scrubbing at our dirty dusty bodies and clothes. Blessings to the water!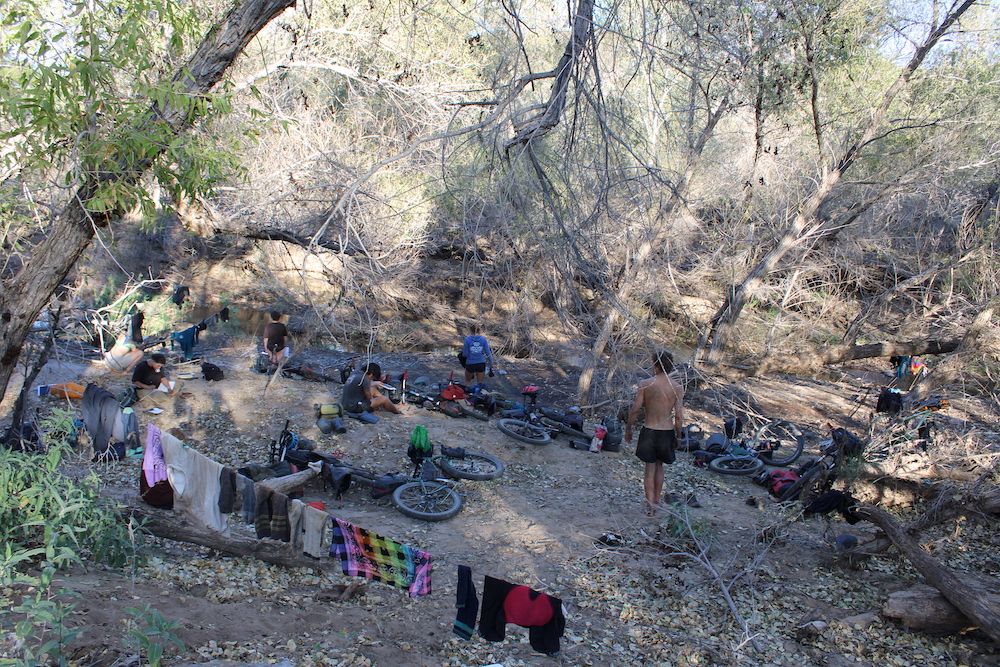 The next morning, we rose under the stars and biked unto Black Canyon City to Two Brothers Cafe as the sun broke the sky. We ate our breakfast with the speed and ferocity of wild beasts, and then we rode back to the trail, significantly satisfied!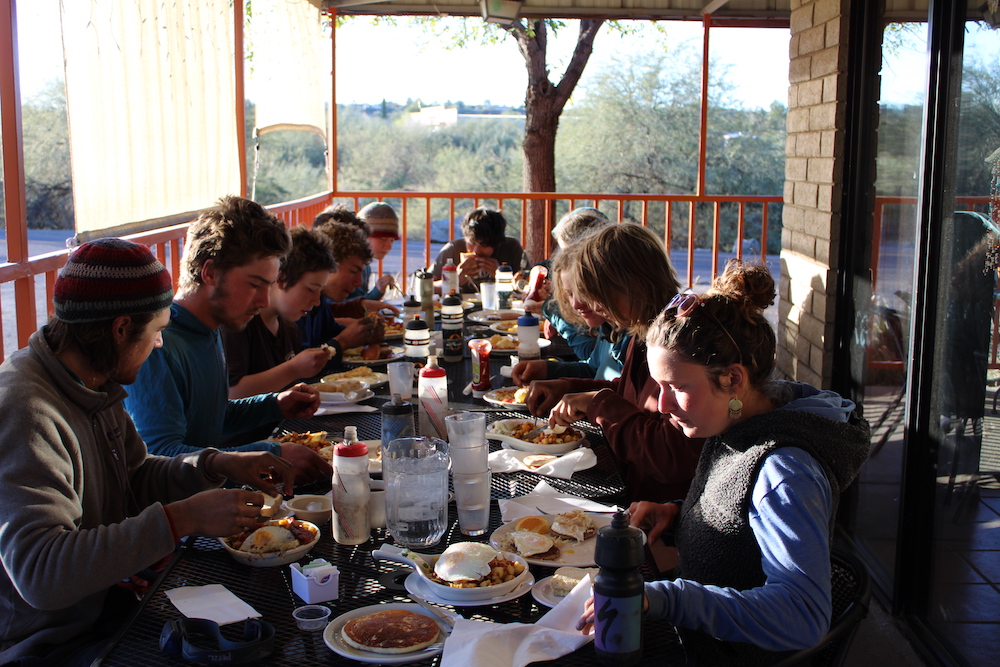 It was a very long, hot day of riding under the desert sun, and I whooped as I saw the van. We circled, drinking water, crunching on apples, and discussed goals and hopes for our very last solo into Phoenix, before bidding farewell to Ruby, Trish and Sam. That night as I drifted off to sleep under the night sky, a shadow of a smile touched my lips as I realized that the shooting stars no longer surprised me.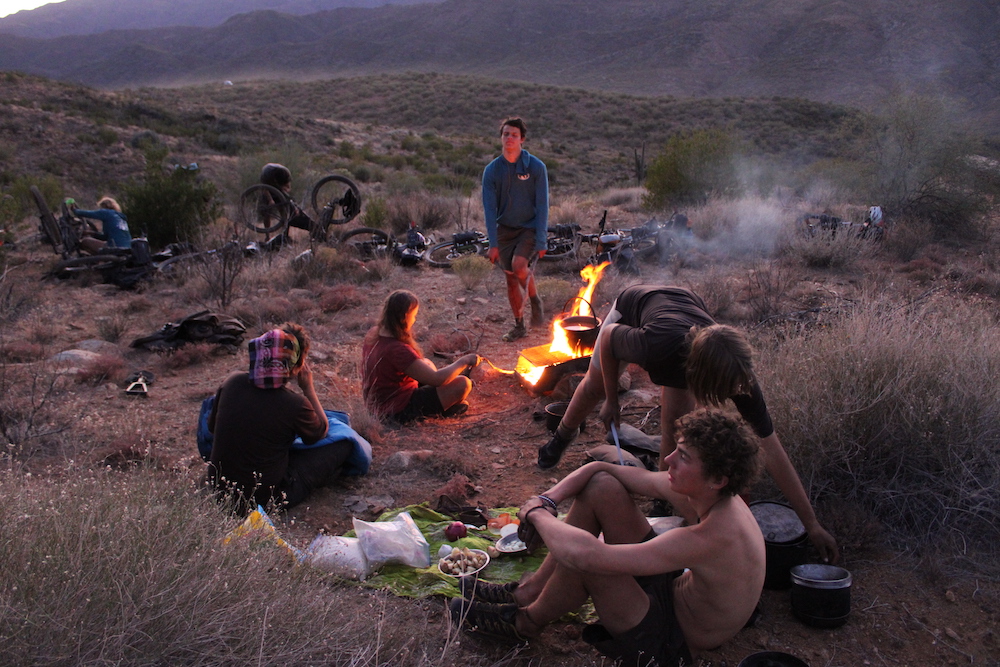 Our last solo of the semester was as fulfilling as it was challenging, and certainly memorable. Riding on the paved bike paths and road shoulders into Phoenix felt like flying after the technical single track paths we'd been facing the past three weeks. We rode through the cookie cutter suburbs surrounding the city, under the overpasses and along the canal, until we found Ruby and Tricia in a park on 15th Avenue, completing our last expedition of the semester.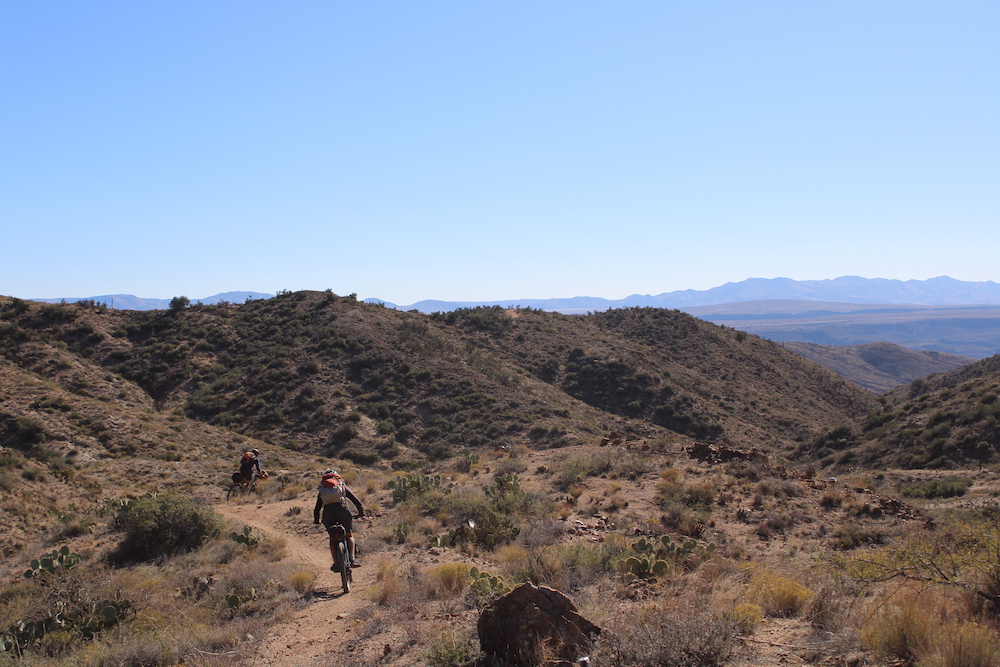 Your Scribe,
Avelea