FALL 2022 LEGENDS OF THE SOUTHWEST BLOG #2

On September 9th we embarked on the first of our expeditions, a paddling journey throughout New England. Our trip began with a short van ride to our put-in at Wilder Dam on the Connecticut River. We got everything situated in the boats, and, at long last, we were off!
The first few paddle strokes were incredible. After the hustle and bustle of the last few days, we were finally here, on the water, ready for the adventures to come. The first day was a lot of flat water paddling. This was a much needed introduction to, or reminder of how to, paddle efficiently, quickly and in the most comfortable way possible. We camped on a beautiful little island and the next morning, while eating breakfast, we saw a fawn swimming across the river!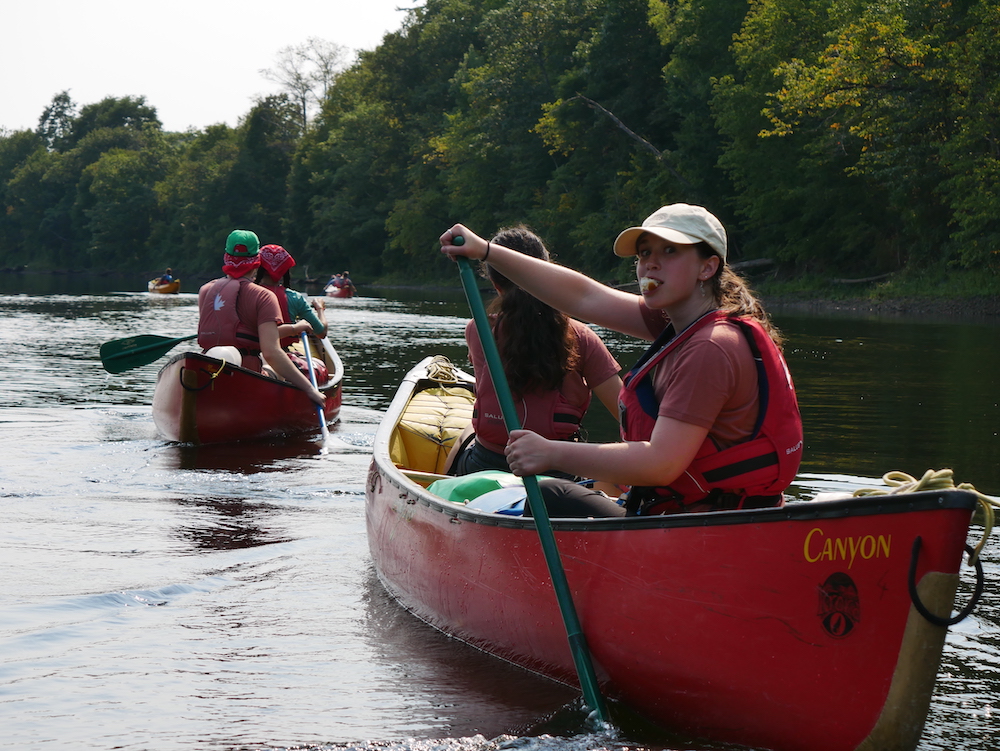 Day two was when things really picked up. We paddled flatwater for a while until we reached Sumner Falls, a Class 2 bit of whitewater. We hopped out of the boats and went ahead to scout out the rapid and choose our line. As this was our first taste of whitewater paddling, nerves were running high. However, we all managed to clear the rapid, with loaded boats to boot. It was a fantastic feeling. We had both attempted and completed something hard, scary and, for many of us, new. The afternoon was spent working on academics, carving model canoes and learning how to safely swim in whitewater.
Day three started off with Alex (one of our wonderful instructors) telling us that we had five minutes to be out of our tents and in the water. Not in boats in the water. Us. In the water. At six in the morning! We were all a bit grumpy at first but it truly was a great way to kick off our day!
After breakfast we went out in unloaded canoes and practiced some boat techniques that would serve us well in the days to come. There was much struggle and a couple flips at first, but as the morning wore on we started to improve rapidly (no pun intended!).
Before our day was even half over, we had accomplished a lot. We ate lunch, packed camp and paddled to our campsite at the Path of Life Sculpture Garden. We were given an hour and a half to wander and enjoy the sculptures. This gave us time to unwind and process our travels thus far. Before supper we worked more on our model canoes and sharpened our knives. It was, as are all days at Kroka, both full and rewarding.
We woke up on day four of our expedition to find breakfast already made and a lot on our plate for the coming day. Camp takedown was fast and we were on the water early. The paddling was relaxing and we did not have to go far before our takeout. We saw several bald eagles along the way! We made it to where the van and trailer were parked, pulled canoes out of the water, loaded our gear and ourselves and were off. This ended our time on the Connecticut River.
We drove to West Jamaica where we met up with Davicho (Kroka Staff member) for a break in our paddling-focused adventure: rock climbing! We spent the remainder of the afternoon climbing, laughing and singing! Camp was just across the road on the West River. There was a lovely beach and great spots for a quick dip! It was a fun change of pace and left many people excited about rock climbing more in the future.
Day five was all about travel and logistics. We got in the van and struck out for Massachusetts and the Deerfield River. The drive was a bit long but the monotony was broken by singing and cookies! We reached our destination (Dunbar Brook Picnic Area) and lugged all of our gear the mile or so through the woods to camp. It was hard but satisfying work. We made a great camp along the gorgeous, fast flowing Dunbar Brook, which happens to be the only undammed tributary of the Deerfield. We spent the rest of the day working on academics and carving.
Day six was our first true day of whitewater. We walked out to the van and drove five minutes down the road to our put in. We waited for a while for the dam upstream to release and make the river navigable. After what felt like an eternity, we got on the water. Owing to our two days out of boats, a lot of us were a bit rusty at first. However, we soon got in the groove and really started to have fun. We stopped for lunch under an old train bridge which had a great rope swing. We took turns flying into the chilly water before continuing on our way. The stretch of river we paddled is seven kilometers of Class One and Two rapids and ends in Zoar Gap, a Class Three rapid. One of these Class Two rapids is lovingly called "The Pink Fluffy Bunny of Death" and was a blast to run!
Finally, with much anticipation and nerves, we reached Zoar Gap. We pulled out a little ways before the rapid and went ahead to scout. The first time we laid eyes on the roiling mass of spitting water with a healthy dose of rocks we all went wild with excitement and fear. We decided we were ready to run it right then and there and went back to get in the boats. Tension was thrumming as, one by one, we went down the rapid. A couple boats flipped but many people made it through upright. Flip or no flip, it was a truly ecstatic feeling! Out of the boats that flipped, all of the rescues went off without a hitch and we regrouped at the takeout for a mission debrief of sorts. We talked about our individual runs, what we did well and what we could have done better. Once the boats were snug on the trailer we headed back to camp. It was an incredible day. All of our work in the last week had paid off big time. We finally ran Zoar Gap!
Day seven was very similar to day six, as we did the exact same stretch of river. That isn't to say that it wasn't a blast though. We were all much more comfortable with both our skills and the river, and we were able to pull off many more technical and complex maneuvers. We ran Zoar again and had just as much if not more fun as the day before. Due to our increased skill and comfort level, several people tried some wild and awesome moves which led to some really cool moments, such as Prema coming down most of the rapid entirely sideways! Intentional or not, it looked amazing! Back at camp we buckled down with our academic work in the afternoon and evening.
Our last day on expedition! This was a very bittersweet moment because we were all excited to get back to Kroka campus, but also knew that we would miss the river and expedition life. We had little time before we needed to be back at campus so we put in right above Zoar and didn't paddle the rest of the river. This was a very different experience. We were going into a Class Three with no warm up! All things considered, it went pretty well. We said goodbye to the Deerfield and to Massachusetts and drove back through lush, rolling farmland to Kroka. We unloaded most of our gear upon return, showered (wonderful!) and then ate a delicious burrito dinner with a visiting school group. After dinner we performed a comedic skit about trying to find a toilet while canoeing and then turned in for the night.
These eight days were wonderful. We faced fears, persevered through hardship and grew as both individuals and as a community. We learned so much about the River, canoeing, ourselves and our peers.
Every day we spend together we become closer friends and a more coherent body in all that we do. We communicate more clearly, we learn from each other and lend a hand whenever it is needed.
This expedition was not only fun and interesting but binding as well. I cannot wait for the many adventures similar to this one that we will have the privilege of experiencing in the next three months. I know, beyond a shadow of a doubt, that they will change all of our lives for the better.
To wrap things up, I want to give a heartfelt thanks to all of the teachers, farmers, builders, mentors and leaders that make Kroka what it is and make trips like this possible! Y'all are the best!
Your scribe,
Owen