FALL 2022 LEGENDS OF THE SOUTHWEST BLOG #5
DAY 1: MARLOW, NH to ITHACA, NY
We are out of here! After almost two weeks of preparing, planning, and packing, it is time to begin our journey to the Southwest.  After some frantic scurrying after last-minute items, all was ready.  There was a curious feeling of finality and completion.  We were "done" with base camp and the Northeast.  We had completed a large leg of semester.  On the other hand, excitement, anticipation, and curiosity were prevalent.  The sand, the river, the mesas: many of these had never been seen by members of the group.  So, with all of these emotions and thoughts coursing through our veins, we boarded the van – christened "Pam" – and were off.  The drive was well, long. Not that it wasn't beautiful, it's just that seeing some variation on trees, hills, and streams for hours and hours gets a tad tedious.   To break up the boredom we stopped at the interesting spot of Waterford, New York.  Here the Hudson River, Mohawk River, Erie Canal, and Champlain Canal all converge on one spot. 
Finally, we made it to Ithaca and the plan for the remainder of our day was revealed.   First we made our way across town to Cornell University Welcome Center without our instructors.  Then we joined a tour of campus before meeting up with Tricia and Nathan.  We walked to the campus bell tower and climbed the 161 steps to attend a concert of sorts.  As you may have guessed, the only instruments were the bells.  The way that these bells – known as chimes – were played was fascinating.   In the room below the belfry was a piano like apparatus – except that each of the keys was a handle, not unlike a wheelbarrow handle.   When the handle was pressed, a wire was pulled and the chime sounded.   We were able to request songs which was neat.  
Dinner on the green and then off to a jazz dance class where we learned the "Shim Sham".  At the class we met Nathan's son Rye, who had a house on Cayuga lake into which were were invited to take a quick dip.   We gladly accepted, and once we were cool and comfortable again we drove the last bit to our campsite for the night:  Blue Heron Farm, where we spread out our sleeping bags in their haybarn and fell promptly to sleep.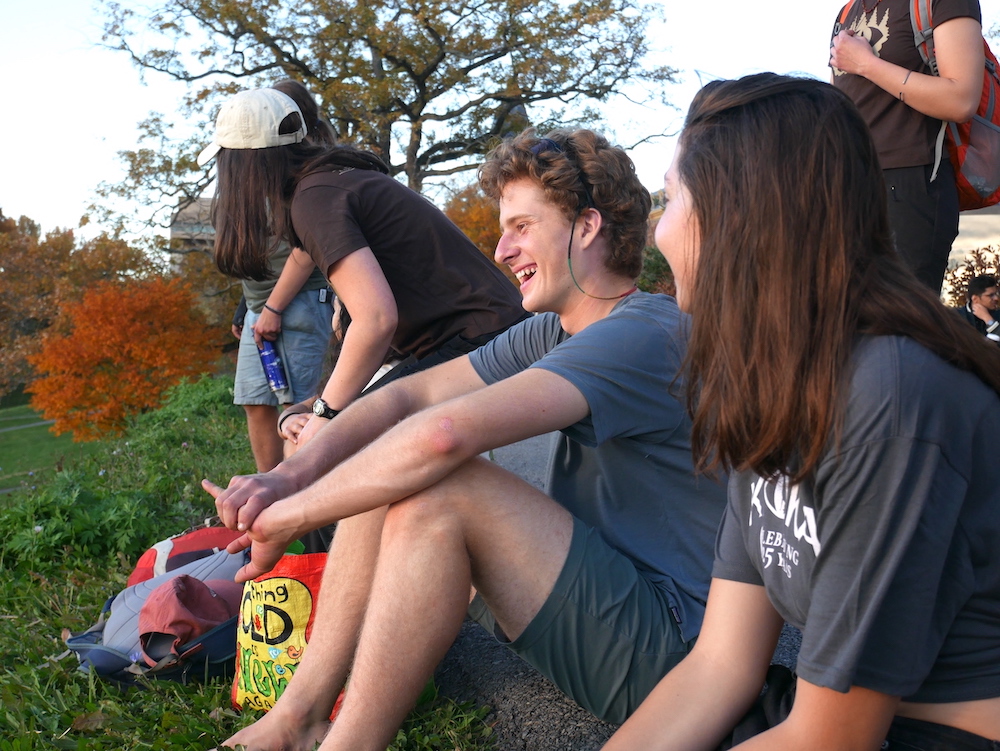 This first day of travel had far exceeded our wildest dreams.  We were prepared for a monotonous day in the van, but in reality we witnessed history, architecture, and art, and heard unique music and learned a whole new form of dance.  Kroka has this incredible capacity for shattering expectations which keeps us on our toes.    
 DAY 2 : LAYOVER at BLUE HERON FARM
We awoke in the dawn having slept incredibly well.  Tricia told us to don our running gear and collect our bathing suits.  We ran through the warm dawn to Seneca Lake, where we jumped into the chilly water.  The run back was uphill and challenging.  As we ate breakfast, Birgit (one of the farmers) greeted us and explained the work for the day:  we were to remove plastic from two greenhouses and then replace it with new plastic. 
It was repetitive but satisfying work when all was said and done.  After lunch Jaimini offered up a tempting challenge: eat a Scotch Bonnet hot pepper.  With a heat rating of 100,000-350,000 scoville units, the Scotch Bonnet can be up to 40 times hotter than a typical jalapeño pepper.   
I decided to go for it and split one.  I still cannot decide if it was the right choice! It was sort of fun, but the pain was so intense that I thought my head was at risk of exploding.  We were joined by Rye again for the afternoon's work of completing the renewed greenhouse coverings.  Our dinner was kindly brought to us by Aaron, a recent Kroka semester graduate, and their father, Mark, who happen to live nearby in Ithaca.  Chili, pasta and oatmeal cookies!  We settled back down into the hay barn content with our day's work.  
DAY 3: BLUE HERON FARM to RICHMOND, INDIANA
The stars were beautifully clear when we rose today at 3:30 AM.  Before getting into the car, Nathan pointed out a few constellations and taught us to locate the north star.  We passed through the remainder of New York state and then Pennsylvania, Ohio and entered Indiana.  While on the road we listened to a podcast, journalled, and created a draft for our "big job book of wisdom page".   We arrived at Earlham College (Richmond, Indiana) in the late afternoon.  Here we met Meg Lyczak (Nathan's daughter) who led us on a jogging tour of the campus.  We returned to her house for chips and guacamole, and stories about Meg's time on the US-Mexican Border.  She spoke passionately about finding meaningful work, work where she could make a difference.  We then enjoyed the Earlham College campus dining hall's all-you-can-eat buffet dinner before walking back through the streets to our tents.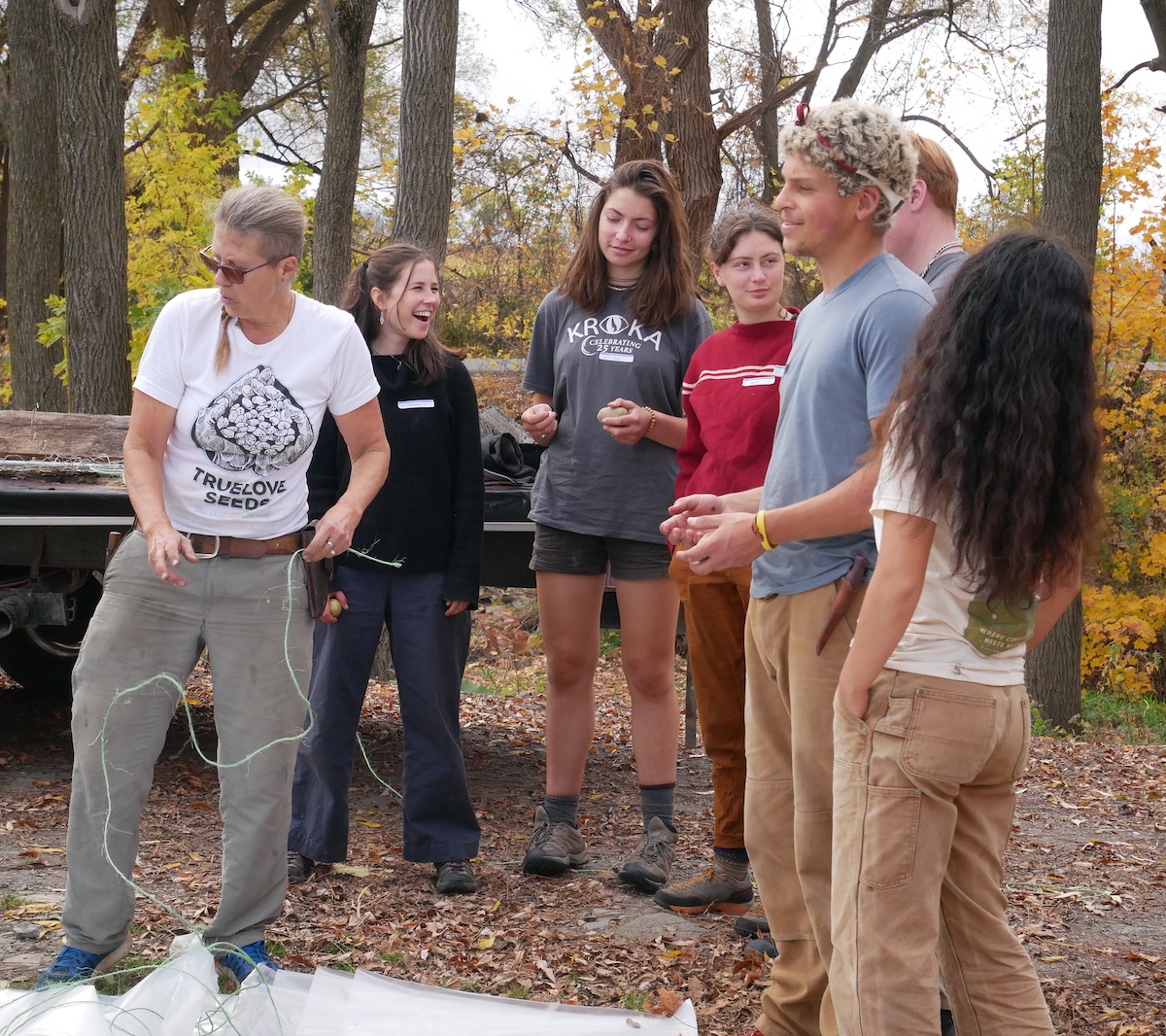 DAY 4 : RICHMOND, IN to MILFORD LAKE, KANSAS
The grass was white with frost as we broke camp at 3:30 AM. Stuffing the tents into their sacks was numbingly cold, and we were grateful to climb into Pam's warm seats.  We slept for several hours and when we awoke, we were in Illinois.  I reflected on the level of trust required to sleep in a van hurling along at 60 miles per hour.  Illinois turned into Missouri where we picked up Prema at the airport.  We were all overjoyed to have her back.  We crossed the sweeping expanse of the Mississippi River just outside of St. Louis. Seeing that great artery of the nation was humbling.  Several people also saw the St. Louis Arch for the first time.  Just outside of Columbia, MS, we stopped to explore a limestone cave called the "Devil's Icebox". 
The acoustics were wonderful inside the cave, and we sang a bit before moving on.  We entered Kansas in the evening and reach our campsite in the rainy darkness.  Tricia and Nathan surprised us with campground showers before bed, a welcome treat. 
DAY 5: MILFORD LAKE, KS to SAND DUNES NATIONAL PARK, ALAMOSA, CO
I'll give it to you flat out:  today was flat.  Not Ohio or Indiana flat, though — well and truly two dimensional!  As we drove through Kansas, Liam commented on how he could see a person falling in love with land like this.  The dirt, the sky, the dancing grass — everything is pure and primal.  You feel wonderfully exposed walking through land like this.  However, despite this assertion, we were ecstatic when the Rocky Mountains of Colorado reared up before us.   We first caught sight of the range a hundred miles away, and as we drew closer the peaks grew in grandeur.  The sharp lines of valleys and ridges were blanketed in snow.  Lower down, a generous sprinkling of dark green trees and boulders.  Jack, never before having seen such a sight, came close to breaking his jaw as it hit the floor!  We climbed through a mountain pass at 11,000 feet with snow on all sides, and then descended into an expansive valley ringed by mountains.  A short time later we reached the dunes.  Now, let me clarify something.  When I say dunes, I don't mean little heaps of sand.  I mean a range of dunes hundreds of feet high and more than a mile long.  The graceful curving sand was begging to be explored, and so we did just that.  We spent an hour and half in the dunes with the Sangre de Cristo Mountains at our backs and the high desert scrub before us.  A note on sound:  one would assume that in an open space where sound can travel unfettered, the waves would carry a great distance.  For some reason, it is quite the opposite.  Silence breeds reflection, and we returned to camp with a higher degree of clarity.   At this point it seemed that the day could not get better – but then it did!   Chloe's family (mother Meredith, sister Freya, and dog Foo) greeted us with a delicious dinner of cornbread and chili with cookies for dessert.  We crawled into our sleeping bags overwhelmed in the best possible way by the day's beauty and magic.  
DAY 6: ALAMOSA, CO to THOREAU, NM 
Since we were expecting a shorter drive today, we were given the luxury of sleeping in until 5:30 AM!  Upon waking up we greeted Tricia's partner, Josh Carter, who had joined our group during the night.  Josh is from Crestone, CO, and has extensive experience guiding paddling and climbing expeditions in the southwest.  Together we drove through the early morning light to Taos, New Mexico (hometown of Chloe) and then on through Santa Fe and Albuquerque.  The land around us was stunning.  Massive mesas, pillars of red rock stretching skyward, canyons and cliffs in abundance.  At the end of the day, we were grateful to be hosted by Cottonwood Gulch – a similar organization to Kroka.  They lead "treks" and outdoor education programs from their 200 acre base camp in Thoreau, New Mexico.   We enjoyed meeting Nick, the caretaker of their campus, who spoke to us about the organization's history and mission.  We spread out into the forest for sit-spots and gathered around a fire pit for our supper before heading to sleep in a loft above their stables. 
DAY 7: THOREAU, NM to CROZIER, AZ 
We were woken up rather early this morning.  Hannah said that she thought her watch was broken when she saw 1:30 AM!  We slept in the van for the entire drive to Flagstaff, where we said a tearful goodbye to Liam and Zach. Then things got very busy with a day full of logistics.  We found a laundromat and washed all of our dirty clothing. We enjoyed an amazing diner breakfast, and then purchased and packed more food for the river. After eating lunch on a soccer field and some time for journaling, we picked up Kroka's white water paddling specialist instructor, Jackson Ennis, from the bus station.   We started driving further west but then had to return once more to Flagstaff for water and a last-minute equipment purchase.  Finally we reached a wilderness desert campsite near the Hualapai Reservation in Crozier, AZ in the dark.  
This brings our tale of cross-country awesomeness to a close.  We will "put-in" to the Colorado River tomorrow morning, and I am sure we will have many more tales to tell from the next leg of our expedition.  Until then, don't forget to love one another. 
Your Scribe,
Owen