2023 Arctic to Atlantic Winter Semester Blog #2
Hello again from the 2023 Winter Semester! We've had a very busy past few weeks and are now deep into expedition prep for the Green Mountains. Last week we spent two days making knives with Samuel, a guest teacher and winter Semester alum.
Only a few of us had any knife making experience, so it was a lot of learning. Before we started we all drew names from a hat. Whoever's name we drew we made our knife for. We all worked excitedly as we designed and rasped our knives.
Creating knives for someone else was a really meaningful experience. The craft moved away from you and your preferences and became about another person and what they would want, need, and appreciate. Giving the gift of such a useful item made it feel extra important. Our knife is the tool that we will use to carve our way forward through the semester.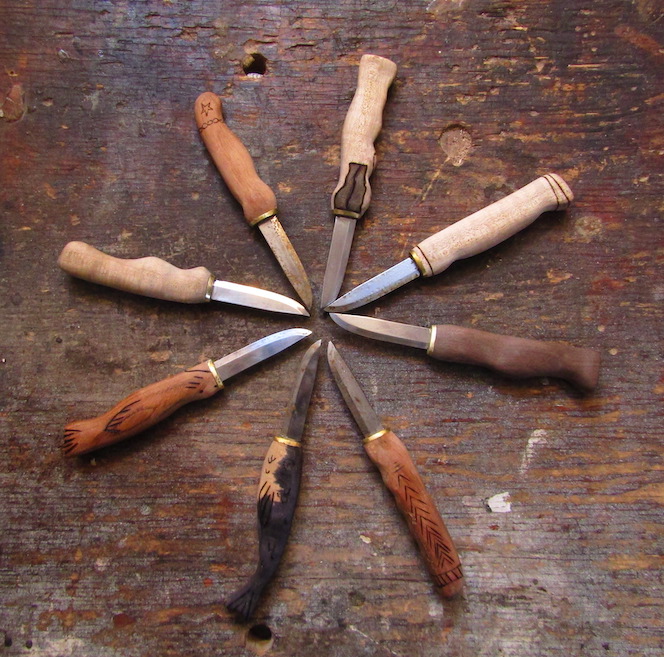 On Sunday Kroka hosted the first ever WinterFest. It was fun being surrounded by so many people and enjoying winter activities with them! Ian worked diligently on his knitting as he talked to people about the winter tent and our upcoming expedition.
Cole was busy fitting people with skis and boots and teaching them the confusing ways of skate skiing. Ely and I went on a woods walk with Emily, learning about how to find animal homes in the ground and the way the snow interacts with the wind.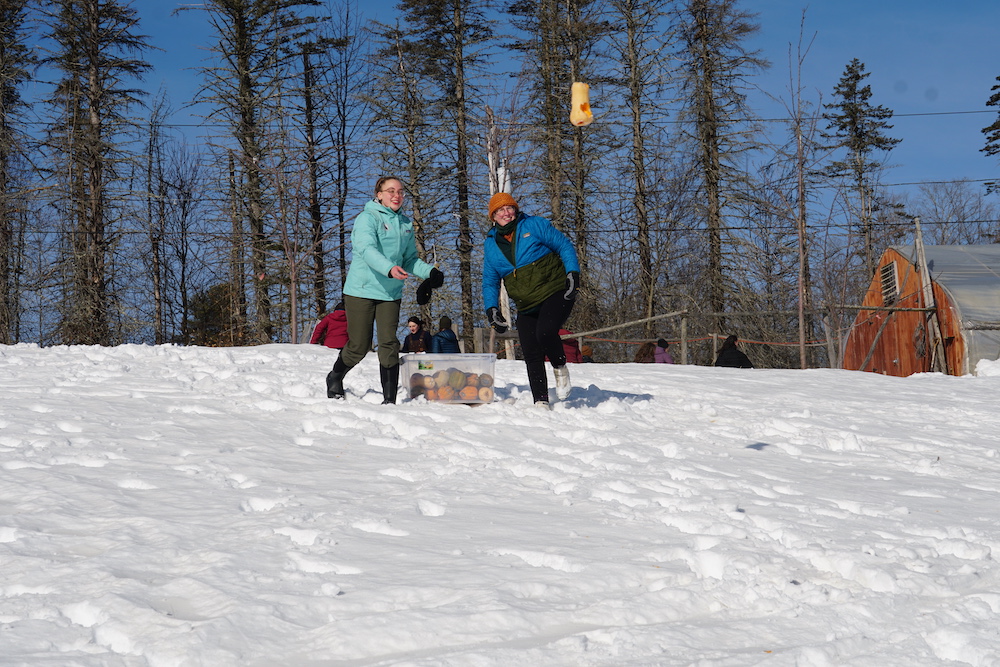 Bria, with her mom, Lela, tossing squash during the WinterFest race.
After lunch it was time for winter fun race, which was chaos in the best way. Everyone participated in pairs or threesomes. The race started by throwing a rotten squash into a bucket, then running into the chicken coop to grab an egg. With the egg in tow, we had to sled down the hill, make a hockey goal on the pond, then do a 2-legged race up the boardwalk.
At the top, you hoped you still had an uncracked egg. The last step was frying your egg over a fire you had to build on the Kroka summer stoves. During the frantic egg frying, Ian was commentating and cheering (or heckling) everyone on. It was an extraordinarily beautiful and sunny day, and so much fun for all.
Monday and Tuesday were spent taking Wilderness First Aid training with Nicole, from the Institute for Wilderness and Emergency Medicine. We've all gotten used to moving so much that  a lot of sitting still was a bit of a struggle. But, Nicole was a super awesome teacher, and she kept the material interesting and engaging with games, scenarios, and her contagious enthusiasm. Everyone is definitely feeling more prepared now heading into the bush.
On Wednesday and Thursday we had two school groups come and do winter activities for the day. Half of us worked with them each day. We hosted four stations that they visited: a woods walk around porcupine cliffs, learning about bark and moss; a station to make bread-on-a-stick and sing around the fire; one where students met the animals; and one sledding and drinking hot cocoa. It was a lot of fun seeing them all laughing in a place that has provided us with so much joy and fulfillment the in the past month.
Saturday night we had Pizza night with Noah at Orchard Hill. We all filled our stomachs with delicious wood fired pizza.
Expedition prep has looked like many different things. Lilah and Laura are on navigation and logistics, and have spent many days making expedition plans, gathering maps and plotting routes for the Green and White Mountains, and Uapishka .
Ian, Isaac and Ely were Food Managers, planning menus and packing out food. Cole, Matias and I were on gear prep. Cole has done a lot of ski prep for us–waxing and tuning skis–while Matias and I sewed the tent fly, which we just finished! Now here's hoping it works!! Tomorrow will be a lot of personal packing and finishing up all the random odds and ends.
Throughout the past month we have learned a lot about ourselves and each other. While there have been both personal and group challenges, we're continuing to learn how to function as one. This will be especially important on the trail, so we stay warm, happy and fed. Now, we are finishing up expedition prep and getting excited for trail life.
Happy Trails,
Bria