2023 Arctic to Atlantic Winter Semester Blog #4
Hello again! The Wicked Shredder Posse has just returned from another rad adventure — this  time in the pointy peaks of the White Mountains. This leg was all about mastering skiing in deep snow and increasing our endurance. This leg was the toughest challenge yet, both mentally and physically, with long treks and late nights (and our deepest postholes).
As we traveled between our basecamp at Sawyer Pond and the surrounding woods, we were met with over four feet of snow. We practiced breaking trail on both powder and liquid concrete. Trail breaking requires a strong will – walking in single file, the leader shoves their way through the unbroken snow until tired, and then surrenders the role to the next brave soul.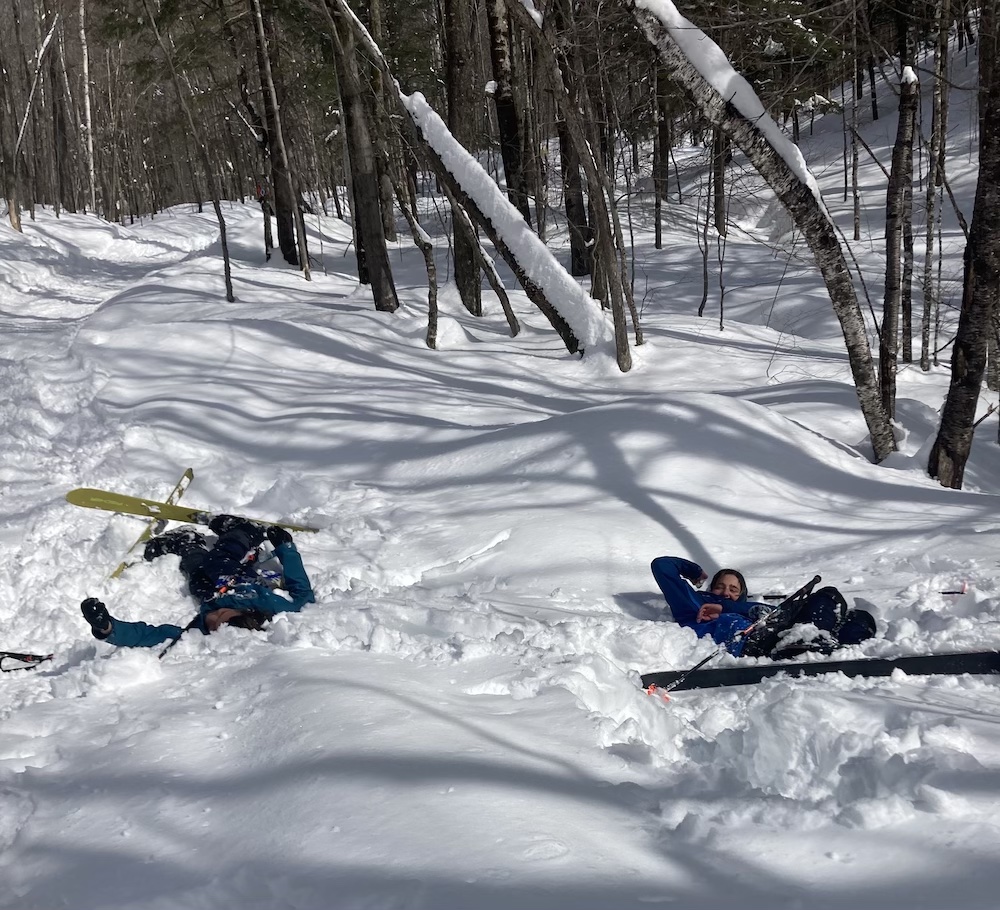 A visit from the "Trail Magic Magic Fairy," who bestows chocolate upon us, is strong motivation. There were many small day expeditions, but one bigger day included our night spent cold camping. After digging our snow pit, we quickly burrowed into our sleeping bags and set the tent fly. With no stove, dinner was cooked with the fire screen and eaten quickly, as we huddled together for warmth. (Laura)
---
3/1, Sawyer Pond, Day 45
-Snow in the evening
-High 20s to mid 30s
-Clearish in the morning, stratus in the afternoon
-Wind south? To southeast
-Moon: waxing gibbous
I am utterly exhausted. We got up at four so we could get on the road. I slept most of the ride. We arrived at Mt Cardigan at 8am. Going up was amazing! I think I've gotten stronger. It was so beautiful in the alpine zone, and at the summit, you could see everything. Skiing down was amazing!
The powder was so easy to tele in! Bria and I filled water bottles in the lodge when we got down. After another 3 hour van ride (I slept), we arrived to the parking lot where we unloaded and started our four mile ski up a snowmobile trail. It became dark pretty fast. Then we got to the trail head for Sawyer Pond. What we navigators originally thought was just over half a mile was actually 1.5 miles, and it was the longest mile and a half I have ever skied! I switched into GoGo-Zombie-Mode and ended up at the front of the group. I don't remember much of campsite setup because I was so zonked, but we ate spaghetti for dinner and finally went to bed! (Lilah)
---
3/2, Sawyer Pond to "Dot Pond" (Navigation solos)
-Day 46
-Fat flakes in the AM
-Upper 30s, humid
-Low, bright cloud cover in the AM, cumulo-stratus PM
-Wind: strong with gusts at high altitude
-Moon: waxing gibbous
Fat flakes fell heavily in an overcast morning until late afternoon. Clouds at high altitudes thinning and moving quickly with winds from the west around dusk. We slept in today. We've begun the academics for this leg; analyzing Braiding Sweetgrass, by Robin Wall Kimmerer! It's rich with connections to our journey and to our greater environmental awareness. Best book. Nav solos as well today: Matias and I traveled on a bearing to a little pond, talking about Swedish heritage and world mythology. (Laura)
---
3/3 Writing Prompt: What is your relationship with the resources that sustain you?
My relationship is one of great gratitude but also one with a lack of understanding of just how much I use. I'd like to think I'm aware of my impact and consumption, but in the reality of things I don't fully. It's easier when you can see the whole cycle, like with firewood or homegrown food. You understand and see the process. It's harder to have that understanding with things we buy: clothing and gear, for example. You know they were somehow made from natural things, but being so far removed from the beginning of the process makes understanding much more difficult. I think it's very difficult at this time in the world to have that understanding. (Bria)
My relationship with the resources I use to sustain me is closer out here than any other time in my life. Harvesting and burning wood for heat is not something that I do at home, and I don't go down to a stream for water or gather boughs to sleep on. The one large thing that sustains us, that I don't feel super connected to out here, is food. Because it is largely dehydrated and bagged (and even though we did much of that dehydrating), it feels far removed from its source. (Matias)
---
3/3, Day 47
-High 30s into mid 30s
-Bluebird sky into partial cloud
– No precip
– West wind
– Moon: waxing gibbous
I shot immediately up this morning knowing that we were going to go SKIING. We set out down the trail, and started working our way to the Hancock Notch. We practiced breaking trail in many feet of snow. As the temperature warmed up, we put our natural ski skins on as the snow was sticking to our skis. We didn't quite make it all the way to the Notch, but we found where there had been a rockslide and skied amazing terrain! So sick! We headed back to camp, slowed by stream crossings, and processed enough firewood to warm us for days. Ely made "Strawberry Mac n Cheese" (mac n cheese with beets). Delicious! (Ian)
---
3/4, Day 48
Sawyer Pond Trailhead
The queen of the South gives poisons disguised as gifts. We welcomed her snow at first, but as we all know, she is fickle and treacherous, and as the temperature rose to the mid 30s, her true treachery was revealed, and we were bogged down by two more feet of wet cement snow! 
This forced us to change plans and not ski Signal Ridge Trail to a cold camp; instead we went back to Sawyer Pond, took down camp and skied to the road. I was reaching a point of exhaustion – that is the wrong word, but it will have to do – and I sort of broke past it. We are cold camped here for the night. (Ely)
---
3/5, Day 49
Precip: none
Sky: overcast
Wind: southeast
Temp: high 20s to mid 30s
Moon: full
Abbott Trailhead off of Route 302
Last night we cold camped, and after we woke up, we packed camp really quickly and headed out to a nearby backcountry ski spot called Maple Villa Glade. After we arrive, we unpacked skis and headed up the hill. After skiing a few miles to the top we had some awesome skiing down through wooded glades and trails, which is so much fun. (Cole)
---
3/6, Day 50, Day 6 of White Mountains to Heartbeet Lifesharing
Precip:  none
Temp: high 30s, low 40s
Wind: strong NW
Sky: clear most of the day with some sheet clouds after dark
Moon: super bright full moon
Today was pretty cool. I woke up feeling much better than yesterday and like I got some decent sleep. We packed up camp and drove in the van to another gladed ski area. We skinned up a couple miles to the top of the hill and decided to ski down the south side in glades 3 and 4. This was a bad idea in hindsight, as it was steep with very little snow. We ended up  walking down most of it, which was awful.
Then we had to skin back up and around to the north side. Coming down the north side was amazing, though. We came down on a mountain bike flow trail then a jump line. I felt at home in the snow covered berms. If we'd had more time, we definitely would have lapped it 3 or 4 times. We then drove 1.5 hours to Heartbeet Lifesharing, a Camphill Community,  and I got tons of knitting in. The sky was so clear and the moon was a perfect saucer of light. (Matias)
---
Compared to the homely hills of the Green Mountains, the Presidential Range posed bigger and more technical obstacles. Now that we're down from the hills, we can appreciate our learning while we look ahead, with Uapishka on the horizon. From our comfortable layover in the lovely community at Heartbeet, with our bellies full of 'za and ice cream (Thank You McNaughton Family!), we give thanks and turn to the trail once more! (Laura)
See ya when we get back from Uapishka, 
WSP'23