2023 Arctic to Atlantic Winter Semester Blog #5
Greetings! We've emerged from our 21 day expedition in the Canadian Wilderness, with many a tale to tell.  Our journey began as we set out towards Mont Jauffret in a sharply rising area we called, "Uapishka's Foyer".
We had several visitors: a curious ptarmigan and many gray-jays came to inspect our camp.  As we traveled on, lugging a sled weighing over 100 pounds with all our food, the gray-jays followed us (really thanks to copious day food treats from Cole). However, our beloved "Stevie" and "Dave" made quick to leave once the food had run out.  
Early on in the trip we had to make a couple of extra runs to shuttle our food.  Ely wrote, "I got to go on a sunrise ski! Tom and I woke up early to move four food bags ahead to ease the sled bearer's load. Actually it was not a sunrise hike, just an early morning hike, but it was still super beautiful. The view was so pretty and you could see Manicouagan Reservoir, which was created by an asteroid impact.  Must've been a big one, though, because the reservoir is several times the size of Uapishka. And, the day food today was epic."
On the matter of food, we were quite well fed; Chef [Ian] MacLachlan did an excellent job managing the curry powder, cheese powder, and, of course, "the knitting" (dehydrated hot sauce).  Every night, as we wearily trudged up to the camp Matias had picked out, the much loved energy bars were issued, and we munched them down.
As the trip went on, camp set-up became more structured, and each of us took on more specific responsibilities. Lilah, our masterful Navigation Queen, worked with Cole on finding and processing firewood, Matias assembled the tent, Bria badgered the stove into place, Ely set up the fire screen and began dinner, with Ian flitting between cooking and collecting boughs with me, Laura.  
One evening, after setting up camp and eating dinner, we were met with a brilliant surprise, described here by Lilah:
"We saw the northern lights last night.  They were just a green smudge in the NE, but I'm still in shock. The stars are so bright and crisp. We also saw shooting star. I am so glad to be alive."
Time became strange, under brilliant blue skies and piercing white cliffs, blissful glides across a lake might only seem an hour, while the midnight trek to an unreachable pee tree might be endless.  Nevertheless, we continued over barren alpine zones, under blazing sun, and through towering spruce forests enclosing us in cerulean shade.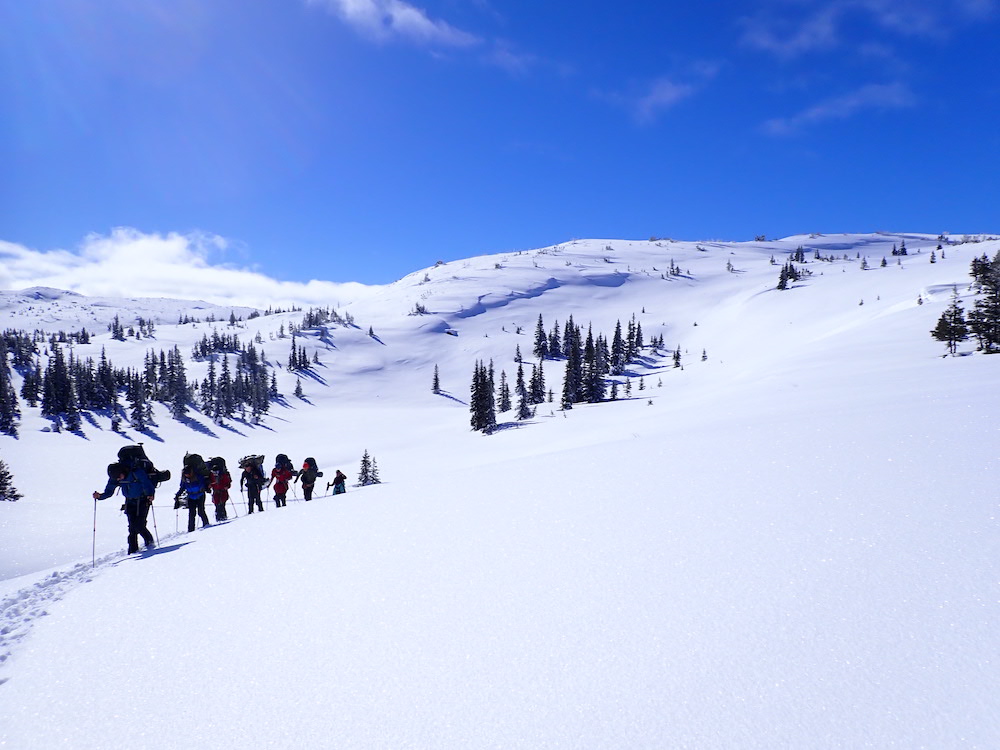 Bria wrote, "What a beautiful day… Skiing all day – it was just stunning. I don't think I've ever been in a situation where it felt like no words could be said because of how amazing it was, but that's how it was today….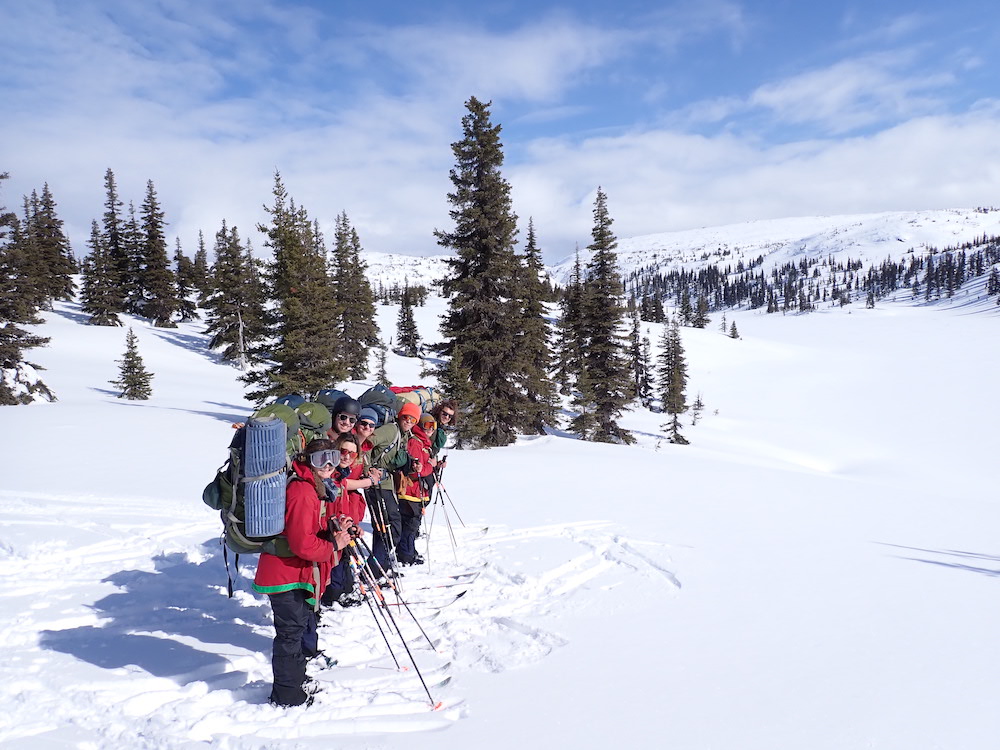 Skiing across Lac Joyel there were alpine zones on either side of us.  The snow was sparkling so perfectly with the deep blue sky. And none of the snow had gross snowmobile tracks on it."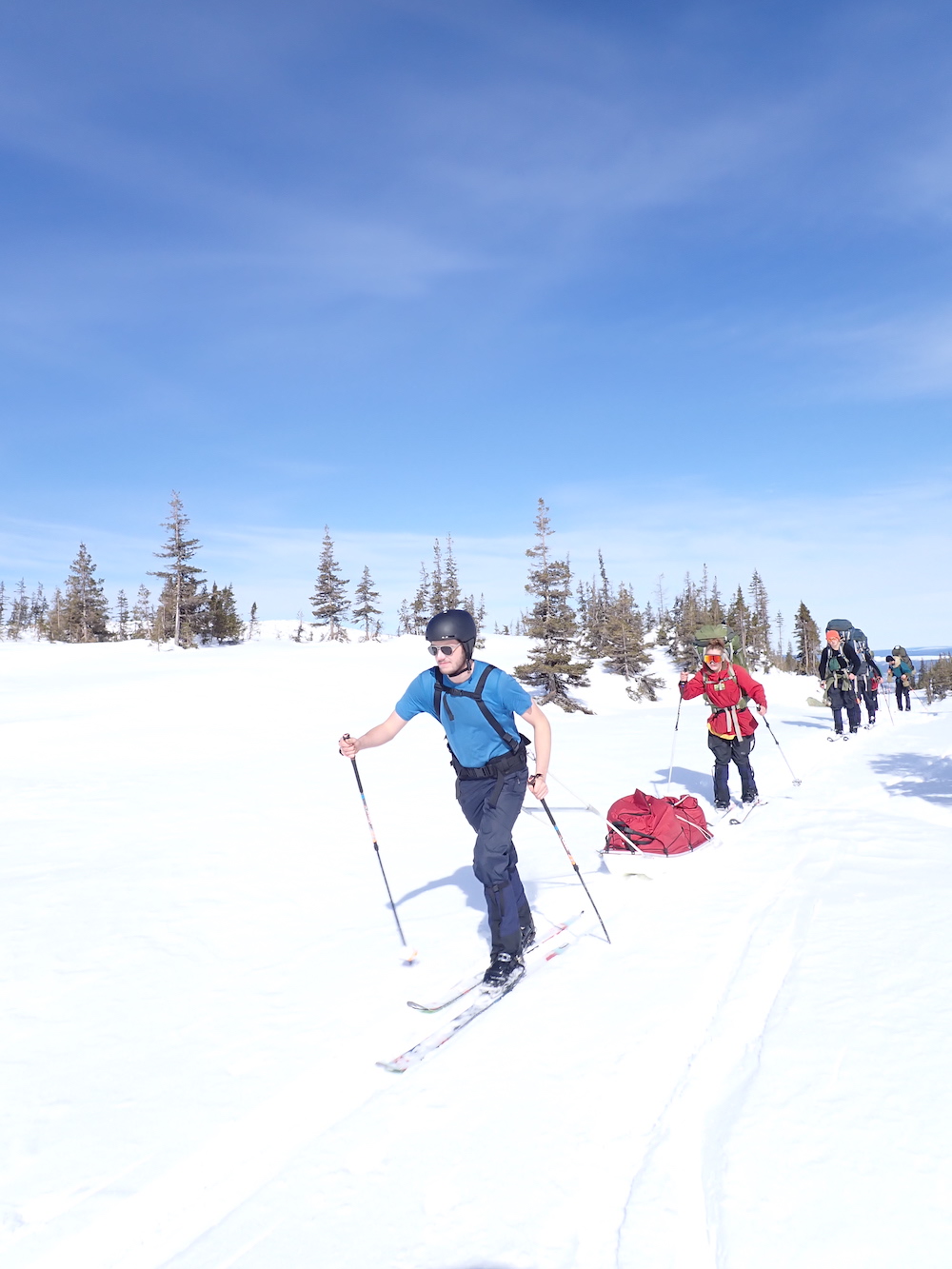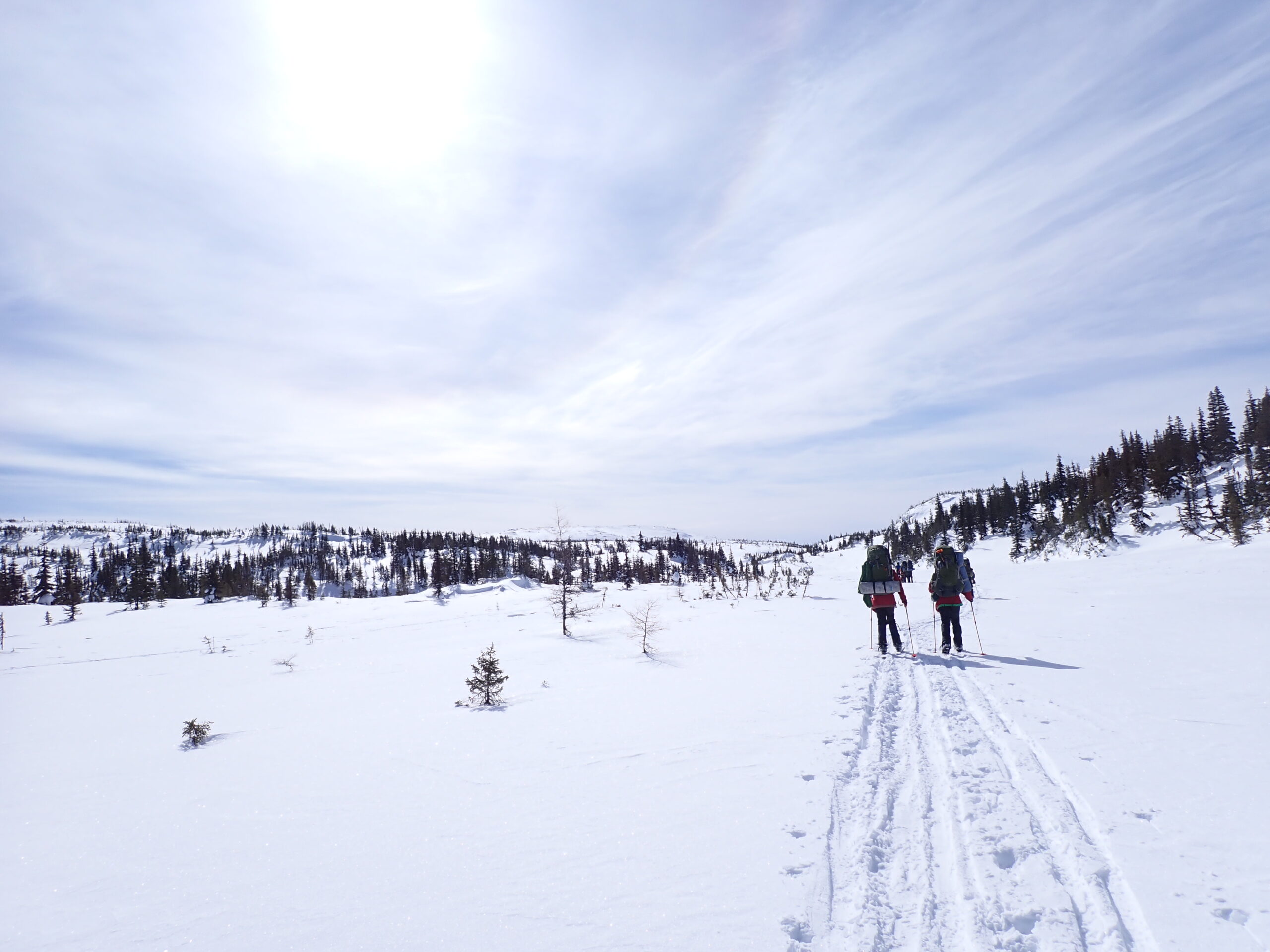 Once we had arrived to Lac Lucie, we settled into basecamp for our second leg.  A flurry of projects began as we started the academics for this leg: reading and analyzing an account of the Antarctic Explorer Ernest Shackleton's year of survival on the ice.  We also built snow caves, burrowing into a hillside and spending the night in pairs.  
On the subject of snow caves, we had mixed opinions. Matias wrote, "Today began with awaking snuggled in our warm snow cave. I admired the beauty of the cool blue light shining through the roof."
Meanwhile, his friend in the same cave, Ian, had a different experience: "I HATE SNOW CAVES. Very useful survival tool; Matias, Cole and I, the three tallest gentlemen, made a snow cave, or at least they did, I helped a little, following the basic structure of snow caves.  My claustrophobia decided it hates them. Overall, a great bonding experience. Matias said, based on how quickly I got in, one could have thought I loved them. But I didn't."
Soon it was time to go up rather than down, and after exchanging stories over oatmeal, we began the gradual ascent of Mont Lucie.  While not over 4000' from sea level, the mountainsides rose sharply and a biting wind drove into our faces.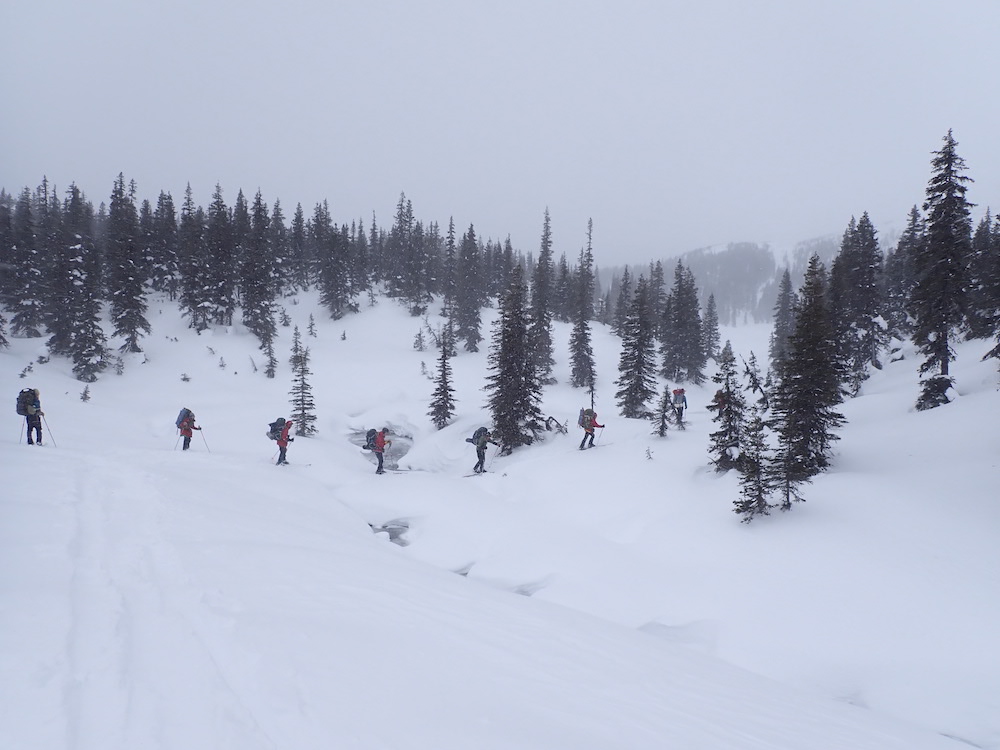 All around, the pale heads of nearby mountains slowly dropped away as gnarled trees grew smaller and smaller and gradually disappeared entirely.  The summit howled furiously, and we howled back. On our way down, we made ourselves dizzy with tele turns, carving wide, swerving tracks through silent hills of pow.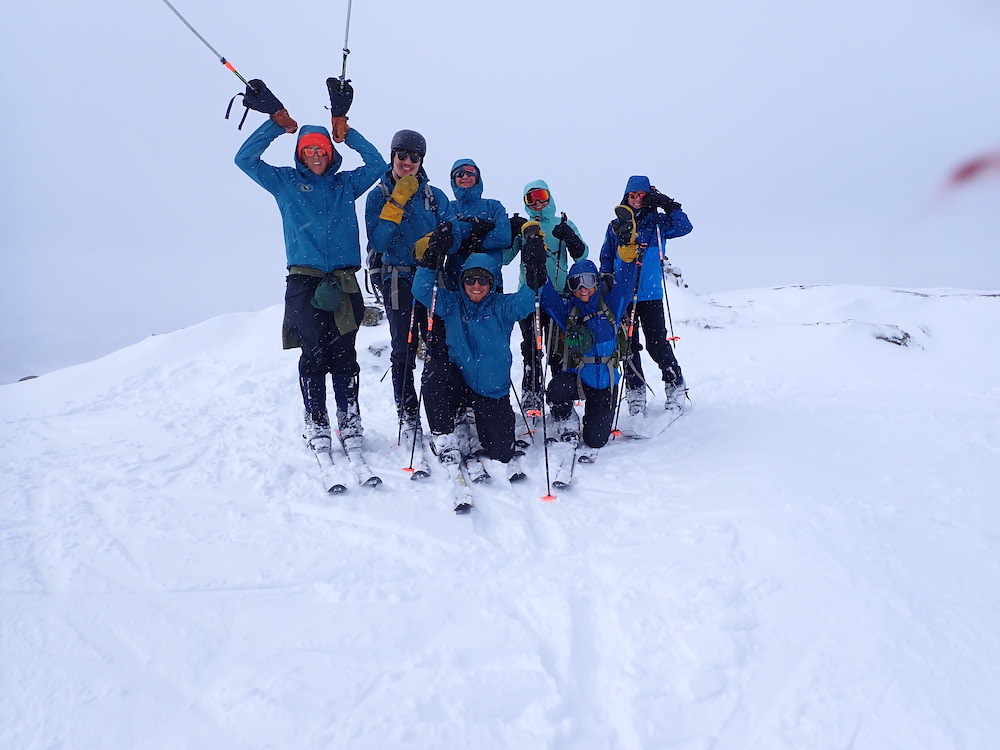 In his journal from this day, Matias wrote, "We began our ascent on the SW side of Mont Lucie and quickly reached the alpine zone where there were many sections of wind packed snow that had turned icy. This made it hard to ski on and our switchbacks had to be made less steep…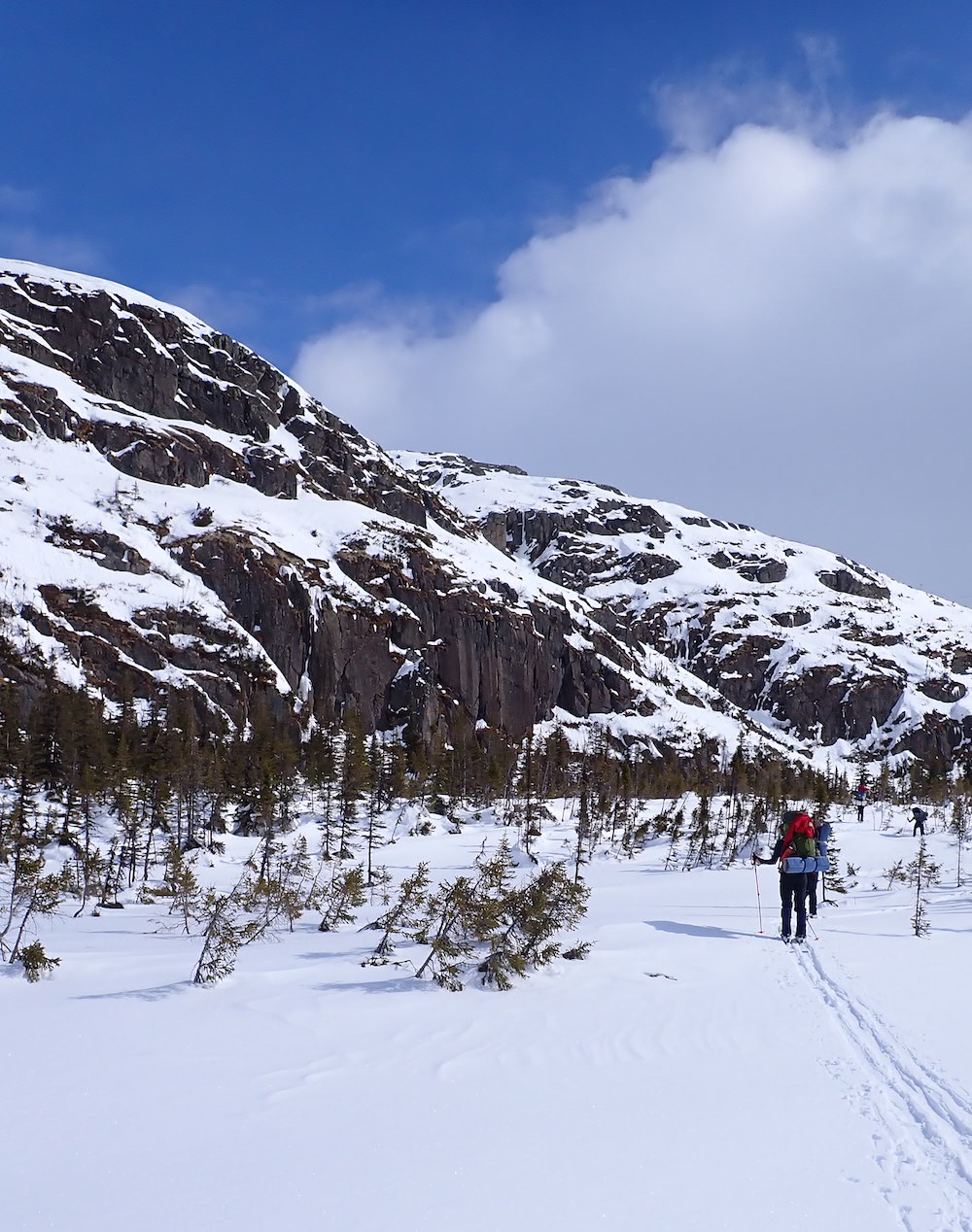 At the summit the snow obscured the other peaks so it felt like we were on our own island in the sky.  It was a cool feeling, but it would have been nice to have a view. It was kind of sketchy skiing down the first bit of alpine zone as it was super packed down with wind, but as we got into the gully/basic on the NE side, it was perfect powder."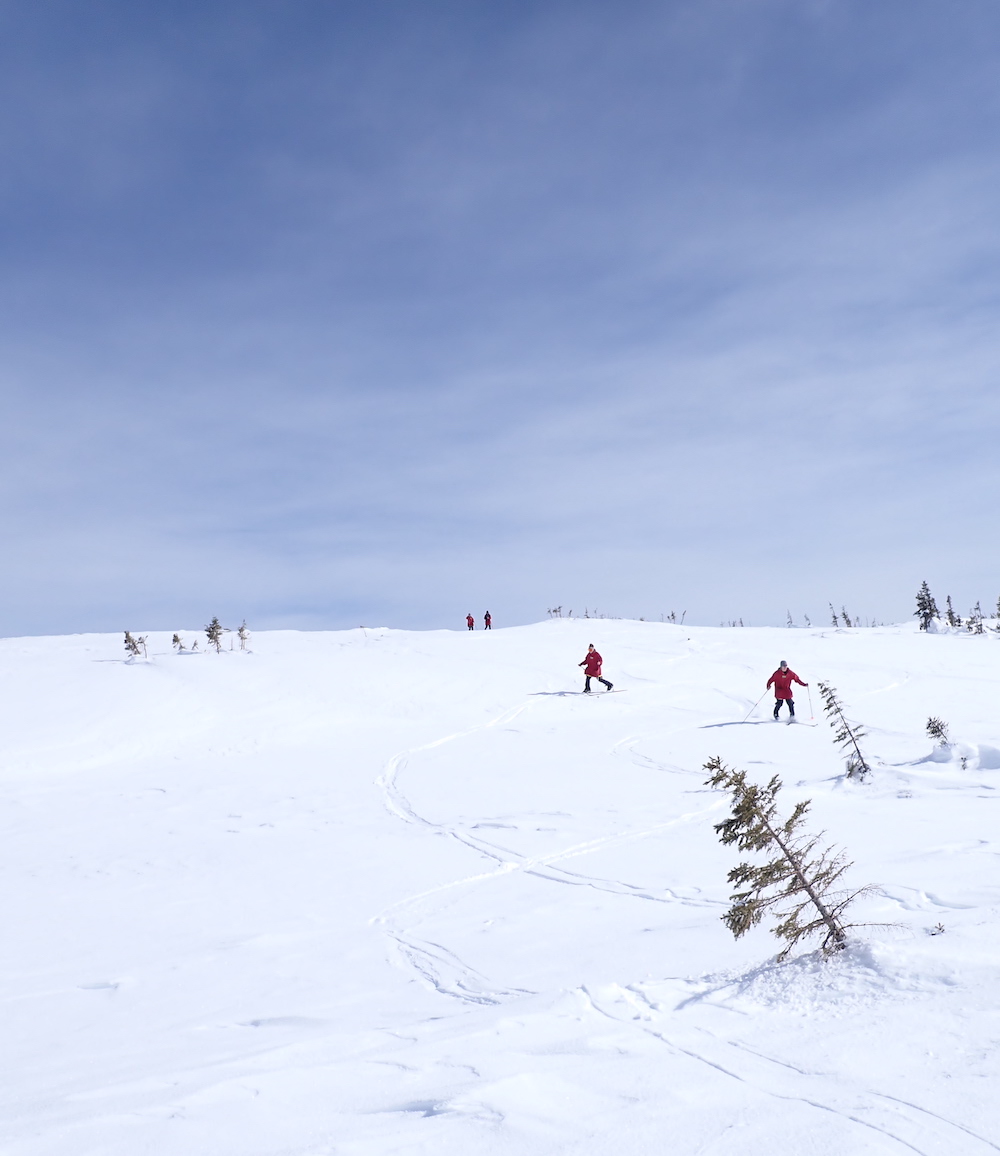 Our mountain climbed, we began to look homeward and inward and turned to retrieve our food cached in the sled.  
As Lilah writes, finding the sled was of utmost importance: "I'm so heartbroken. We were supposed to have rice pudding for breakfast BUT we accidentally used all the cow pow in the oatmeal a few days ago, so we had rice and beans and hamburger instead!!! I'm so curious about rice pudding, and the worst part is that we only have one more rice pudding meal on the whole trip, and it's on the Mont Lucie leg, and we don't have any more powdered milk until we reach the food cache.  We are missing it by ONE DAY.  Absolutely heart broken, shattered you might say, totally, utterly shattered into a thousand million pieces."
Once at Lac Joyel, poems were memorized and recited, and essays on Shackleton were begun, as were small personal artistic pieces, expansions of earlier Uapishka drawings or original poetry.

As we worked, we slowly crept towards a tantalizing goal: a group solo, a full day and night alone with instructors a kilometer or 2 behind.  It was, in part, a strange thought, since we'd seen a remarkable amount of snowmobilers even as far as Mont Lucie, so we never felt quite alone, but nevertheless we wanted the challenge.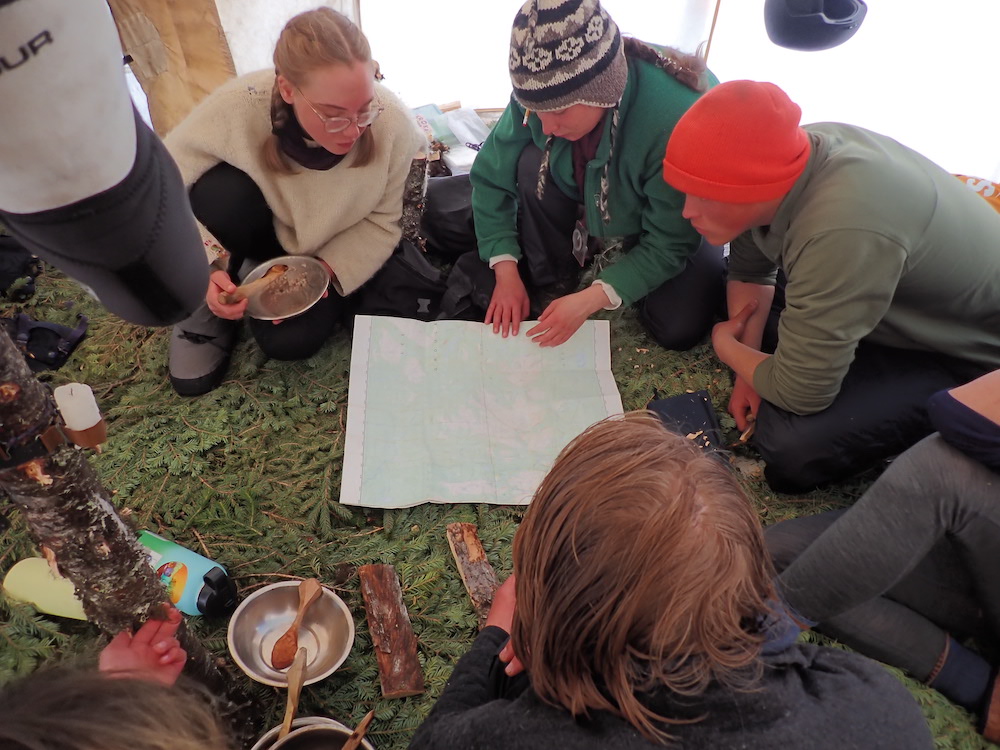 The weather had been predominantly clear and in the 20's, so despite a difficult route, it was decided we would have an 8 km solo travel day.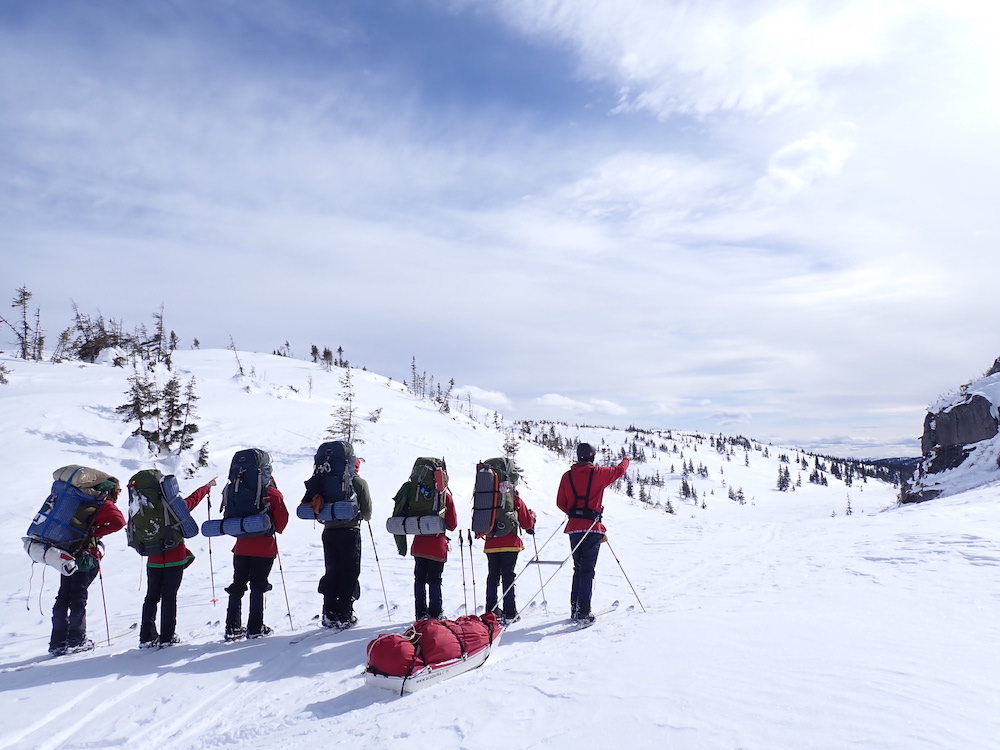 That morning, when we awoke alone, it was a to a ripping south wind and overcast skies.  As we went about our morning routine and began on the trail, it began to snow thoroughly and we decided to go around the large alpine zone, rather than over it.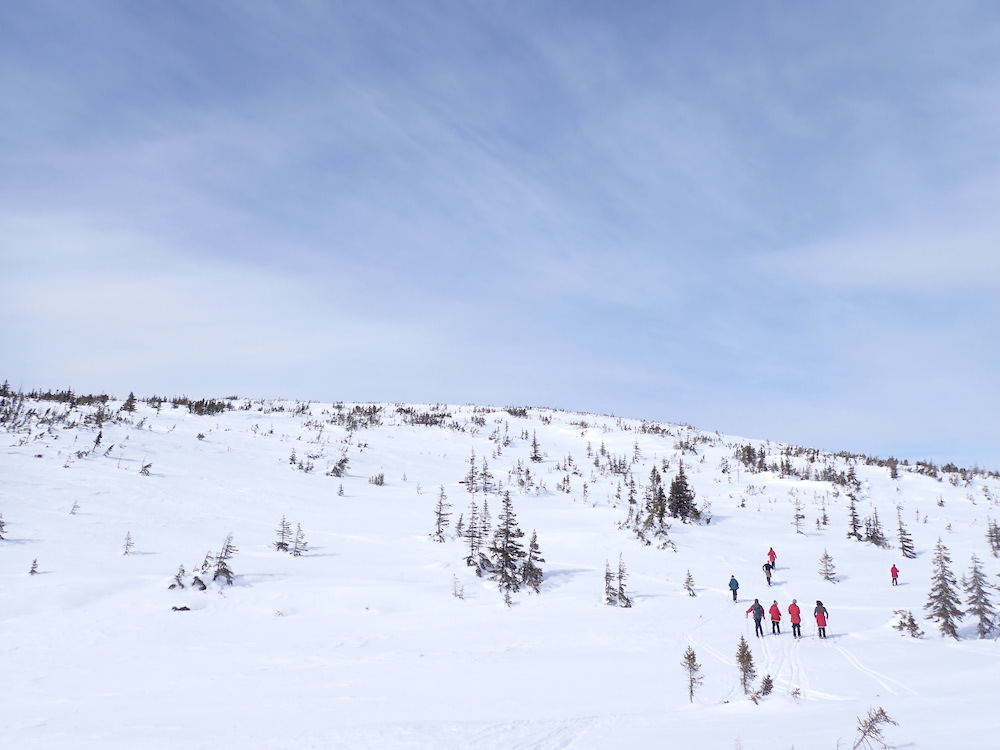 Navigating through slanted and forested terrain, with only fleeting glimpses of a clear horizon, proved the skill of our master navigator, Lilah, as she expertly guided us back on track to the correct drainage.  As we pushed our way through the drainage in the growing twilight, we prayed for Matias' approval of a tent site.
Finally, we found a suitable swamp and got to work.  After 2 hours of labor, mainly in the dark, we piled into the cozy warm tent for magic (chocolate) and deliciously calming curry.  Food always tastes better after you've worked for it.  We were exhausted, but happy.  We rose from a deep sleep the next day, ready to serve breakfast to Tom and Rebecca and perform our skit.  
So went our adventures in Uapishka, encapsulated in part by these words from Matias, "The most wonderous feeling I have experienced thus far on semester is making tele turns through powder.  It is even more rewarding when you hiked up to the summit in a beautiful flurry of snow.  Making tele turns in powder feels like you are set into a cushion with every bend of your knee."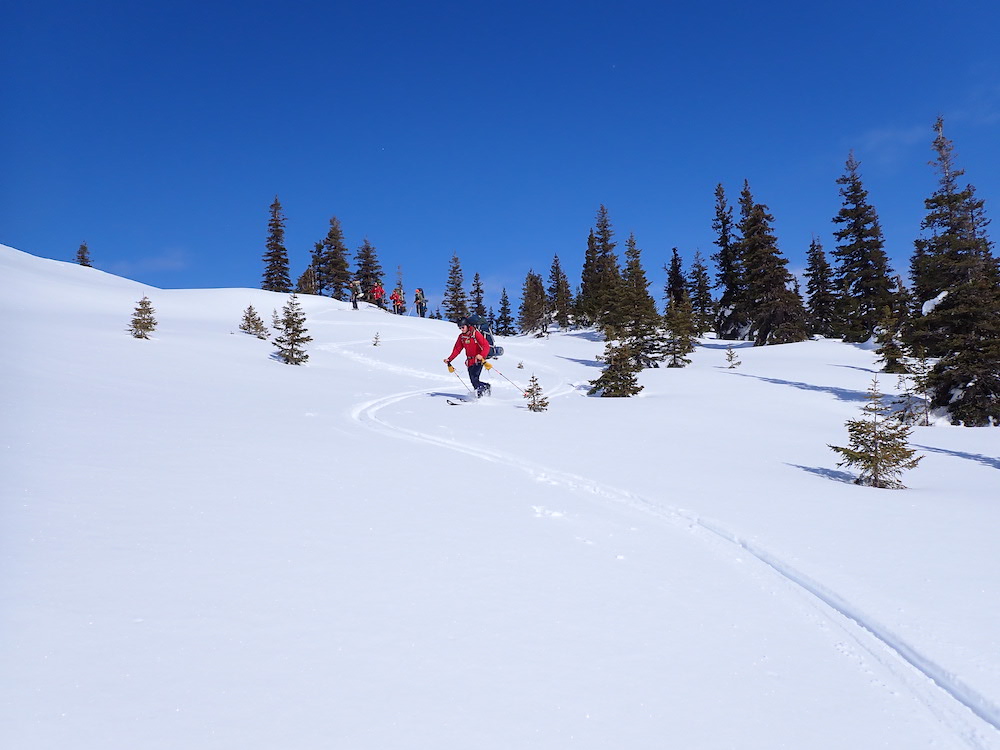 As we hurtle into spring, we transition into a time to recover and reflect on what we've left behind and what we'll bring with us.
See you in the spring!
Laura and WSP '23 Crew