2023 Ecuador Semester Blog Post #4
Hello again! 
I sit at the Troje (upstairs of the barn) at Palugo writing away. Tomorrow we leave for our river expedition to the jungle (la selva). Our days at Palugo have been full of excitement.
We fell back into a familiar rhythm of llankays, meals, and academics. The farm is largely the same, but the recent rainfall has yielded an incredible increase in greenery. The first three days here included Permaculture classes with Thomas and Michael. Long walks across the farm brought to our attention the differences in various parts of the land here– in some places life flourishes (plants, animals, microorganisms) whilst in others the soil is dry, hard, and largely dormant. We question why and brainstorm ways to remedy this. We work on Book of Wisdom pages: one is a map of our bikepacking expedition while the other is a story or legend we heard while in San Clemente. 
We also have a biography project here: researching a significant figure in South American history and creating a short piece of theater about that person. Each performance was incredibly unique and inspiring. Willow and I went first with a performance about Eva Peron, the influential First Lady of Argentina from 1946-1952, which includes lots of lipstick and signs that instruct the audience when to scream, gasp, and cry. Anders and Skyler are both very excited to have a cigar as a prop to be Fidel Castro; Iris reads "Ode to the Artichoke" as she embodies Pablo Neruda; Verena and Jasmine put on an incredible show about the Mirabal sisters, in which Jasmine is Minerva and Verena is everyone else (from the other sisters to their husbands to the dictator to the United States); and Eamon's Mercedes Sosa presentation includes karaoke. Each presentation is incredibly planned, and includes a line from our second language. Angela boldly states a line in English as she impersonates Transito Amaguana, the influential indigenous rights activist whose tomb we visited on our bike trip.
Many other light hearted and humorous moments take place in our time here. Those of us who take on the chore of cooking in the mornings get to learn a traditional recipe– I learn tortillas de tiesto while others learn empanadas. A few of us are sick this week with what we find out are parasites– and our "personal aromas" are more foul smelling than ever. We find humor in this, despite the discomfort, laughing uncontrollably as we sound like a symphony of grossness. Just as people are recovering, pizza night is upon us, which yields another pizza empanada (a ESP 2023 delicacy). We chant "Pizza Empanada!" in the kitchen and snack on the multitude of other pizzas that surround us.
Anders and Ian take on the task of teaching Julian false English. We sit in the chozon one day talking about "mooses" and a paranoid Julian goes, "Guys, you can't trick me– I know it's meese!" We also have a volunteer on the farm one day from Austria and play "guess the German"– we all go around and say our names as she nervously questions our nationalities. Eventually, once it is narrowed down to Anders, Julian, and Verena, Julian breaks out babbling an abundance of  German and the two of them chat for a while ("this feels like an exclusive relationship," Ian mumbles jokingly from the corner).
Atreyu's birthday is October 30th, our packout day. At breakfast we sing "Feliz Cumpleanos" (to the tune of Feliz Navidad– "WE WANNA WISH YOU A HAPPY BIRTHDAY") and after dinner we are served three cakes. Atreyu leans down to take the first bite and gets his face shoved into it by Julian. We finish the evening by hoisting Atreyu's chair into the air above our heads and raising it up eighteen times, counting "Uno! Dos! Tres!"– for his eighteen years of life.
Tuesday, October 31: Expedition Day 1
Last minute packing takes place this morning before we make our way to meet our bus. There are two paths from the barn at Palugo that lead to the road, so we split off to see which one is faster. However, the bus meets my group up the hill and goes down a different way than we thought, leaving the other group confused at the bottom of the road. Then ensues the first of three times we nearly lose Tashi on this expedition. We drive down the highway to meet the other group, but Tashi has already started running up to look for us, and we fly past her, our hands reaching out the window- "No, Tashi!". We load the others on and the bus begins to move, us screaming in protest. Luckily, Tashi runs back down the road and hops on safely.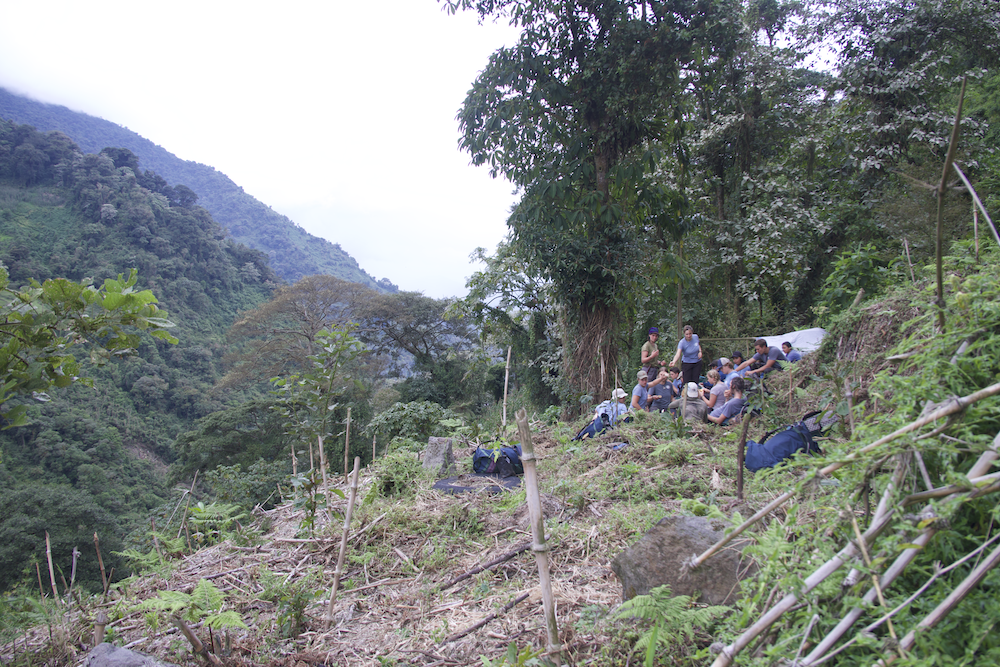 The bus ride is about two hours and Ecuadorian pop music is blasted throughout. We dance around as the bus twists and turns down the windy roads. Ian, Julian, and Skyler exemplify how gym exercises make great dance moves ("now, lat pulldowns!" They all reach their hands up to the sky and back down). 
We get off the bus in Avispero and unload our gear. Now begins a brief but extremely muddy walk to our campsite. Both my sneakers get completely enveloped and stuck in the mud, and when I pull them out muddy water pours from every hole. Sandals must be excavated like long-lost dinosaur bones from the deep puddles we traverse. We then reach a bridge that wiggles back and forth over the rapids and rocks 25 feet below.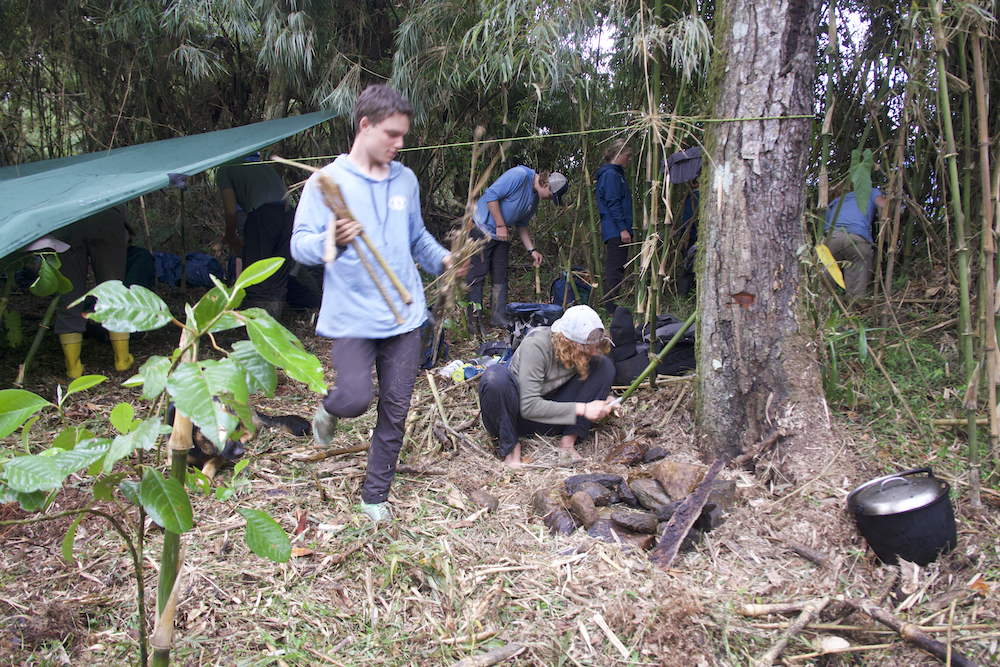 We meet Geova, who will spend this expedition with us, and set up camp. The sound of the river rushing makes us all raise our voices, and there is a vigorously thriving forest meters behind our camp: the way I described in it my journal is "dauntingly lush". After washing socks and shoes, we are joined by Cobb, a hydrologist who is giving us a class today. This time allows us to connect with our new surroundings as we are instructed to spend 15 minutes with a plant and give it a name, draw it, observe it, and ask it questions.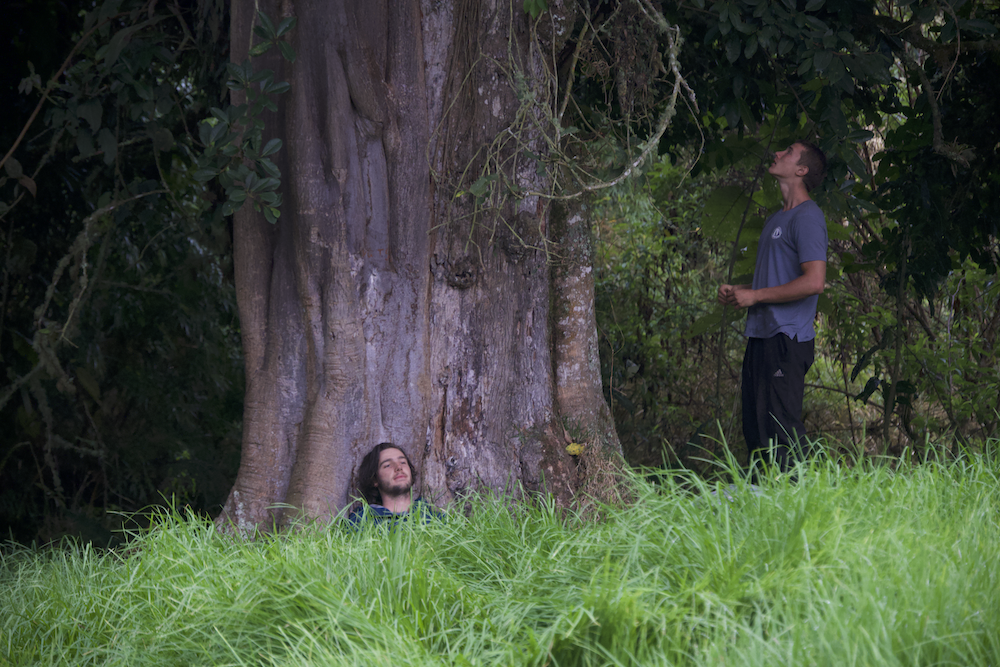 My plant is named Charlotte, Verena's is Amalie, and Anders' is McTinkle. We discuss how connected water is to plants, to everything. Then we hike up the quite vertical trail that takes us through the forest. It's like nowhere I've ever been before– everything from the leaves to the trunks to the ferns are huge and flourishing with life.
We pour water on the ground and observe the way it is absorbed so easily by the soil, pulsing life into each of the organisms here. We discuss the idea of parasites, and "cada planta es aqui por un razon" (each plant is here for a reason). We think of parasites as negative things, but in reality they are often vital to their ecosystem, creating opportunities for new plants to come in and create greater diversity and healthier soil. 
As we take sitspots that evening the clouds above us turn pink, and the fireflies are brighter than any I've ever seen. "Everything around me is breathing; everything around me is alive," I think to myself as the sun goes down and the rushing water fades from my vision, simply becoming an array of small lines and big sounds in the darkness. 
Wednesday, November 1: Expedition Day 2
Tomas joins us this morning to explain his plan for this land: essentially a vertical and wild farm. An ethereal waterfall is just a five minute walk from our campsite, and this morning the girls bathe there. We gasp as the freezing water touches our skin. We are all excited, but Willow reaches a new level when she sees a rainbow– "OH MY GOSH! OH MY GOSH, IRIS! THERE'S A RAINBOW OVER YOUR HEAD!"
Tonight we will be sleeping at the top of the hill that we began climbing yesterday. We pack up the minimal supplies we need for the night and pack some extra seeds and saplings we will plant along the way. Our hike is sweaty, rainy, and beautiful. Our camp is surrounded by bamboo. We attempt to acquire dry pieces for firewood and set up the tarp before sitspot time. 
November 2: Expedition Day 3
Some of the group heads down the hill early to start breakfast, which, little do we know will not be consumed for about 5 more hours. The rest of us collect boards that have been cut and left to dry. Julian and I carry a large and heavy one together, stumbling over muddy patches and makeshift bridges. Julian also carries a small and vibrantly red piece of wood, which he insists that we need for spoons ("I mean, who wouldn't want a red spoon?"). We eventually reach a part of the mountain that landslides down, and Atreyu suggests we utilize the chaotic downward slope to our advantage.
We toss the boards and watch them tumble or slide down at high speed. I shriek with joy watching our precious board that had already made my hands sore speed down the hill. Eamon feels determined to ride on his surf-board-like piece, but we encourage him not to if he wants to turn 19 tomorrow.  We follow the landslide for a long time, yelling "rock!" or "dirt!" as we kick up rubble, and sliding on our butts or hopping from side to side down, throwing the boards as they catch on the mountain. The boards get pretty beat up– breaking into many pieces on the journey. Julian is always so excited and laughing as he watches his precious red plank bounce down the hill among the larger boards, yelling "Look! The Spoons!" after it. We finally reach camp and have breakfast at about 11:30 AM. 
November 3: Expedition Day 4
Happy Birthday Eamon! We are so glad you exist and that you chose not to surf to your death yesterday. 
Today was an exciting day of travel. First, we almost lose Tashi for a second time when she forgets her water bottle at camp. Ian grabs it but fails to tell her this, and she goes back to get it as we all load on the bus, slightly anxious. Then there was the bus ride with a bus driver who maybe thought he was in playing Mario Kart. 
We hop off the bus and load our gear onto taxi canoes that take us across a river. After lunch we load into three trucks – some inside, some in the beds. We fly down roads, wind whipping through our hair. We stop quickly in a town where Geova buys some fly new white shoes (soon to be brown) before crossing a river. And I don't mean on a bridge. I mean we drove through the river; we could put our hands out of the truck and touch the water. Our last vessel is another canoe which takes our gear across the Rio Arajuno to our camp. Most of us, however, choose to swim across the shallow river to the camp, cooling off from a day of beating sun. Our camp is incredible, surrounded by thick jungle and next to this beautiful river. 
November 4: Expedition Day 5
November 4 is Julian's birthday, and he has two birthday wishes. First, he requests that we "hit on him excessively," which I would have done, but I could hardly remember to when looking into his gorgeous baby blue eyes. Second, he wants to try the jungle tradition of getting ahi (hot pepper) in his eyes (meant to clear one's vision- metaphorically). After dinner, Abdala brings it out and Julian bravely opens his eyes to it. The first few moments seem torturous, he shakes his head and covers it with his sweatshirt as we sing "Love the Earth" to him. It is not long before he is his joking and sweet self once again, and demands belly bumps (our semester handshake) from everyone, his eyes still closed. 
Today is filled with classes on river safety on the beach. Atreyu, who is greatly improving his English, raises his eyebrows and says, "Let's go to the beach". So we do. We start with a knot tying class and many races and closed-eyes knots ensue. We overheat and get in the water, comparing our sand fly bites.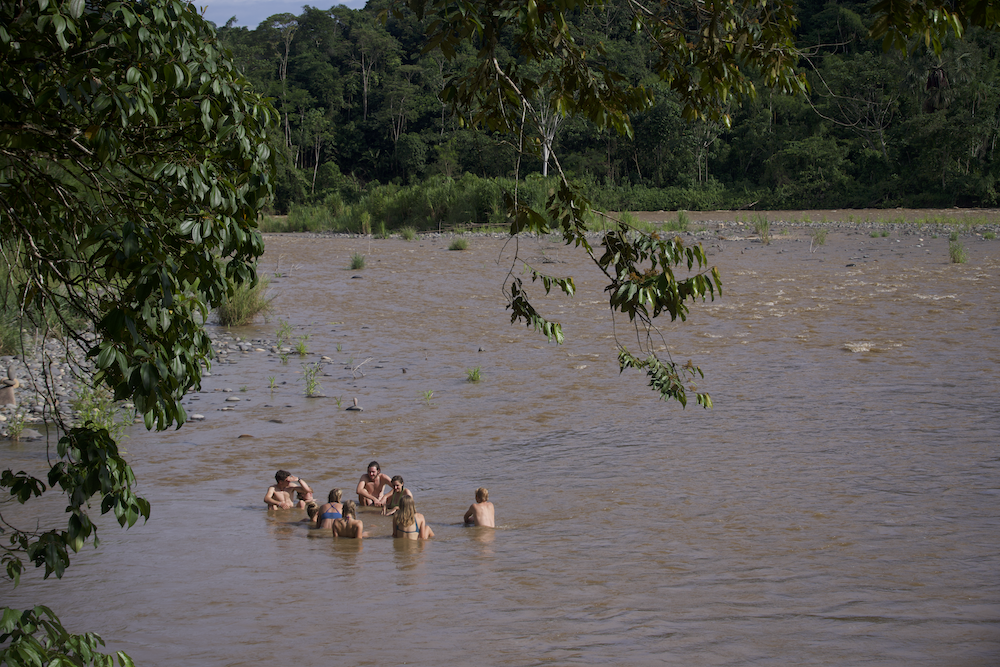 November 5, 2023: Expedition Day 6
We spend the morning practicing on a small rapid near our camp. I am nervous to try steering, but luckily my partner, Baddie Ian, is very supportive. We run it once and I ask, "How was that?" He replies "Stoke-worthy! Now let's try to catch a wave next time."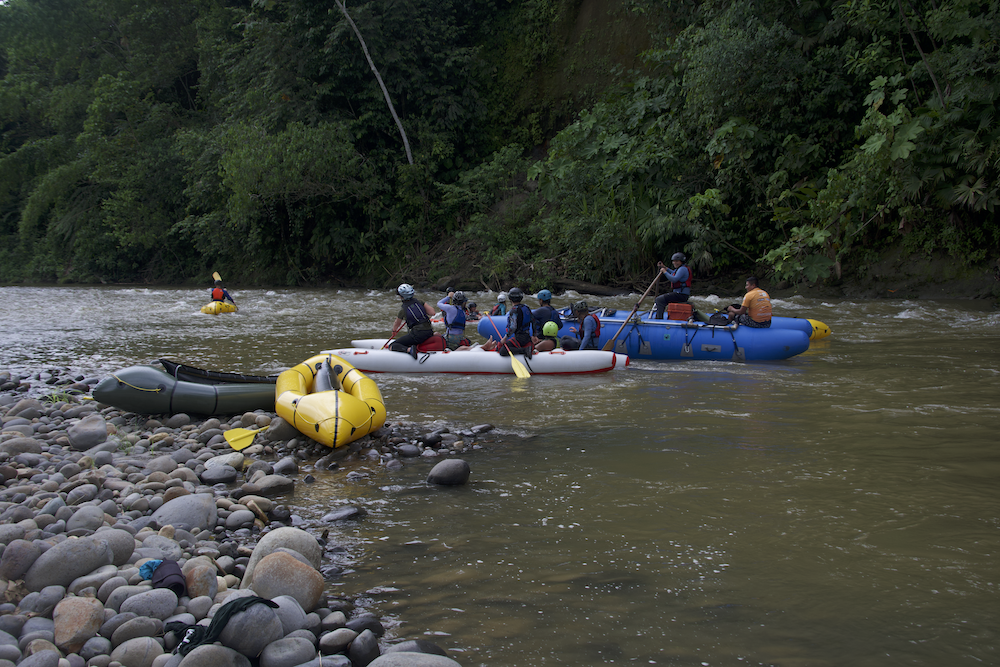 There are many failed attempts at surfing the rapid as well as hands-only-no-paddle-duck-style. At one point Willow, Anders, Ian and Julian all get into the blow up one person kayak and paddle with their hands. As experienced paddlers, they appropriately lean into a wave, but the volume of people wins, and they flip.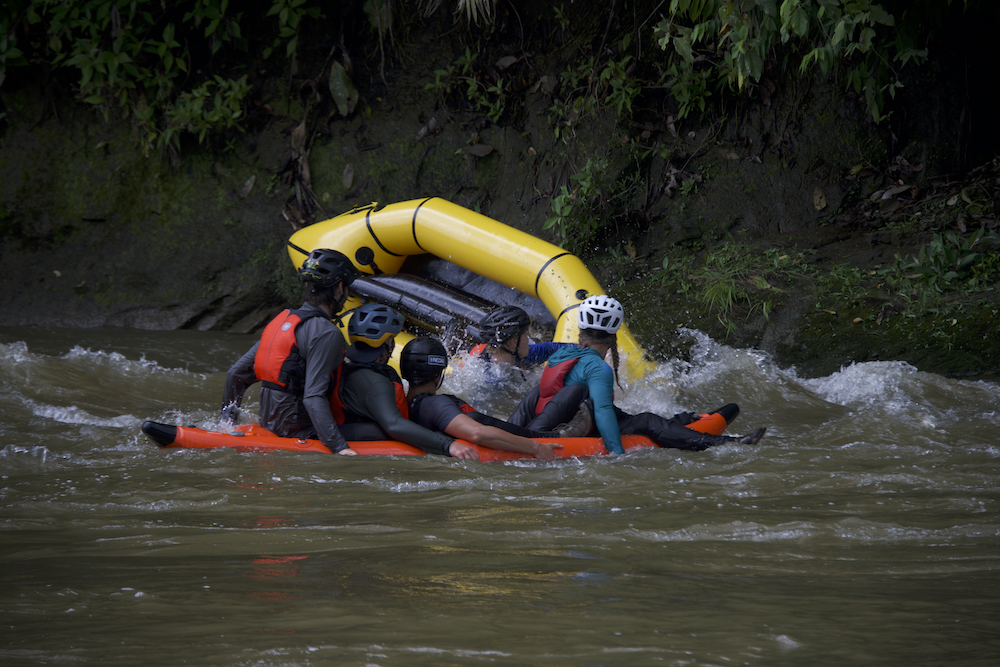 The afternoon brings a quick trip down the river, navigating about three rapids before we pull off to a beach where a truck meets us to take us home. Most of the group goes in the first load, but those of us that stay behind get to experience Baddie Ian's synchronized swimming skills (including a triple somersault that he is too dizzy to stand up from) and Julian's legendary German rap song, "Drip Drip Drop".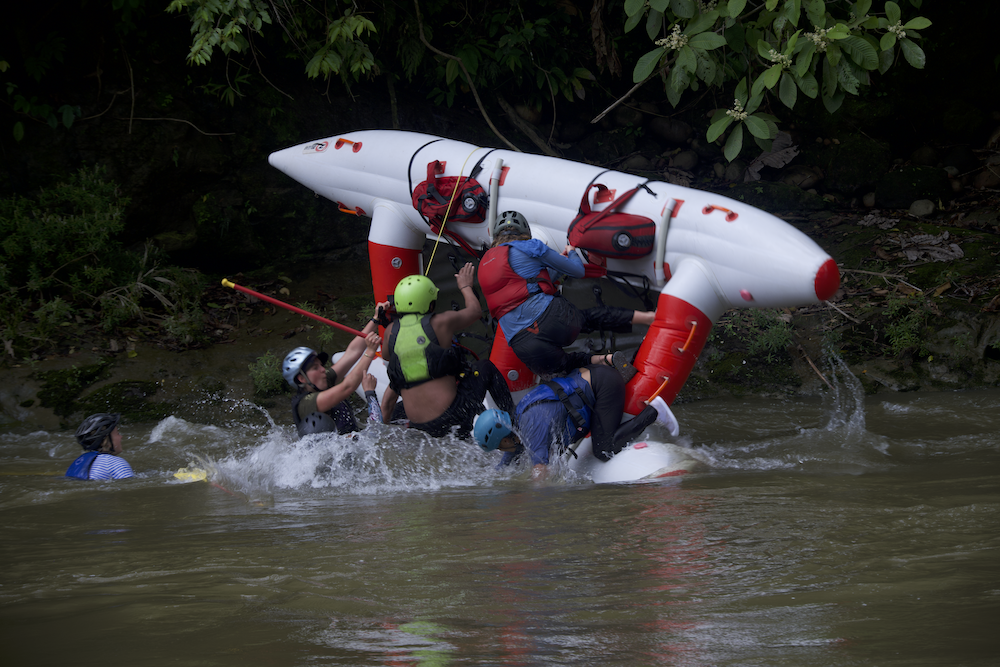 November 6, 2023: Expedition Day 7
We are off to Atreyu's house today! But before we can leave, commotion takes place on the beach. We are starting to load boats when Ian runs down from camp yelling, "I just learned a new rule of the jungle: Don't put your toilet paper on the ground!" He plops himself down in the river and says, a bit calmer, "I wonder how long ants can hold their breath." 
We fly through rapids and relish a torrential downpour midday. Near the end of the day Julian and Verena take an intense flip. Not much later Atreyu yells to us, "We are near my house!" Moments later we pull to the side and unload boats. We walk the path to Atreyu's house. We meet his grandmother, Mama Isolina, and his pet spider monkey Nemo. 
The rest of the day is restful; we unpack into our new dwelling, which is a small cabin raised off the ground with mattresses and bug nets for each of us. Then we go to the river to swim and almost lose Tashi one more time. She takes a push canoe, and, attempting to get to the other side of the river to pick up some of our gear that was taken by truck, gets pulled down the river. "No, Tashi!" we all call. Luckily, she makes it back and she and Julian paddle to the other side.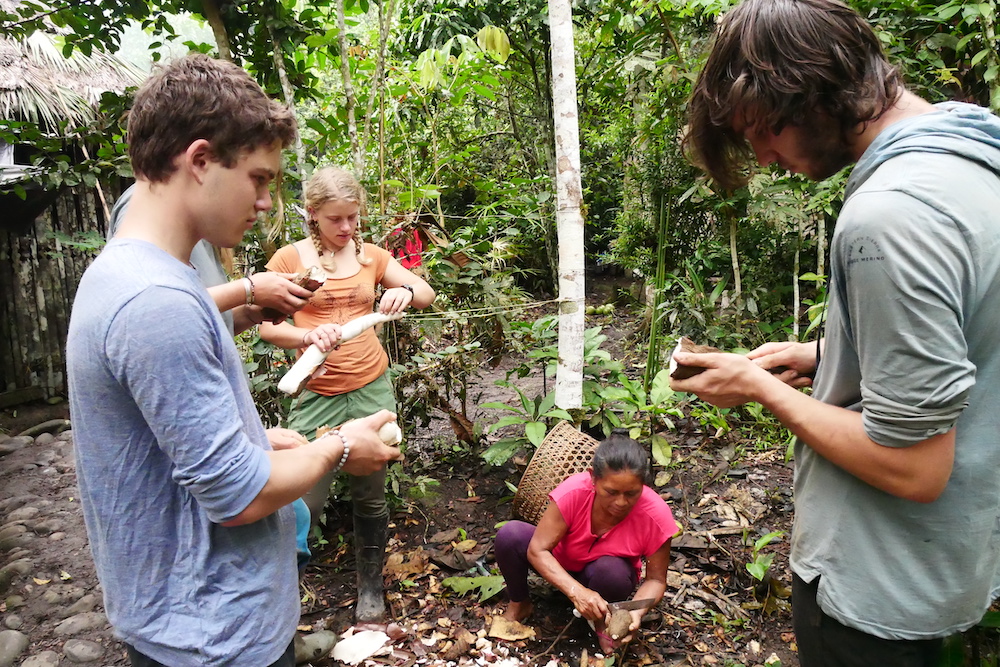 Tuesday, November 7, 2023: Expedition Day 8
There were many noises of the jungle throughout the night– chirping, chattering, screaming, whistling. Some of us take the option to get up at 4AM this morning and drink Wyusa tea with Mama Isolina– a tradition here. We have llankays– some harvest Yuka, others help cook, others help with firewood. I peel bark off a tree with a machete. We see many bullet ants and marvel at their size.
After a delicious breakfast of crushed plantain we head out on a hike through the surrounding forest and so much happens. Within the first five minutes we are bending down to see a cool ant, and 5 seconds later a huge snake appears on the side of the trail. We are invited to dig our fingers into a termite nest before throwing it into a pond. We reach the Pita plants which we will be making cordage out of– we each get a leaf, peel off the spines, rub it on a tree, separate it into two parts, and fold it into a bundle. One can find every bright or mellow color in the jungle: orange, green, hot pink.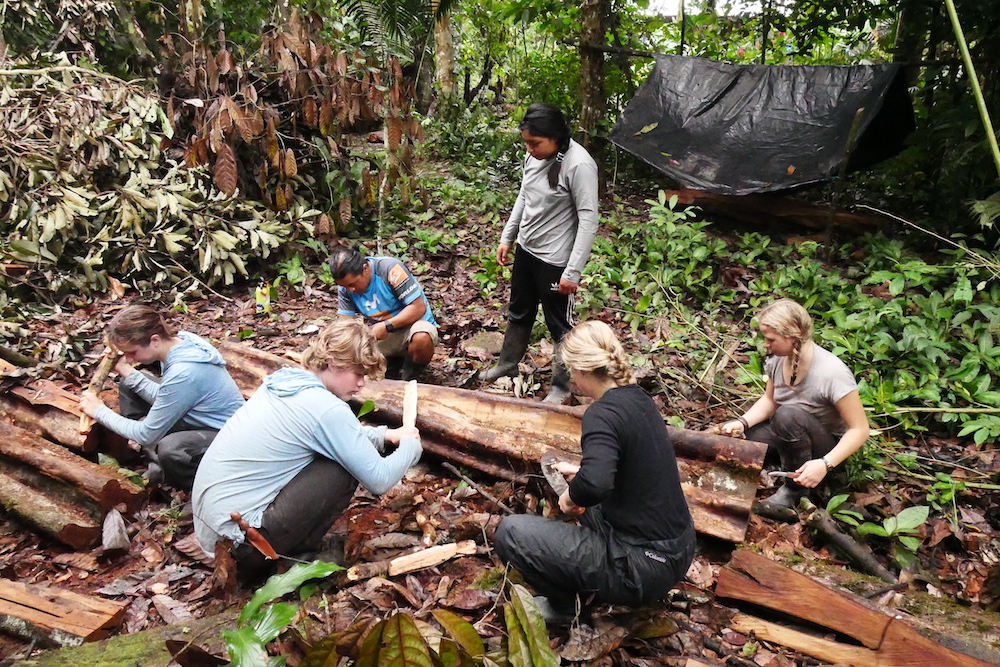 To cover from the bugs we are all wrapped in our long underwear. "I feel like I'm going to a sleepover!" Eamon declared this morning. The rest of my notes from this hike was written on a spare piece of paper from Iris's journal, and was so stuck together with sweat that it had to be ripped open. I think I will always remember this hike, writing notes leaned against Willow's hot shoulder, our bellies showing as we wipe our dripping faces with our shirts. We are so thankful for a swim afterwards. When Anders gets out of his hiking clothes he exclaims, "I feel like Jesus!"
In the afternoon we take our Pita leaves from earlier and scrape the green off to reveal the fibers. We wash them in warm, soapy water and leave them to dry. We then make bowls out of gourds called Pilche bowls– we cut them open, scrape the seeds out, boil them, scrape more, and then add designs.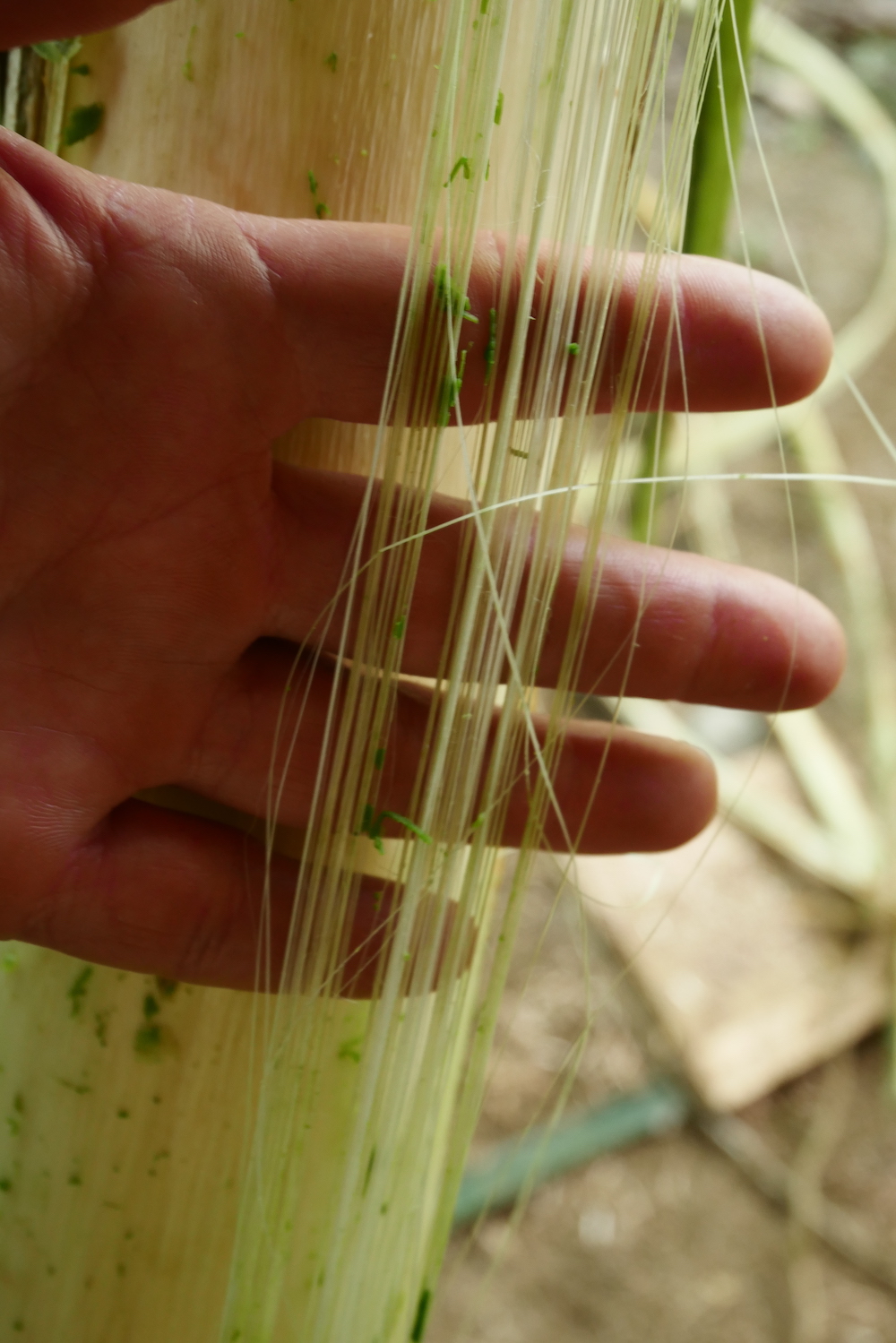 After dinner we participate in the making of Chicha– a traditional fermented drink. It starts by mashing Yuka in a long bowl called a batan with a mashing utensil called tacanamucu. Then the women chew and spit out the Yuka, the men mash it more, and it is left to ferment. 
Wednesday, November 8, 2023: Expedition Day 9
Today I got to experience the 4AM Wyusa ritual. We sit around the fire and Tashi tells Mama Isolina about her dream. We get to take another walk today in which we learn all about medicinal plants from Mama Isolina, who is very well known for her work with plants. 
The afternoon brings basket making, which is extremely difficult. Interestingly, men traditionally make the baskets here so the women were unable to help us as we struggled. In the end, the teachers coming to "help" us gradually becomes them doing it for us, as we watch with fixed gazes and open mouths. At one point Eamon sees Ian's half made basket on the ground and exclaims, "Woah, Ian is that yours?" Ian replies "Yeah– are you impressed?" Eamon: "Yes!" Ian: "Thanks! I didn't make it…"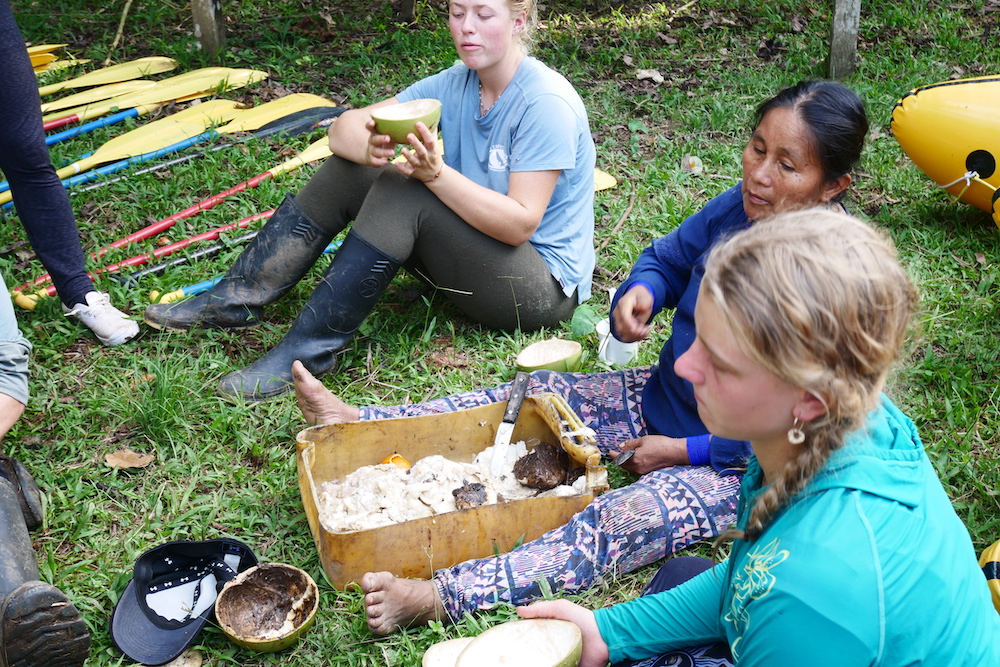 ___________________________________________________________________________________________________
BLOG BONUS:
What percentage of your basket did you make? 
Willow: I think 11%
Anders: A solid 70%
Verena: 100%
Julian: I made 100% at first and then they took everything out because I'm left handed… and then I made 5%
Iris: 40%
Eamon: 13.331%
Skyler: A solid 3%
Ian: Uhhh… when I tell my mom definitely 100% but in reality 5%
Bridget: I can confidently say that in the end, between weaving and then taking things out, I made 0% of my basket.
___________________________________________________________________________________________________
Thursday, November 9, 2023: Expedition Day 10
Throughout the morning many of us get our faces painted with ink from a jungle fruit that has lasted, very faded, to this day (November 18).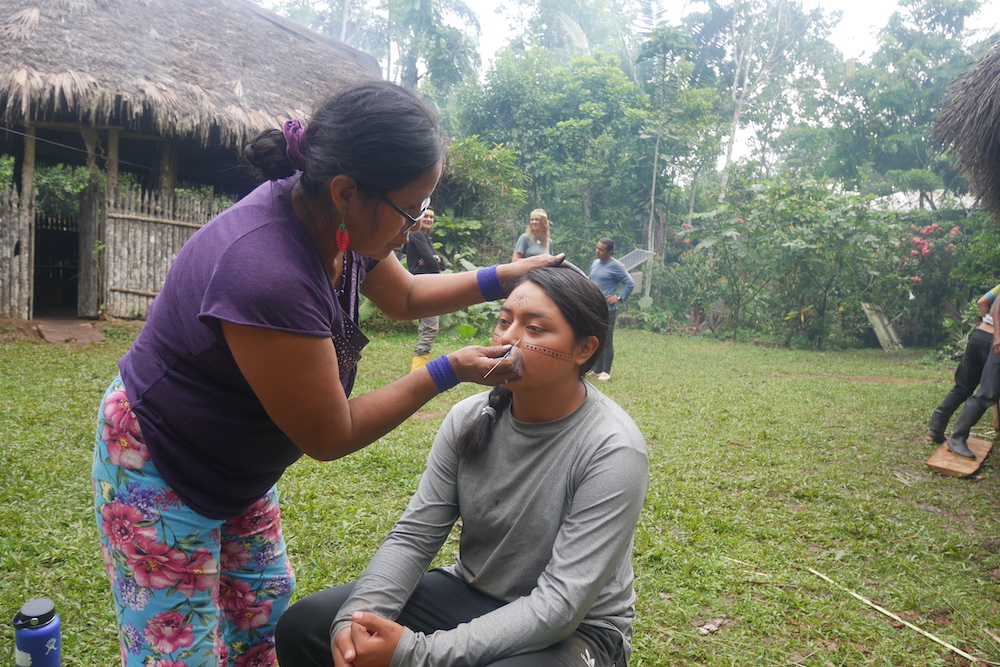 The morning is filled with adventures. We pack our personal items (so many wet clothes), say goodbye to our bug-net-filled elevated home, and go to breakfast where we try large grubs that taste oddly floral. We circle up to say goodbye, share words of gratitude, and give gifts. We head to the river and start our day. The morning goes by peacefully for the most part, with many moments we can jump out of our boats to refresh. Verena and I attempt to waltz in our boat, and make it about 20 second before we fall into the cool water.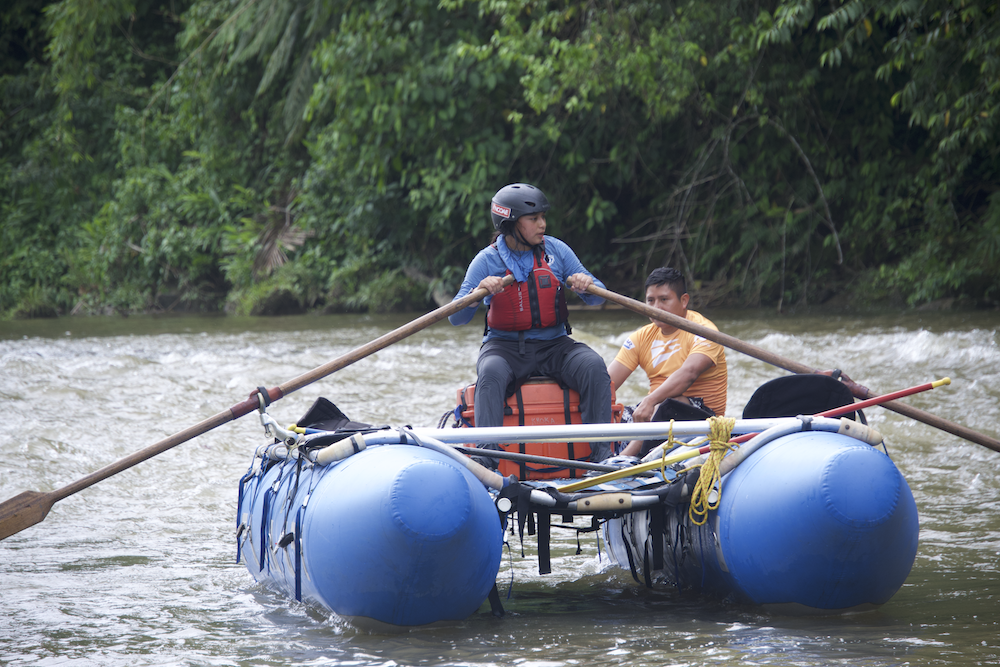 After lunch the day takes a more chaotic turn. We find a way too short (AKA we are too tall) rope swing and struggle to make it over the water, and suffer even more trying to pass up to the next person. Julian stays in the water to pass it back up, but as the teachers urge us to leave he gets left behind by his partner, floating there in the river. A single splash then causes an intense war to ensue– largely Willow and Ian vs. Julian and Jasmine. Boats are flipped, paddles are stolen, faces are splashed… at one point Ian and Willow somehow have seven paddles in their boat.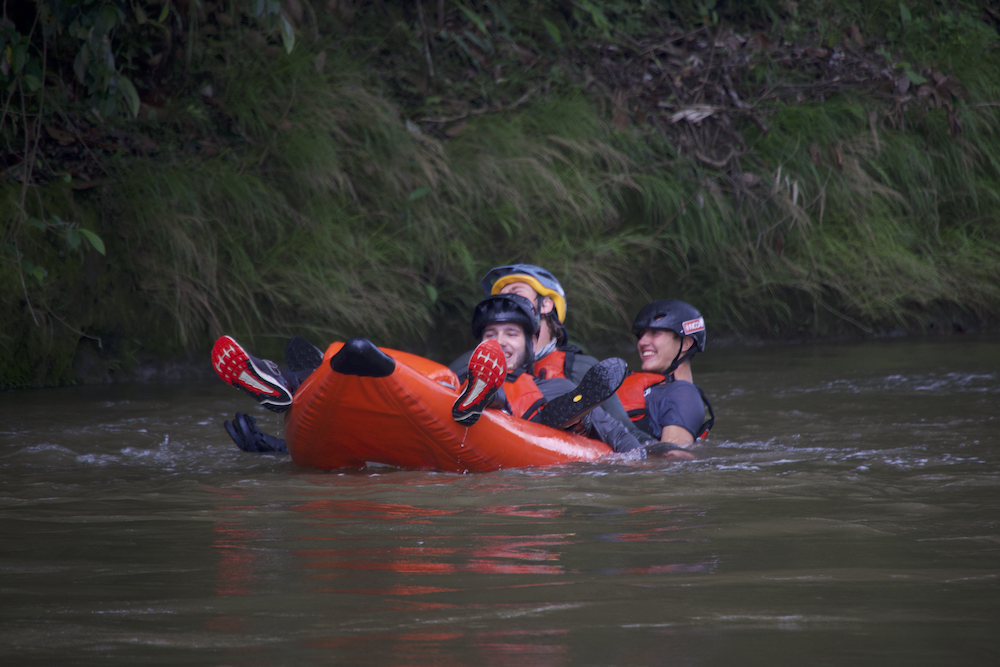 As the sun travels through the sky we travel down the river. I ask Atreyu, "Cuantos kilometres mas?", thinking we are surely near the end. He replies "veinte". Knowing he likes to joke around I give him questioning looks, but he insists. A few moments later he teases, going "no es viente kilometres… ahora es diez y nueve!" In the end he was joking, however, because we reach our destination mere minutes later.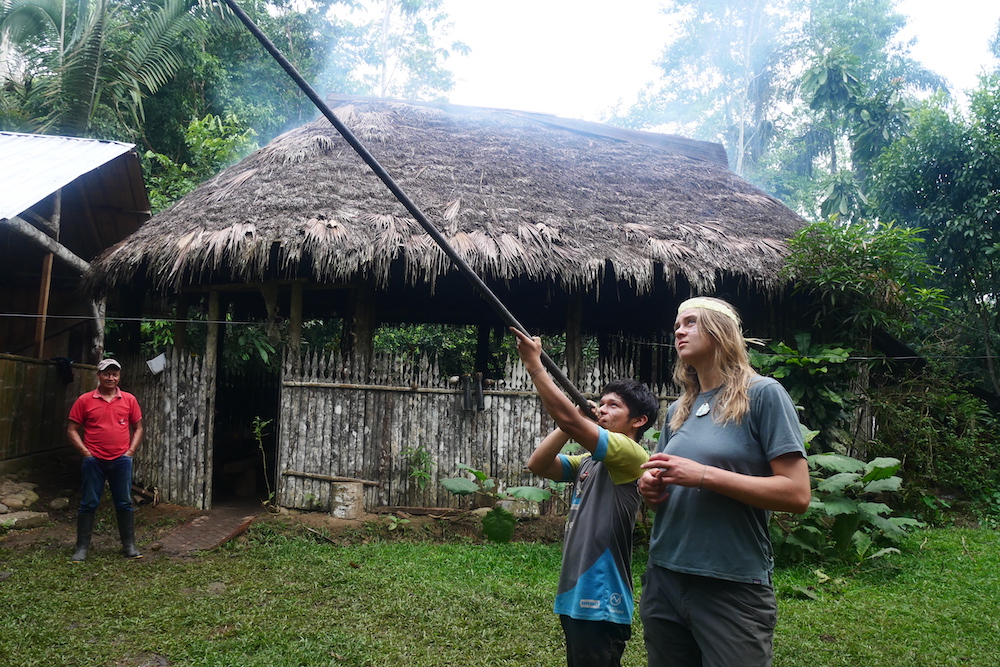 After a five hour bus ride we arrive back at Palugo at 11PM, ready to be cozy and warm.
Willow just called me down to try on mountaineering boots and climbing shoes, so I'd better go for now!
Goodbye friends, 
Bridget and the 2023 Ecuador Semester
___________________________________________________________________________________________________
P.S. A random BLOG BONUS!
What would you baptize your children in? (It came up in conversation when Julian told us about a German song that talks about baptizing your children in beer)
Julian: beer
Willow: Goat milk
Ian: Salsa Picante
Eamon: *silence* (Ian: Can you say 'the rushing water of a clear Maine river' or something super hippie like that?)
Eamon: butterfly tears
Anders: The blood of my first bor… oh wait that doesn't work
Bridget: honey
Skyler: I don't know probably just water
Tashi: maple syrup
Jasmine: a cold spring
Jack: lava
___________________________________________________________________________________________________
PS- Our beautiful instructors!