Here at long last after many legs of travel, we greet you from Kroka base camp! Since February 15th when we were dropped off at Route 9, we have skied the Catamount Trail, paddled the Missisquoi River, sailed Lake Champlain, and bikepacked our way to Marlow, NH. What a journey it has been and what adventures we've experienced.
      We set off from Whitehall, NY on bikes with Misha as our instructor. For 201 kilometers we pedaled up and down hills under the yellow sunshine, laughing and cruising about, a joyful bunch of hooligans. At times we zoomed along roads and other days we navigated the dips and bumps of a single track trail, all the while indulging in fun little excursions. We took our time, and stopped now and again to do service work for the community, jump in a pond, eat delicious ice cream, or to do any other random activity that presented itself.
       We camped in the woods and at farms, including Trollhaugen Farm, where Kroka used to be located. We even stayed in the yard of a generous stranger one night. At each campsite we worked on our heroine/hero project, where in small groups we learned about people who have made the world a better place: heroes such as Malala Yousafzai, Rachel Carson, Hannah Senesh, Ibram X Kendi, and Fidel Castro and Che Guevara. We read biographies about each person and prepared mini plays based on them which we will perform for the community. Some campsites also gave us the opportunity to go caving and rock climbing, to the horror and delight of specific members of our group; and to the annoyance of all, we often had to deal with swarms of mosquitoes and black flies. In short, there was never a dull moment in bikepacking camp life!
      On May 20th, we biked down a road past a familiar blue square trailblazer with a pawprint on it. After all of our travels, we finally made a loop and arrived at a section of the Catamount Trail we once skied – a full circle moment. The sun was shining on the stunningly green leaves, and there were beams on all our sunburned faces as we celebrated this significant moment, remembering all the events that took place the day we were last there. And then we continued on, as all journeys must go on despite what the past may hold. 
      Towards the end of the leg, we were joined by several members of KCS: Miriam, Desmond, Max, and Zach, along with their teacher Hannah. We enjoyed their enthusiastic company and their attitudes of openness and determination to live the life of a Kroka Semester expedition. They took on a tricky single track trail with us, and the next day they helped us do service work for Green Mountain Orchards by snapping excess baby peaches off peach trees. We had a blast with them, and they went on to finish the expedition on their own. After canoeing the bikes and swimming across the Connecticut River they biked all the way back to Kroka base camp along with Misha and Hannah, leaving us on a multiple-day independent group travel.
      We have gone on several independent large group travels at this point, yet we can probably all agree that this was the best one by far. We worked together efficiently, and spent quality time laughing and enjoying each other's company. We got to fully explore our potential as what we are by now: a family. We worked through everyday routines and even annoying setbacks, doing our best to work as a team even when it was hard. This may or may not have involved Sylvan's bike pedal popping off and several containers of ice cream.
      Our last night on trail together was potentially the most epic by far. It had been a muggy day and ominous clouds loomed on the horizon as we set up camp and made dinner. The wind began to howl, and before we knew it we were in the midst of a thunderstorm. Spirits high, we gathered around the stove in our underwear and rain jackets for dinner in the pouring rain, adrenaline rushing through our veins and gladness flowing into our hearts. Gladness that we were there together in each other's company, thankful for the sweet drops that spilled down from the heavens and for the thunder that shook the green earth beneath our bare toes. Gratitude to be alive. All I can say to convey the magic of this moment is that we could not have wished for a better ending to our expedition.
      For so all good things must reach an end, only to begin a new chapter. After many a long month living a nomadic life and calling the forest our home, we finally arrived at the hill right before Kroka and were joined by KCS on bikes. Butterflies flitting about in our stomachs, we flew down the hill and a familiar view came into sight – only flooded with the green light of spring.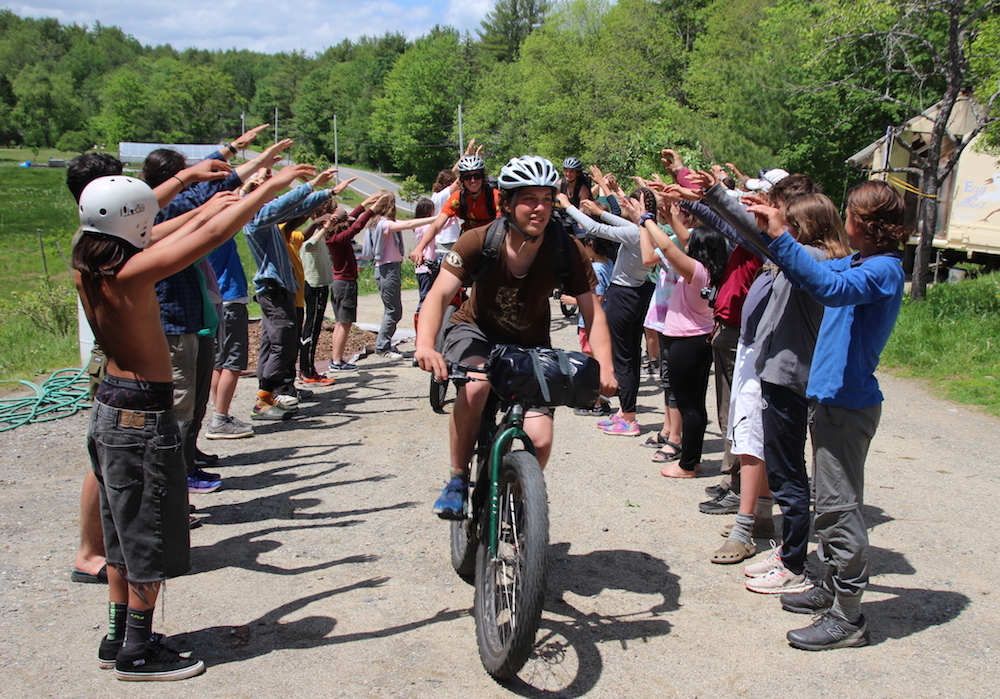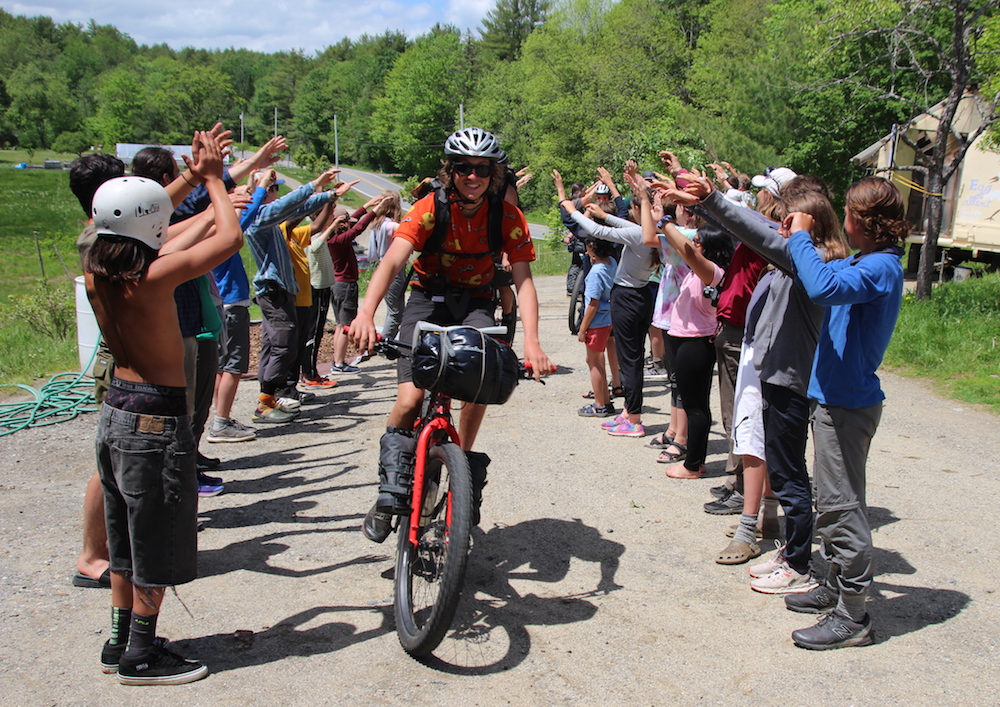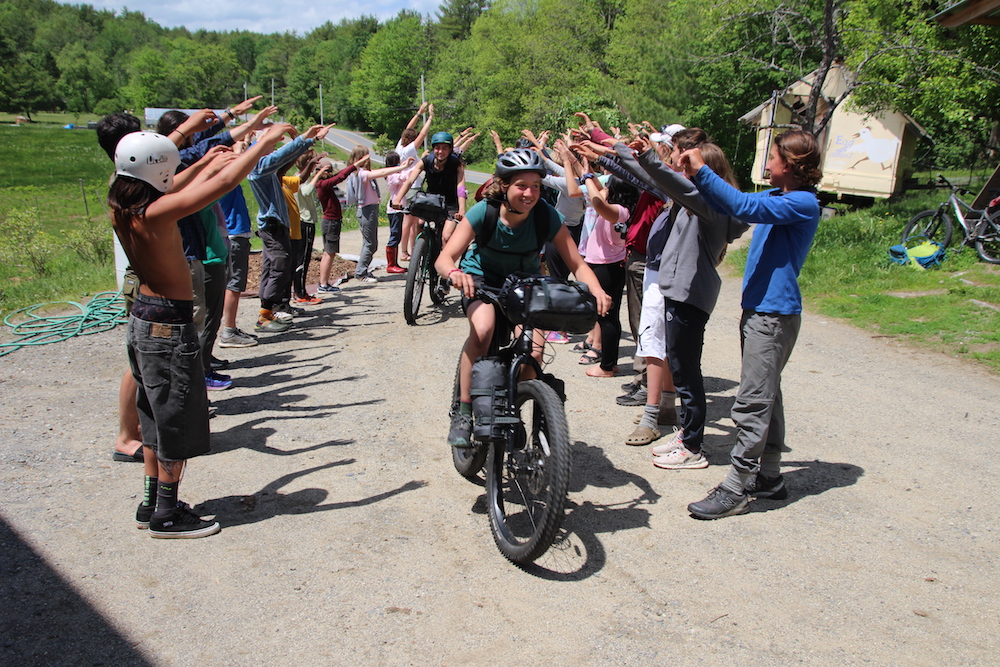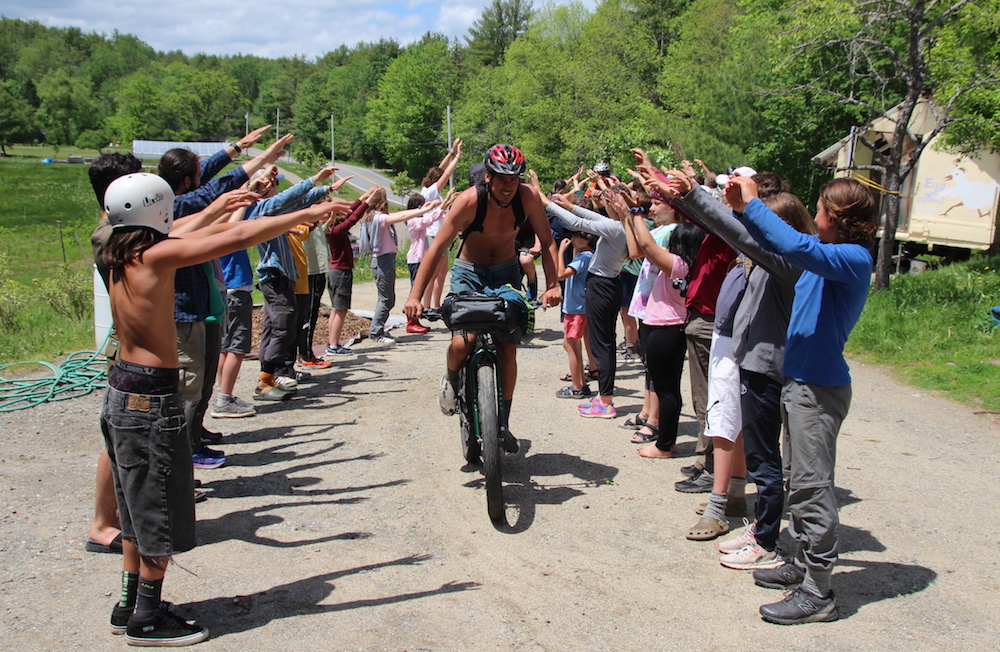 As we came up the lane to the Farmhouse we were greeted by the Kroka community creating an arch with vines and outstretched arms, and as we passed through our ears were filled with a sweet song of welcome. Bikes were laid hurriedly down on the springy grass and we all bounded into the arms of our old friends. It was all a rush of beams and colors and joy as KCS placed beautiful flower crowns on our heads and we stood in a circle singing, overwhelmed with the emotion of what we had all accomplished. The bitter cold, the blisters, the homesickness, the sunshine, the crazy inside jokes and the joy of friendship – it all came rushing back to us in that moment in a beautiful blur of emotion. All of our struggles were worth it, and all of our golden memories tugged sharply at our hearts as we glanced around the circle into each other's faces. Oh, how far we'd come. We could never have done so if not for each other.   
"Home, I'm going home, I need a land to heal my soul; Take me home, take me home, over the green, green hills and far away. Home to the motherland, home to the motherland, home to the motherland, over the green green hills and far away." – traveling song