2022 Arctic to Manhattan Winter Semester Blog #2
We've finished our time at Basecamp! Almost a month of hard work and preparation for our expeditions has brought us together and left us rearing and ready to get on the trail. In this time, we've made ditty bags, mitten shells, crepes, and paddles; we've studied forestry, local living, French, and navigation; and we've met and learned from many wonderful community members and friends of Kroka. Below is a day-by-day account of the rest of our time at basecamp (since the last blog), right up to the day we departed for our Green Mountain expedition. These accounts come from each student's journal. Enjoy!
Monday, January 24th, 2022
Day 8 
We got assigned new chores this morning, and I chose chickens with Lynne. She was very patient with me while I learned how to take care of the hens, and it felt nice to spend time looking after other creatures. It was also really cool to work and talk with Lynne. I had a lovely time overall.
We had a hot breakfast and morning meeting, and then had class with Jo, where we continued reading Braiding Sweetgrass. We talked about the Wendigo and the way in which we (as individuals and as a society) take too much and give too little, and how the more we have, the more we want.
Jo also read a piece of writing by Rachel Carson, which talked about how beautiful and glorious and breathtaking the world is, and how we lose our wonder for the world as we grow, and how much happier we could be if we took the time to stand in awe of nature, and didn't forget how spectacular it all is. This struck me, because this loss she describes is something I'm deeply afraid of, and something that I'm struggling against as I feel myself slipping into a short of numb blindness.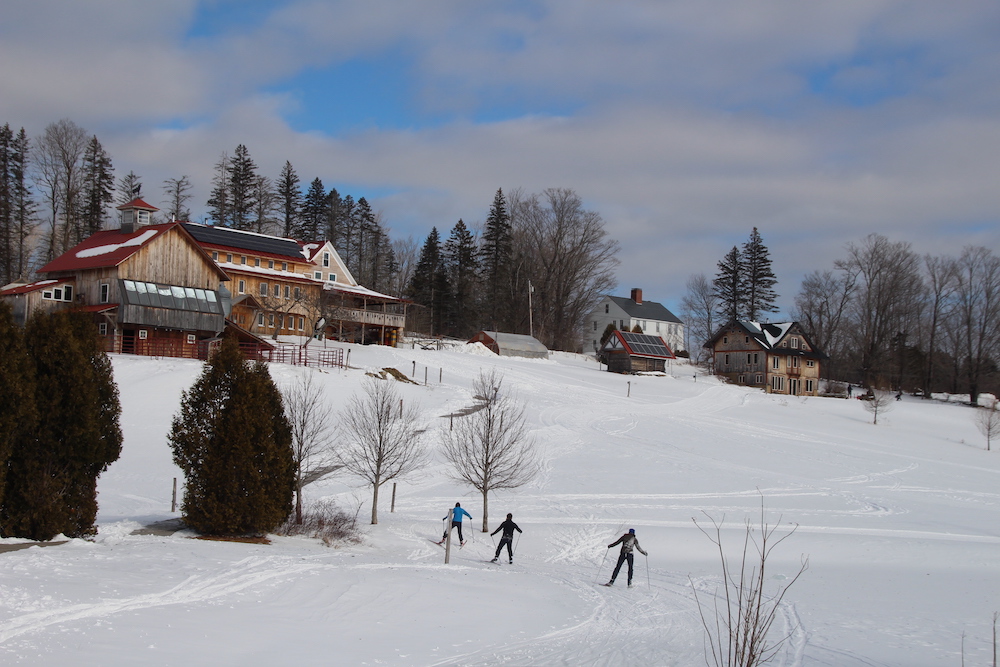 After class, we had a very eventful ski practice, where Satch and Noah and I all clothes-lined ourselves against the wire fence at the bottom of the hill, smashing into it at break-neck speed. I went completely head over heels. I skidded a bit across the ice, and my face and legs are pretty banged up, but it was honestly kind of a lot of fun, and also completely hilarious.
We all did a polar plunge together in our underwear, which wasn't as weird as I thought it would be. We actually had a lot of fun, running and shrieking and freezing. I want to do it again soon. After lunch and showers, we visited Bob at Chase's Mill, where we split wood for a few hours before getting a really interesting tour of the old water-powered mill machinery. We went down to the basement and saw the waterfall coming through the 250 year old stone foundation. It was beautifully frozen and bubbling, and the air was absolutely frigid. Now we're back at the Farmhouse, writing in our journals.
-Fern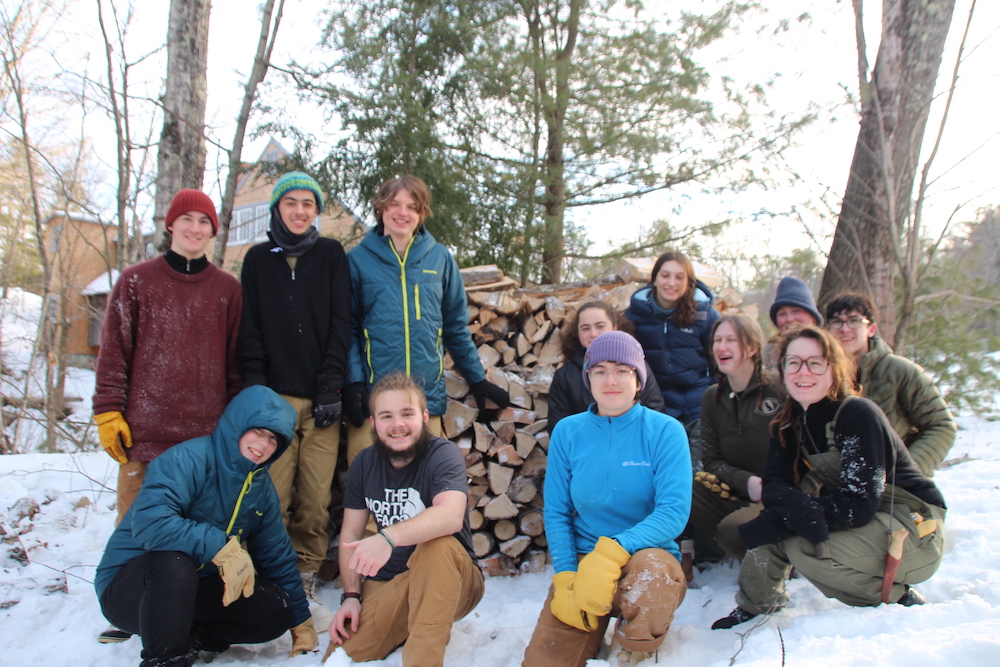 Tuesday, January 25th, 2022
Day 9
This morning followed its regular routine, then we had a backcountry ski trip to Duck Hole. I loved it! It was a moment of lots of learning, though the focus was on using a compass and map reading. Our first expedition preparation class followed. All over I am tired, but happy. It was a beautiful day outside and in.
-Sivannah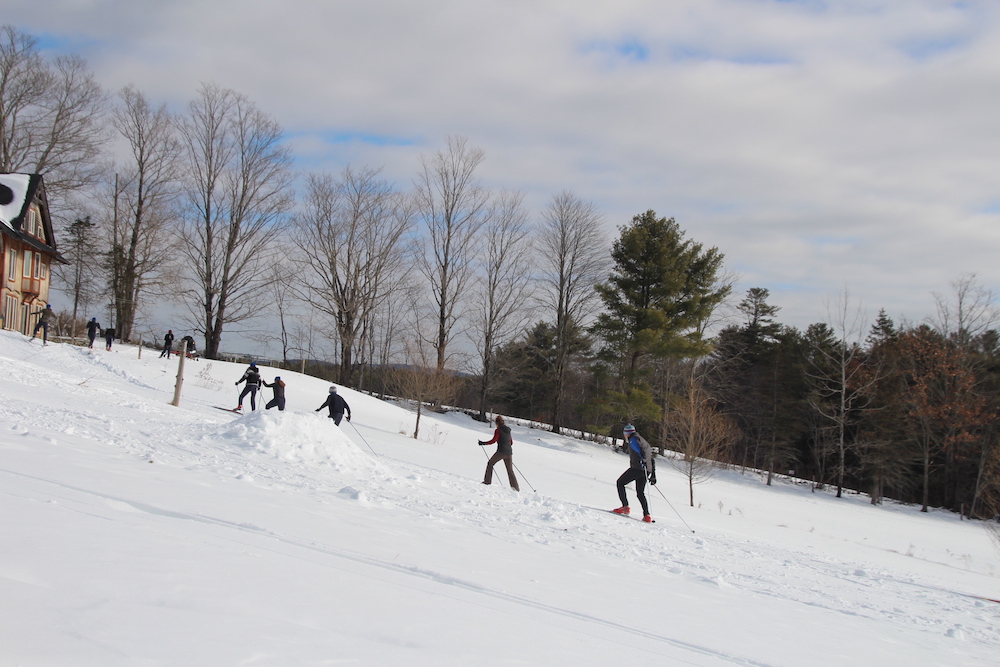 Wednesday, January 26th, 2022
Day 10
Last night, a few of us jumped into the ice hole after dinner at Misha and Lynne's. I made morning glory muffins this morning during chores. After breakfast, we had navigation class with Misha and looked at different features on the map. In ski practice, Noah taught us V2 skiing, and we attempted hockey stops. Then, we had an eventful relay race around a tiny circle. I cut over 100 pounds of cheese during our Big Job Block and packed food into stuff sacks. Dinner at Gaspé tonight with Nathan and Tricia.
-Jenny
Thursday, January 27th, 2022
Day 11
During Big Job Block I stacked wood with Satch and Nick. During study hour, Satch and I studied a report about wind turbines off the coast of Maine. We went nordic skiing with a local baker named Noah and practiced V1 and V2. We practiced with no poles. During class this morning we looked at a terrain map made by a past semester of basecamp and surrounding areas. Misha talked about how sheep used to graze and the soil got ruined. Now there are boulders.
-E.J.
Friday, January 28, 2022
Day 12
Marlow, NH
Waning crescent moon
West winds 10-30 degrees
Cloudy skies
Snowfall
Another normal day: worked with Brita for chores, ate breakfast and had Morning Meeting. After we had expedition preparation class with Misha. Going on expedition is going to be interesting. Then we went to Mount Sunapee. This was the day where I felt comfortable on skis. I went fast with no brakes. After Sunapee we took showers and ate dinner. Finally we went to sleep.
-Diego
Saturday, January 29, 2022
Farmhouse, Base Camp, Marlow, NH
Wind NNW
10 degrees F
Waning crescent moon
Long day. Shoveling went by quickly. Learned a lot more than I ever needed to know about the economics of wind power projects. That being said, I'm very grateful for George's, and his business partner Jessica's, visit and all of the knowledge that they so happily shared with us. Sledding down the hill was super fun, and the yoga we did had me feeling nice and relaxed.
-Alex
Sunday, January 30, 2022
Day 14
Today we had a wonderful guest teacher! Johannah Gardner came to teach us some basic French ,which we will use in Canada, and how to make crepes! Class with Johanna was very fun and engaging. We learned through games and songs, songs I imagine we will continue to sing. Part way through the day we paused on class to make crepes in groups. We had to use our newfound knowledge to read the recipe which was in French! We topped the cooked crepes with a little lemon and sugar, which was a delicious treat. With happy stomachs we went back to class to learn some more. We were so grateful to Johanna for coming to teach us. We gave her hugs and said Au Revoir!
–Sarah

Monday, January 31, 2022
Day 15
Marlow, NH, Basecamp, Farmhouse
This morning was pretty typical: we had a chore rotation then a delicious breakfast. After breakfast we started expedition prep. It is very exciting learning about the months to come. Ski practice was an orienteering course on backcountry skis. Alex got a little lost. We were all pretty worried. After he got back he told us about fighting mythical creatures, wrestling grizzly bears, taming dragons and more. He definitely did not just follow a random pair of ski tracks until he gave up and turned around!
-Noah
Tuesday, February 1, 2022
Day 16
Chill day. Mostly inside except for ski practice. Spent chores making jerky. It seems pretty good but the black pepper powder didn't make it onto all of the meat. Pancake breakfast was great; the apple/blueberry/maple syrup was so sweet. My cowboy hat is safe in the boathouse, checked while we were putting backpacks away. First skate ski practice in a while was pretty exciting. We sped down the hill behind Lynne and Misha's house, and I think I made it down without falling once. Shower afterwards was amazing too. I don't know if I've showered since Saturday. Sewing went slowly, but the conversation was relaxing. Sewing really brings out the good conversation. Started woodburning the kitchen recycling center and found out that my handwriting isn't too awful as long as I spend a minute on every letter. Maybe there is hope. At night I got some extra comfort by putting my fleece over my stuff sack as a pillow. It doesn't smell like home anymore, but it still holds the memories.
-Lucas
Wednesday, February 2nd, 2022
Semester Day 17
Base Camp Marlow, NH
Today the morning was shaded grey. Gloomy, but beautiful in it's own way. Crows cawing and snow crunching. A moment of Inner quite in a warm winter day.
-Aeron
Thursday February 3rd, 2022
Semester Day 18 Marlow
The people in the Big Yurt cranked the wood stove, so I slept on the porch. It started to rain. We had a forestry class with Ezra where we measured the amount of trees that go into the wood floor in the Farm House and did calculations about products. We did a practice pack for expedition, which was stressful and rushed. Sewing went badly because my machine kept not working correctly. We went to Orchard Hill Breadworks in the evening and learned about bread, then made amazing pizza. We did acting practice in total silence to prepare for Parent Day. We are listening to the hissing of rain. Hopefully the snow stays.
-Phoebe
Friday, February 4, 2022
Semester Day 19
Base Camp Marlow, NH
Today we prepared for Parent Day, rehearsing our skit a lot. At some point I'm pretty sure it started getting worse instead of better. I'm excited, yet nervous, for tomorrow.
-Teresa

Saturday, February 5, 2022
Day 20
We began the day with chores in preparation for Parent Day. Breakfast was teeming with anticipation for parents, family, and loved ones to arrive. As they came, each of us got busy completing our tasks for the day. We had conferences where we shared about our time on Semester so far. Our navigator, Aeron, set up a challenge for us to go navigating through the woods, finding specific destinations. We spent time splitting wood and drinking hot apple cider prepared over a warm fire outside. We were able to give our loved ones a chance to understand our roles here in this community by putting them to work and having them help us with our Big Jobs. We introduced our loved ones to the part of the family who live in the barn: the horse Britta, and the two cows, Fern and Forsythia. We had an amazing potluck lunch before showing off our skate skiing skills with an eventful relay race, ending with a polar plunge in the pond, where we were joined by some friends and family.

After another incredible potluck, we shared a skit of highlights from our journey and then had the privilege of watching our loved ones put on a talent show! The closing ceremony was beautiful, filled with tears, hugs, and love.
-Sarah
Sunday, February 6, 2022
Day 21
Marlow, NH
I woke up at 6:00 this morning but didn't have to get up until 6:35 because chores started late this morning (yay, Sundays!). I just laid in my sleeping bag and looked at the stars through the Yurt's top window, and loved every blessed moment of it. Chores went smoothly– I love Forsythia so much, I'll miss her next week! It's getting lighter now earlier in the morning. We had self-care time today, which I'm so grateful for.  I went for a walk in the woods for almost an hour which was meditative and medicinal for me. After that, we got in the van and went telemark skiing, which was really fun. I met a brother and sister from Quebec, and an outdoor educator on the chairlift – what a coincidence! When we got back from skiing, Sarah and I worked on and finished our Forest Ecology Book of Wisdom pages. We had dinner and evening meeting. Nick sang a song that my little sister taught me, called Galileo's Epitaph:
"Though my soul may set in darkness,
It will rise in perfect light.
I have loved the stars too fondly
to be fearful of the night, fearful of the night."
It's about Galileo's death, and the progressive blindness that swallowed his sight toward the end of his life, leaving him in the "night" he had loved all his life.
-Fern
Monday, February 7, 2022
Day 22
Basecamp, Marlow, NH
I did food dehydration during morning chore. After breakfast Chris came to teach a local living class. We talked about what it means to have an indigenous relationship with the Earth. In ski practice we did a 45 minute time trial. It was hard. I skied 9 kilometers. Then we began our paddles in the afternoon. We shaped blanks with saws and our axes. During dinner we watched After Antarctica, and then we zoomed with Will Sieger! It was super cool, and such an honor to talk with him. We got some really good advice, including, "Put your boots on and go!" I sledded down the big hill in the dark with Phoebe and Diego to get back to our yurts. Good, full day.
-Jenny
Tuesday, February 8, 2022
Day 23
Today felt important. More wood moving with Alex for chores, running as fast as we could. Got 4 loads in, with time to spare. Loved the pancake breakfast. More paddle making with Chris and a quick final ski practice with Noah, from Orchard Hill. Afterwards he gave us a talk on the biology of bread. Never would've thought bread was something I'm interested in but he made it fascinating. During lunch Chris gave such a great presentation on his life, his homestead and his Maine Local Living School.  He's lived his life learning, and I feel so lucky to have gotten to spend time with him. Chris said to "believe in the big thing you think on the high mountain, then come down and make it happen." After our second paddle making session we got some time to sit in nature and observe. I walked out to Moondog where the beech tree laughed at me.
-Lucas
Wednesday, February 9, 2022
Semester Day 24
Basecamp, Marlow, NH & Pitcher Mountain, NH
Clear sunny skies, warm hugs from the Cosmos. Crystal forests weeping cascades of precious glass. At times it seems like the sunlight itself has materialized around us.
Today we had chores, a talk about dealing with periods on expedition during breakfast, and a short walk to greet a poplar tree before our morning workshop session. After paddle making we drove to Pitcher Mountain  to ski up to the observation tower, where we could look out and see our approaching expedition. We had a wonderful study hall (with mail) and a goodbye circle for Chris. At dinner we showed our mural from last semester and played a crazy game of poop smoothie.
-Aeron
Thursday, February 10, 2022
Semester Day 25
Basecamp Marlow, NH & Keene, NH
Today was crazy. We spent a ton of time packing everything: backpacks, resupplies and group gear. It was a long process. Sarah found my long underwear top, which made me relieved. We piled into the van at 1pm, and drove to Keene for our COVID tests. We had a fancy, candle-lit spaghetti and homemade meatballs dinner with pie for dessert, and then there was a great dance party. It was our final night at basecamp departure celebration!
-Aeron

Friday, February 11th, 2022
Semester Day 26
Marlow, NH & Somerset Reservoir, VT
We had our last morning of chores. I thermomolded boots in the farmhouse ovens, then we had under an hour to eat and get ready. Everything we need for the next 4 months is stuffed into backpacks and organized. Our before-expedition-mugshots were taken, then we hopped in the van and drove on I91. It's hard to imagine that I would have driven on that road to school today if I wasn't here. No regrets! We drove to the back of Mt. Snow (Somerset Reservoir). Our adventure has begun as we head north.
-Phoebe
Now we're off! Through learning, training, and living together, we've conditioned our individual minds and bodies, as well as our group, for life on expedition. Our time at Basecamp has been the prologue to the months of travel which awaits us.
-Satch