2022 Arctic to Manhattan Winter Semester Blog #3
The 2022 Arctic to Manhattan Semester sends greetings from Farm and Wilderness in Plymouth, VT! We have completed the first leg of our expedition, skiing (and occasionally walking) 115 km (71.5 miles) on the Catamount trail from Somerset Reservoir near the Massachusetts/Vermont border to Woodward Reservoir.
The past two weeks have been a continuous lesson on how to travel and live in the winter wilderness. We've learned how to set camp in all conditions, care for our many blisters, fit more gear into our backpacks than we ever thought possible, and ski through many types of snow and ice.
Here are several compositions from the group…
---
After a long day of skiing, we are ready to crawl into a warm cozy tent… but first we have to set camp! When we arrive at our home site, we each choose a tree at which to unload and organize the contents of our backpacks. If the condition of the snow requires it, we leave our skis on while we work, packing down trails and the footprint of the tent to avoid postholing later.
Next, we separate into two groups to collect firewood for our wood stove and tree boughs for a soft and insulative tent floor. The firewood crew heads out into the forest with axes and saws, looking for standing dead trees. We've learned to identify good dry firewood by sight, looking for peeling bark and vertical cracks, and by touch, using the excellent moisture sensors in our lips. We usually need about eight to ten trees, each four to nine inches in diameter, for one night. Once we have gathered all our wood, we begin processing, sawing all the logs into short rounds and then splitting.
Meanwhile, the other half of the group is collecting boughs of fir, spruce, and hemlock, spreading through the forest and taking care to take no more than a few boughs from each tree to minimize our impact. To set up our tent, a few people make center poles out of wood, and use skis and ski-poles as stakes. As Misha reminds us to walk with soft feet and not punch holes, we lay boughs, bring in the stove, and light a fire. Once wood is split and smoke starts rising from the stovepipe, we our ready to enter our warm home, taking shelter from the cold and thanking the gifts of the earth that have given us safety and comfort.
– Sarah
---
On Semester, certain words and phrases make their way into our collective vocabulary. Some you may have heard before, most probably not. Allow us to define some for you.
Semester Juice: The multicolored dirty bathing water that is collected at the end of our in-tent washing sessions.
Extreme Chilliness: A condition in which the body is extremely chilly. Often occurs after rainstorms or when you don't wear your hat to bed.
Bowlpass: A food serving system in which a circle of semester students and one server start with empty bowls and pass to the left until each bowl is full. Requires the utmost attention so as not to spill.
Kozel: An animal that goes, "MAAAH!" (Russian word for goat, often used as a pejorative).
Groat: A unit of groatiness. For example, a piece of something that is hopefully just tree bark in our kasha. Or, a piece of kasha in between our toes.
Crushed Foot Syndrome (CFS): A sustained crushing of the foot perpetrated by a tight ski boot.
Fondle: Touch with your grubby hands. For example, Diego fondles our cheese each night while preparing dinner.
– Teresa
---
For us, the warmest time in winter is the coldest time. That's when the world melts and falls apart, rendering our down booties and jackets close to useless and soaking into our base layers. We wake up after the rain to water flowing on all side of the tent, and as we take our first steps outside, our boots fill with ice cold water. It is time to fix the tent and light our fire, to begin putting our lives back together.
Drying our clothes and bodies is a slow, painstaking process. We have limited space on laundry lines, so we have to prioritize. Socks and boot liners first, followed by larger items like coats, sweaters, and anoraks. But nothing ever dries out completely – there's always just enough moisture to freeze in the cold air. Putting on our clothes frozen stiff requires a strong engagement of the will.
It takes time for the cold wetness in our bones to fade away. In that time, we work, gathering more firewood and boughs to make our home dry again. We read aloud and drink hot chocolate, and eventually we breathe out, releasing the tension which we have held in discomfort.
– Satya
---
Thursday, 17 February, 2022
Day 7 of Green Mtns
Moses Pond, Landgrove, VT
5th Camp: Waterpark from Hell
I will never be dry again. My hair is soaked, my skin is just watery pulp at this point, and my clothes are beyond saving. Right now, there is very little that distinguishes me from a wet goat. The smell is especially disturbing. I fell into three streams in the past hour – the last time, I had to crawl across, carrying an armful of boughs, after getting hopelessly lost in the dark, cold, foggy, rainy forest. If Diego hadn't started calling for me, I would've kept walking in the exact opposite direction of the tent forever. Haha, what fun.
– Fern
---
While on trail, we have been reading a book called Ministry for the Future, a novel by Kim Stanley Robinson, about climate change set in the near future. The protagonist, Frank, is a survivor of a terrible heat wave in India which kills twenty million people. Frank is scarred emotionally, psychologically, and physically. He travels to colder climates and tries to live a normal life, but his post-traumatic stress disorder makes him incredibly unstable.
Meanwhile, the Conference of the Parties of the Paris Climate Accord has created a new United Nations organization called the Ministry for the Future which has the declared responsibility of protecting the rights of those who have not yet been born, including ensuring that the earth remains livable for generations to come.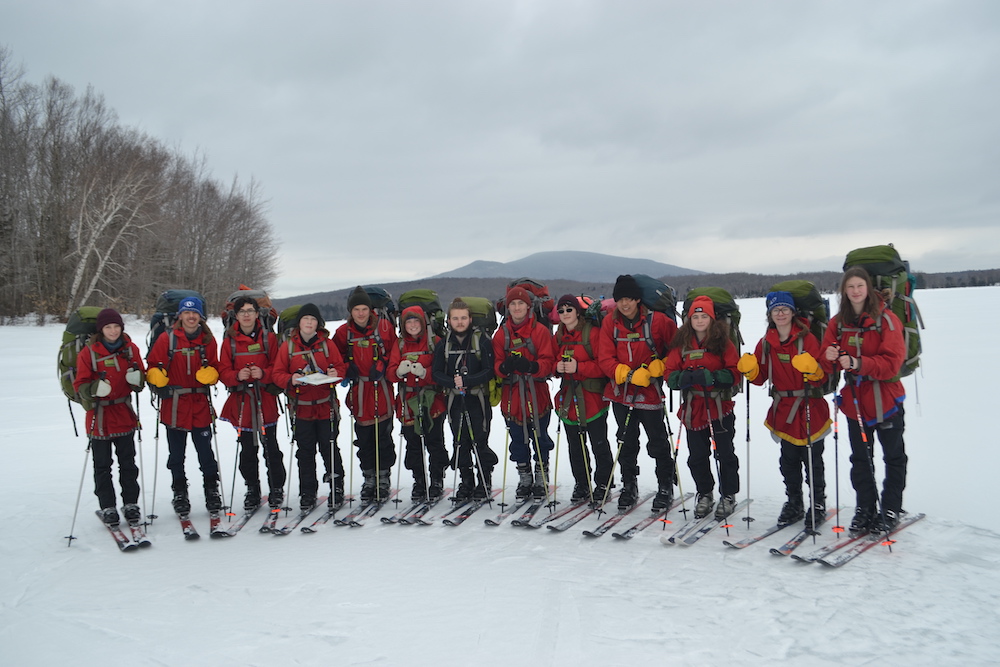 We learned about how in our current model of economics, high discount rates devalue people in the future. This is done because if each person was counted as having the value of a whole living person, there would be a practically infinite number of future people, and so it would be impossible to compare the predicted benefit of proposed projects (infinity would be compared to infinity whenever the project would positively affect all future people). However, this construct causes projects with short term benefits to be favored over those with long term rewards.
We also spoke about how the true cost of many products is far higher than the price we pay. For example, the true cost of gas includes the cost of damage caused by emissions released from burning fossil fuels, the price of wars fought to control natural energy reserves, and many more aspects of the impacts of gas consumption.
After reading a chapter of the novel which dealt with indexes measuring the wellbeing of nations, we each created our own, choosing seven measurable factors which provide a more accurate representation of community health than measurements like GDP.
We've shared many wonderful discussions and thoughts while reading Ministry for the Future, and we cannot wait to finish reading.
– Elijah
---
Words spoken thus far:
Misha: "I was fifteen miles away from Chernobyl when the accident happened."
Nick: "Throw some lunges at 'em, baby!"
Satya: "Groat is a real word, I promise!"
Sivannah: "Look at me – I'm carrying a big stick!"
Jenny: *unintelligible laugh-speak*
Phoebe: "There's fungus among us."
Sarah: "Square – cucumber – I mean, triangle!"
Alex: "I think the incident at Chernobyl gave you superpowers."
Noah: "I'm the most humble person I know."
Lucas: "What's your dental history?"
Diego: "Another day, another dollar"
Fern: "I want to be an arsonist."
Teresa: *indistinct feasting noises punctuated by cries of "Homer!"*
Elijah: "My group would hypnotize government officials."
Aeron: "Sarah and I weren't lost. We knew exactly where we were going!"
---
On our last day of the leg, we woke to a beautiful snowstorm. It was our first group solo, a morning without instructors. The fly sagged slightly with accumulated snow which dusted our heads as we emerged, carrying our stuff sacks. We missed you, snow. It's good to see you again. Out went the stove, down came the tent, and then we were packed, and we were moving.
Skiing in a snowstorm is magical. The snow sticks to our moist skin and hair and forms a crusty but fluffy layer on the tops of our heads. The powder under our skis moves down and out softly and easily, and as we pick up speed and start making telemark turns, we feel one of the very happiest feelings on the trail: that gentle swoosh, swoosh, swoosh, swoosh…
We set a strong pace, and completed the ten kilometers to Farm and Wilderness quickly and in high spirits. We poured into the farmhouse on Woodward Reservoir, dropped our packs, showered, and ate fresh fruit. We looked around. We were back in a building made of wood and sheetrock. We had clean clothes and running water. We felt like we'd entered another world, one which in many ways was less of a home than the one we came from.
Soon, we'll be back on our skis in Gaspé, where every day will be a powder day and there won't be any trails to follow. We will no longer be surrounded by what is for many of us the familiar home of New England forests, and we'll be learning new skills in order to live and travel in the deep snow. Our Green Mountains leg has been a wonderful adventure. We're ready for more!
Until next time.
Your Scribe,
Satya