FALL 2022 LEGENDS OF THE SOUTHWEST BLOG #7
The day after we took off the river involved a short morning bike ride out to the south rim of the Grand Canyon followed by a full day of unpacking, repacking, organizing and packing some more. It was a long, brain-scrambling day, but we were finished up by the late afternoon and had some time to relax. We also has some time to get to know Zoe, a semester alumni and Kroka staff member. She won't be joining us on the Arizona Trail, but will be resupplying us with food and gear along the way and will be on call in case our group needs any support. Thanks, Zoe! We were also able to spend time with Samuel, the amazing craftsman who taught us how to make our knives. Samuel will be joining us for bike-packing, and it was great to reconnect with him and share stories. We can't wait to get on the trail!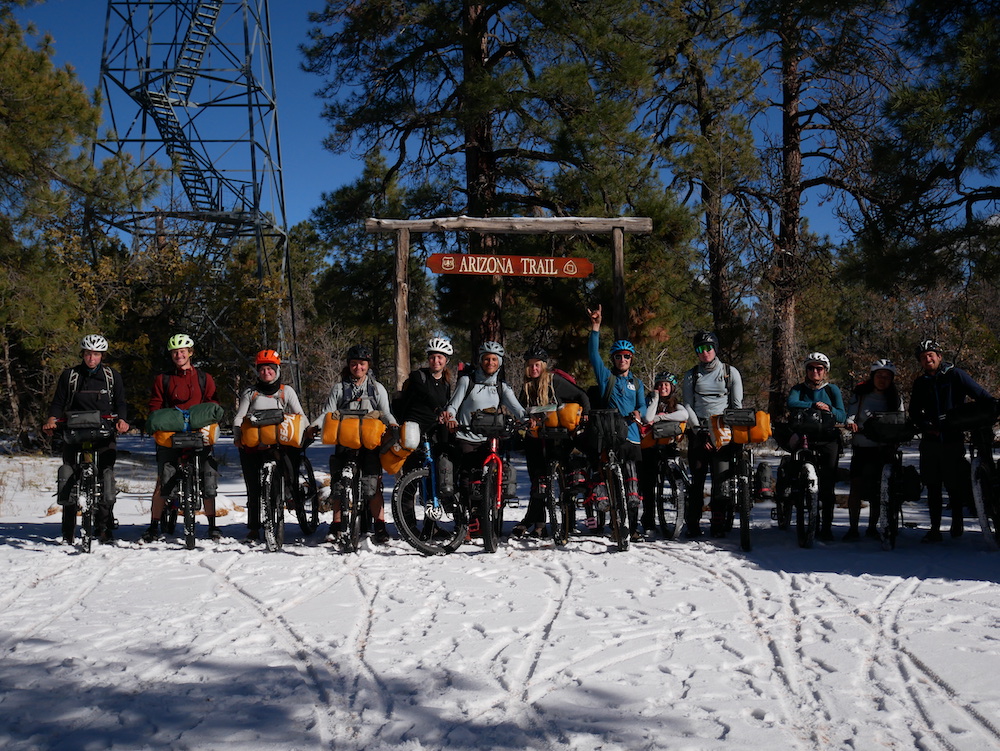 Day 1
Long Jim Loop Campsite to Ponderosa Camp
8 Miles
Samuel woke us up at an unspecified (but very early) hour of the morning to see a rare sight: a full lunar eclipse. We stood outside our tents, waiting for an opening in the scuttling clouds through which we could see the yellow moon. The clouds were persistent, but we managed to catch a few glimpses of the moon as it disappeared behind Earth's shadow. It was a beautiful sight, but the cold soon got the better of us and we tumbled back into our tents. We rose again a few hours later and began the long process of dividing gear and loading it onto our bikes. After lunch, we set off. Nerves turned to excitement over the first few miles of dusty, rolling trail. The sound of a dozen hubs spinning along through the ponderosa pines filled the air and joy filled our hearts. We rode for eight miles before pitching camp. As we sat around the fire eating our warm dinner of rice and beans, Tricia told us to expect a layover day tomorrow. The reason? Snow and rain all day. We weren't convinced. How could it snow? The sky was clear and the air was warm. Little did we know.
Day 2
Layover Day
Today, fall semester became winter semester. It was 36 degrees and raining when we poked our heads out of the tents. We huddled up under the tarp for breakfast and to get our academic assignments for the day. The morning was spent in the tents, reading and discussing packets that talked about various aspects of Arizona history. In the coming days we will work in small groups to come up with a presentation to share with everyone else. When we emerged from our warm, orange cocoons for lunch, the temperature had dropped and snow was falling. We wandered through the snow dusted trees, laughing and chucking snowballs before returning to camp for an afternoon of games and napping. The temperature continued to drop in the evening and we were grateful for our wool long underwear and warm sleeping bags.
Day 3
Ponderosa Pine Camp to Coyote Camp
15 Miles
It was 18 degrees as we loaded our bikes this morning. I don't think anyone was expecting this level of cold. We all had a picture in our heads of sand, cacti and tumbleweed in the warm Arizona desert. While such things do in fact exist in the state, we were too far north and at too high an elevation. The realization that we would be living and biking in these conditions for a significant amount of time was both concerning and exciting; we had a true challenge ahead of us. We peddled along snowy, winding trails with occasional spots of bare ground where the sun had melted the snow. Many of us remarked on the differences between these trails and New England's: these smaller, rolling hills with no roots helped us to cover ground much more quickly.
We met Zoe at our resupply point for lunch and to refill water and stock up on food. Close by our lunch spot was a fire tower which we climbed to get a lay of the land. To our left, just a few miles away, the Grand Canyon sat golden and majestic. The rest of the view was dominated by the quiet, white and green forest, and far in the distance the San Fransisco peaks, a range we would be climbing over in roughly a week. It was humbling to look out over this vast stretch of wilderness and know that we were going to traverse its many wonders and trials. We rode on. As the sun crept closer to the horizon, we found a suitable campsite under a handful of towering pines. We ate in the cold, moonlight glinting off our bowls.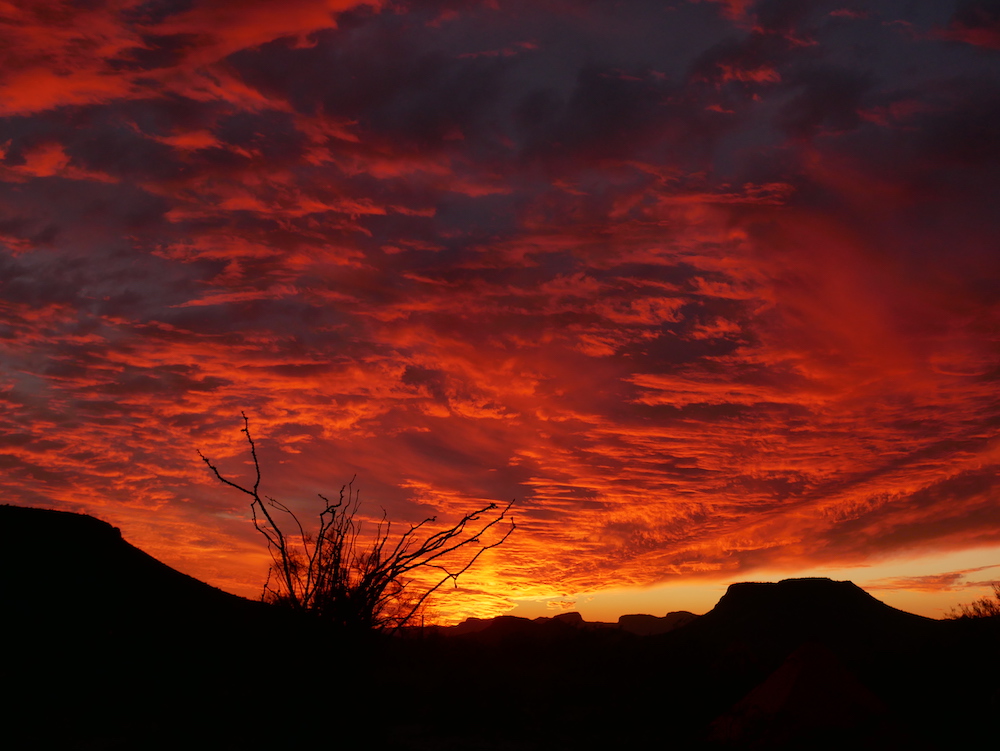 Day 4
Coyote Camp to Meadow Camp
16 Miles
We saw a coyote while eating breakfast today. It was so large that I thought it was a wolf at first. We watched as it trotted off into to sunlit forest. We followed on wheels instead of feet, leaving long, winding tracks instead of small five-toed ones.
The first half of the day was spent riding narrow, undulating trails beneath short stubby trees. The second half was, well, muddy. Also slow. Very slow. It all started when we entered the meadow. The single-track had faded into an unimproved forest road, slightly downhill and smooth. In most cases this would make for fast, easy riding. Not today. As soon as our tires touched the road we sunk down an inch or three into sticky, slippery mud.
After just a few minutes our bikes were barely visible under a thick coating of the stuff, and we weren't much better off ourselves. There was so much mud on our cassettes, chains and front cogs that the chains kept slipping off. Then a long, annoying process of cleaning and resetting the chain would begin. This happened every few minutes over a several mile slog. We persevered and made it to camp with ample light, pitching the tents in a tree-dotted meadow.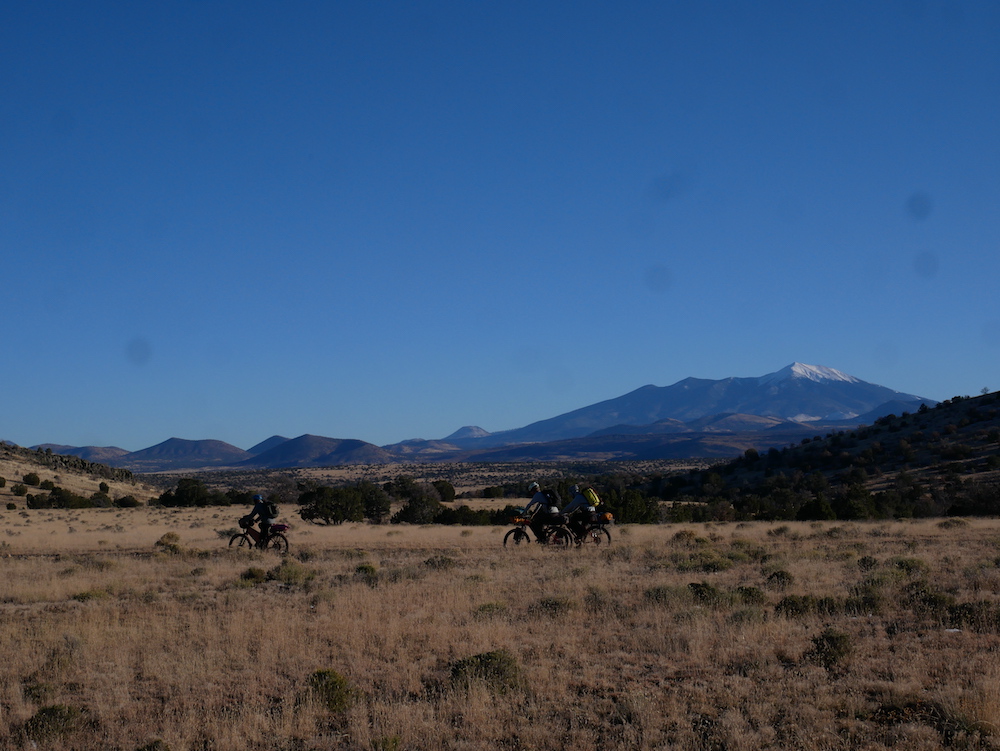 Over dinner, Tricia told us about a welcome change in plans. Due to the intense, unexpected cold and mud, the decision had been made that Zoe would pick us up the next evening and drive us a few hours south to warmer and more hospitable climes. Tricia made sure we knew this had nothing to do with us or our biking abilities. It is simply hard to have a winter expedition with gear for a fall one. As we went to sleep, I checked the thermometer: ZERO degrees. Yeah, going south would be wise!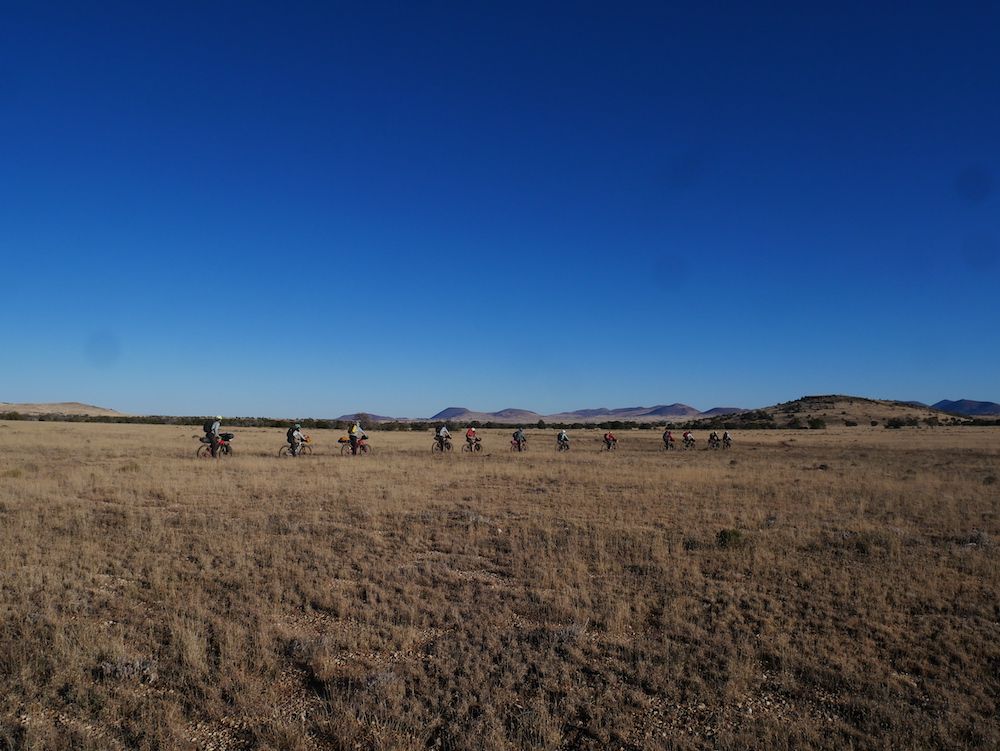 Day 5
Meadow Camp to Big Bug Trailhead
18 Miles
18 miles to cover today. We woke earlier than usual and attempted to get on trail quickly. It took us three hours to leave camp. I guess that's something we need to work on. The trail was still very muddy and we decided it would be faster and easier to walk our bikes. We got into a good rhythm and, despite the less than ideal conditions, began to enjoy ourselves. Eventually the trail firmed up and we were able to ride again. We told stories about home, laughed and sang our way the last few miles to where Zoe met us with the van and trailer. A delicious sandwich dinner and lots of gear shuffling later, we climbed in the van. On the drive we worked on our presentations, slept, and felt grateful that we wouldn't be turning to icicles the second we got out of our tents the next morning.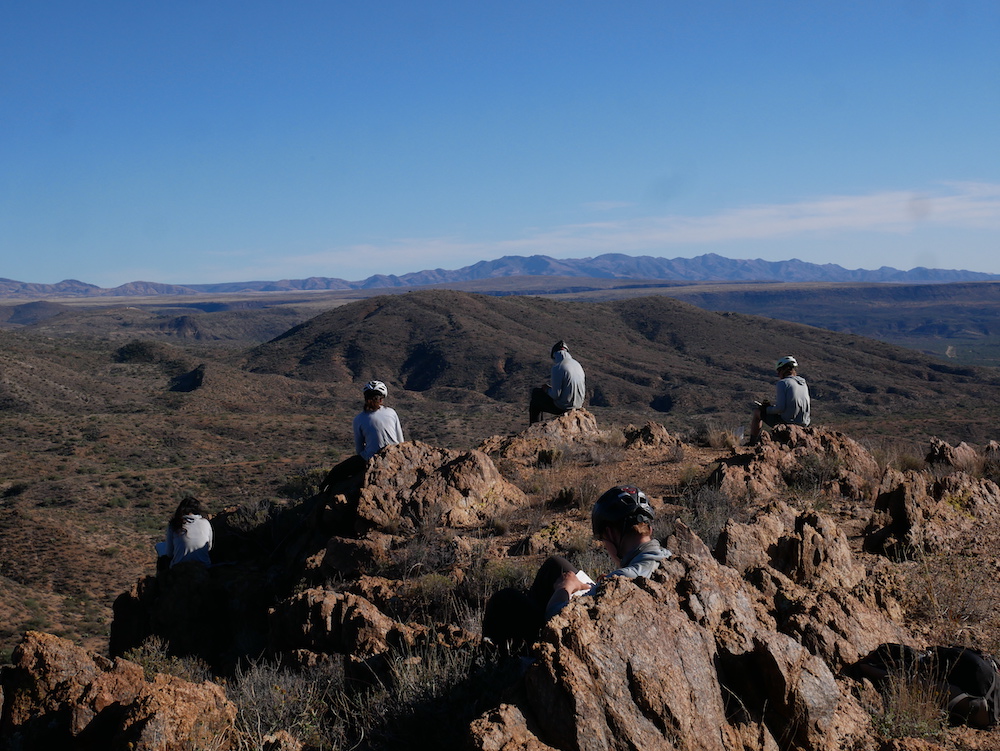 Day 6
Layover day at Big Bug Trailhead
This morning after breakfast Tricia broached a difficult topic. She read a letter she had received from the directors at Kroka telling of various breaks in the Code of Conduct that had been discovered. We were told to grab journals, layers and water as well as three energy bars. Tricia led us to a sit spot where we would stay for the entirety of the day. Throughout the day she
came to each of us and had a heart-to-heart chat where we were able to share anything we wanted or needed to. It was wonderful to have that space of total honesty and transparency, and it felt good to have some time to ourselves as well. Living so closely with a small group is an incredible experience, and can also become tiring. Being able to sit and reflect for a full day was centering, and, despite the unfortunate circumstances, ended up being really good for us individually and as a group.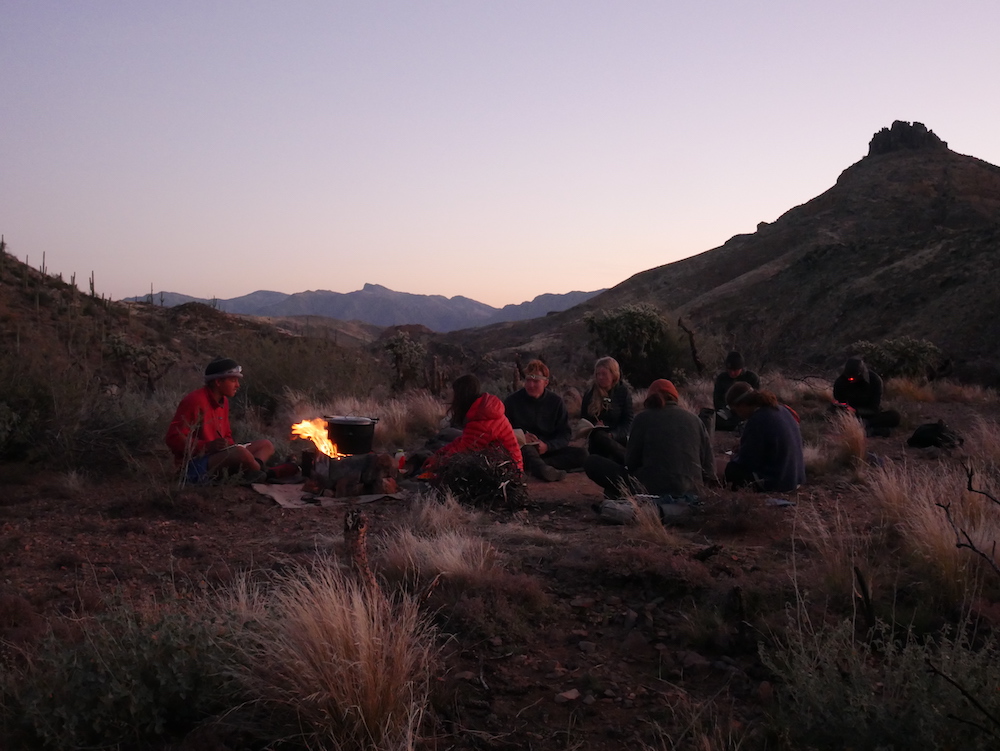 Day 7
Big Bug Trailhead to Stream Bed Camp
11.5 Miles
First Day on the Black Canyon Trail! The riding and scenery were both incredible today. Rolling hills with a thousand hues of brown grass and the occasional green prickly pear. The trail was fast and smooth, made of compacted gravel and broken up granite. We ate lunch with a stunning view of the surrounding hills and mountains.
After lunch we rode along a cliff that was 20 or 30 feet high in some places. Despite the challenge and fear factor, we rode very well as a group. How far we have come since New England bike packing! We found a cozy camp in a stream bed and slept without flys on the tents, our eyes wide open to the world.
Day 8
Stream Bed Camp to Bumblebee Ranch
8 Miles
Today we had our first student "Leader of the Day": Yaara. This is a chance for each of us to essentially take the place of Tricia or Samuel. We would wake the group up in the morning, keep the day running smoothly and try to keep everyone motivated. The Leader of the Day also rides at the front of the line and sets a good pace so we don't get too spread out. Yaara did an
admirable job and set a good precedent for future leaders.
We rode on fast trails with ever growing numbers of saguaro cacti reaching their prickly heads to the sky. We arrived at Bumblebee Ranch in the late afternoon. At some point during camp set up we heard Tricia say the magic word: "showers". Our heads swiveled to face her at the speed of light. SHOWERS! Yes! The hot water coursing over us was amazing, and we returned to camp with renewed joy, feeling clean and relaxed. During evening meeting, Yaara did her Long Share, another part of being Leader of the Day. Whoever was leader that day has ten minutes to talk about themselves and their life, and anything they want to share with us. After, we can ask questions if they are open to it. Yaara spoke about her childhood, schooling, and her passion for rowing. I look forward to hearing everyone's Long Share in the future; it's a great way to get to know each other even better.
Day 9
Bumblebee Ranch to Stream Bed Camp II
9.5 Miles
Yaara chose me to be the next leader, so I sang everyone awake, and we got busy taking down camp. It was a chilly morning and a strong wind buffeted us as we rode. The wind and the cliffside trail we were riding on made for a challenging day and we were weary and worn out by the last few miles.
A few of us took some tumbles, but walked away with only scratches and bruises. I am continually impressed at the resiliency of this group and how hard we are able to push ourselves through pain, exhaustion, heat and cold, all the while in high spirits. At some point in the afternoon we decided that, although we had not made our mileage goal for the day, it would be a good time to stop and look for camp. We discovered a flat, sandy stream bed, a perfect camp for the night. As dinner cooked we sat around the fire and worked on academics. In my Long Share I talked about my parents, my sister and my love for skiing, and then nominated Chloe to be the next Leader of the Day.
Day 10
Stream Bed Camp II to Aqua Fria River
8 Miles
We got out of camp in two hours today, a record by far. Chloe did a great job keeping us all moving and working efficiently. I noticed as we rode today how quickly the land, plants and ground were changing. We had gone from grassland to saguaro forest in less than two days. From gentle hills to steep ravines, and from smooth trails one hour to bumpy, rocky technical climbs the next. On the Black Canyon Trail, you truly never know what is around the next corner; it really keeps you on your toes.
We arrived at our campsite along the Agua Fria River very early in the day and were able to have some time to relax, nap, or just hang out. Times like this where we can unwind and rest is rare and greatly appreciated. For her Long Share, Chloe told us about her life growing up in Nepal and India. Jack was selected to be the next leader.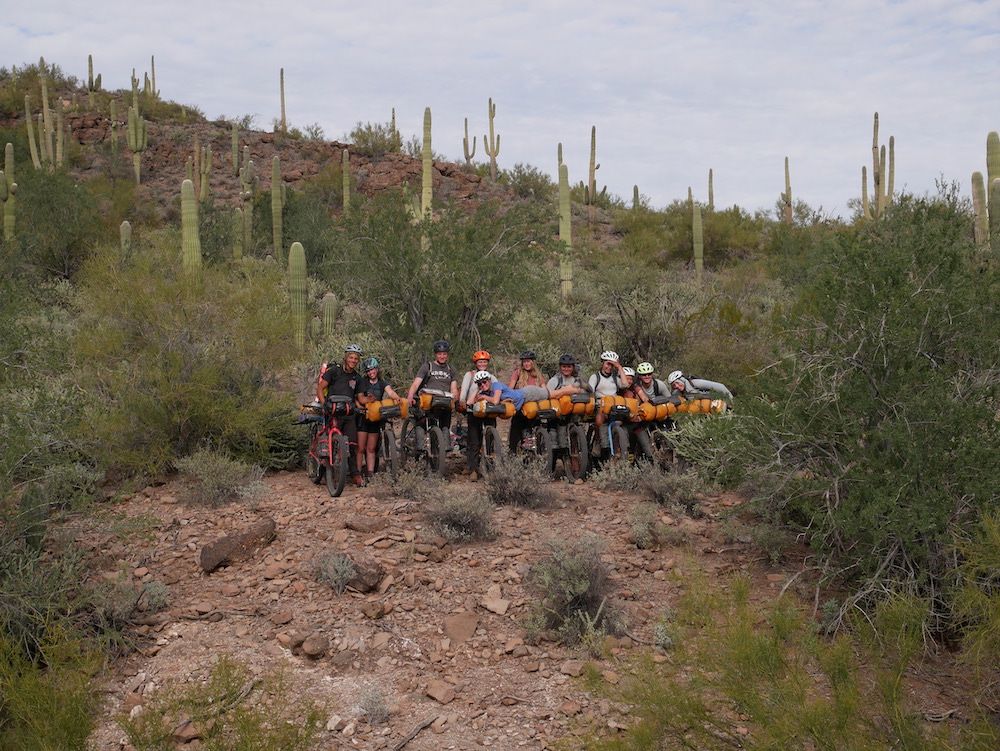 Day 11
Agua Fria to Table Mesa Trailhead
12 Miles
Today was our longest and hardest day on the Black Canyon Trail. Jack woke us up early and we were on bikes by the time the sun peeked over the canyon walls. The day started off with a bang, by which I mean a 700 foot climb. That set the mood for the day pretty well! There was a significant amount of long technical climbs with small, loose rocks all over the trail.
The sun was hot and we were constantly craving more water. Despite these adverse conditions, Jack led us well and kept our spirits high. Finally, after one final push, we made it to our destination. We were too tired to really feel our accomplishment and camp set up was slow, but eventually we were able to sit in the warm desert breeze and eat hot rice and lentils. The sun was just setting and the saguaros were lit up golden, fading to black as night fell. Jack talked about his family and love for making music during his Long Share, and the wind picked up as we lay down to sleep.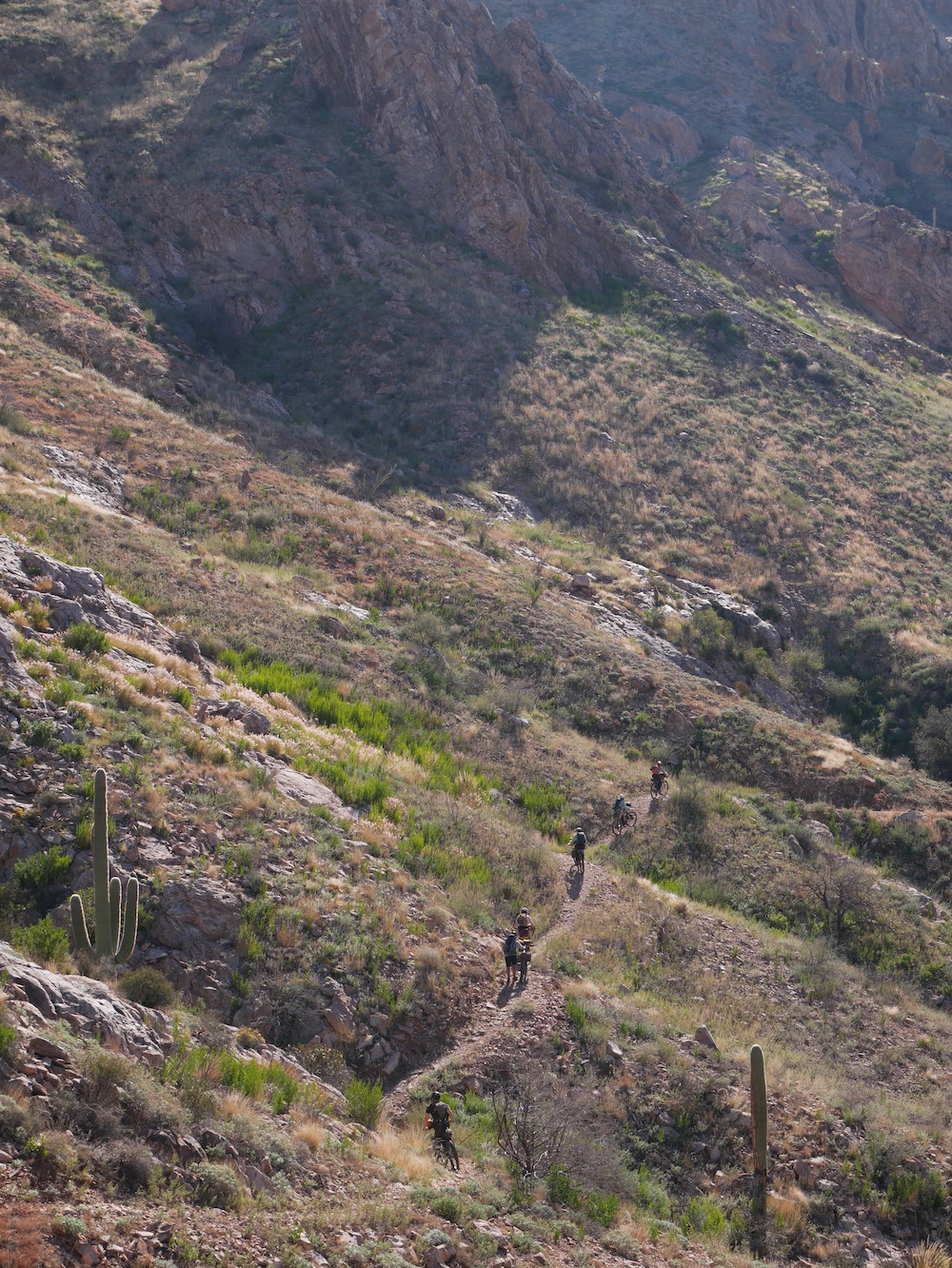 Until next time, Your Scribe,
Owen