Willow Thelin, 2021 Fall Semester Alumnus, was the recipient of both the Julie Seiler Scholarship and the Noah Simring Scholarship.  In fulfilling the requirements for the scholarships, Willow wrote the following essay and created this painting in response to her many months here: 
In the beginning of the year 2021 I was sitting in an artificially lit box with a screen in front of me and my weaknesses as the only focus of "learning" every day. I wasn't thriving. I started dreaming of how I could somehow enjoy learning. My answer was a wilderness expedition semester program with Kroka Expeditions, a program I had been dreaming of since 7th grade, based on an organic and biodynamic farm in Marlow, New Hampshire. I needed to help pay for the semester program, so I worked at the Woodacre Deli, sold crochet bikini tops on Etsy, and did odd yard-work jobs for people. I also received generous money gifts from friends and family, and the Julie Seiler Scholarship for which I am writing this article.

A semester program with Kroka includes challenging wilderness expeditions, work on the farm, being part of a trusting and strong community, and academics relating to everyday life taught for all learning styles. Led by our three instructors, my group had 12 students ages 15-21, all who wanted to be challenged, grow, give, learn, and take risks.
I finally arrived in Marlow in August, leaving all electronics behind, and our daily rhythm began. Each day at basecamp started with yoga at 5:45 upstairs in the boathouse; our breaths deepened into each movement as we readied our minds and bodies for the day. At 6:30 we met for a chore circle, then everyone dispersed to do different chores. Making breakfast, splitting wood, chicken chore, barn animals, cleaning the farmhouse and bathrooms, milking the cow and more; all as the sun rose, an ever changing painting, reflecting in the sparkling eyes of joyful workers. For a while my chore was working on shingling the new octagonal dwelling, a project that one of our instructors was leading and that everyone put hard work into at some point. After breakfast on the porch of a wooden yurt, we all journaled at our forest sit spots, seeing the changes in the land around us, and pouring our inner changes onto our pages. 
Our academics were relevant for where we were in our expedition and what we were doing. We learned about the hydrological cycle and dams. We watched the film DamNation, we learned about the watersheds including the ones we traveled through. At the Kroka basecamp there are composting toilets. They are simple, save tons of money, provide rich compost, and don't waste gallons of potable water with each flush. This ties into our water and dam studies. We read Control of Nature by John McPhee and later stopped at Old River Control in Louisiana on our drive home from Texas, to actually see what we had been reading about. We had ecology classes in the forest and drew colorful pages with the details of the trees, cacti, and plants. Then we observed these plants and trees as we paddled and biked, learning about what we were living with. We learned about the indigenous people who once lived in the places we were in. We learned how to tie many different kinds of knots and used them every day for tying up canoes to the trailer and for rock climbing. We had math class in the sand by the river where we calculated our gas usage and whether it would be more sustainable for us to fly. We found that since there were so many of us, and so much gear, it was more sustainable and efficient for us to drive. When we drove through the Appalachian region, we read about the coal mines and the destruction and history of them, doing presentations to each other at gas stations. We stopped and worked at many farms to help and learn how many people live on and with the land. When we had a quiz, we were told we were having a "celebration of learning," and it was true. We read American Dirt by Jeanine Cummins, studied immigration and then worked at an orphanage in Mexico. We volunteered at Val Verde Humanitarian Border Coalition in Texas, and witnessed what we had read and talked about. 
We lived under the moon in each phase. I remember using the moon as a clock so if I woke up in the night, I could tell how much longer we had until we would wake up by seeing where the moon was in the vast sky.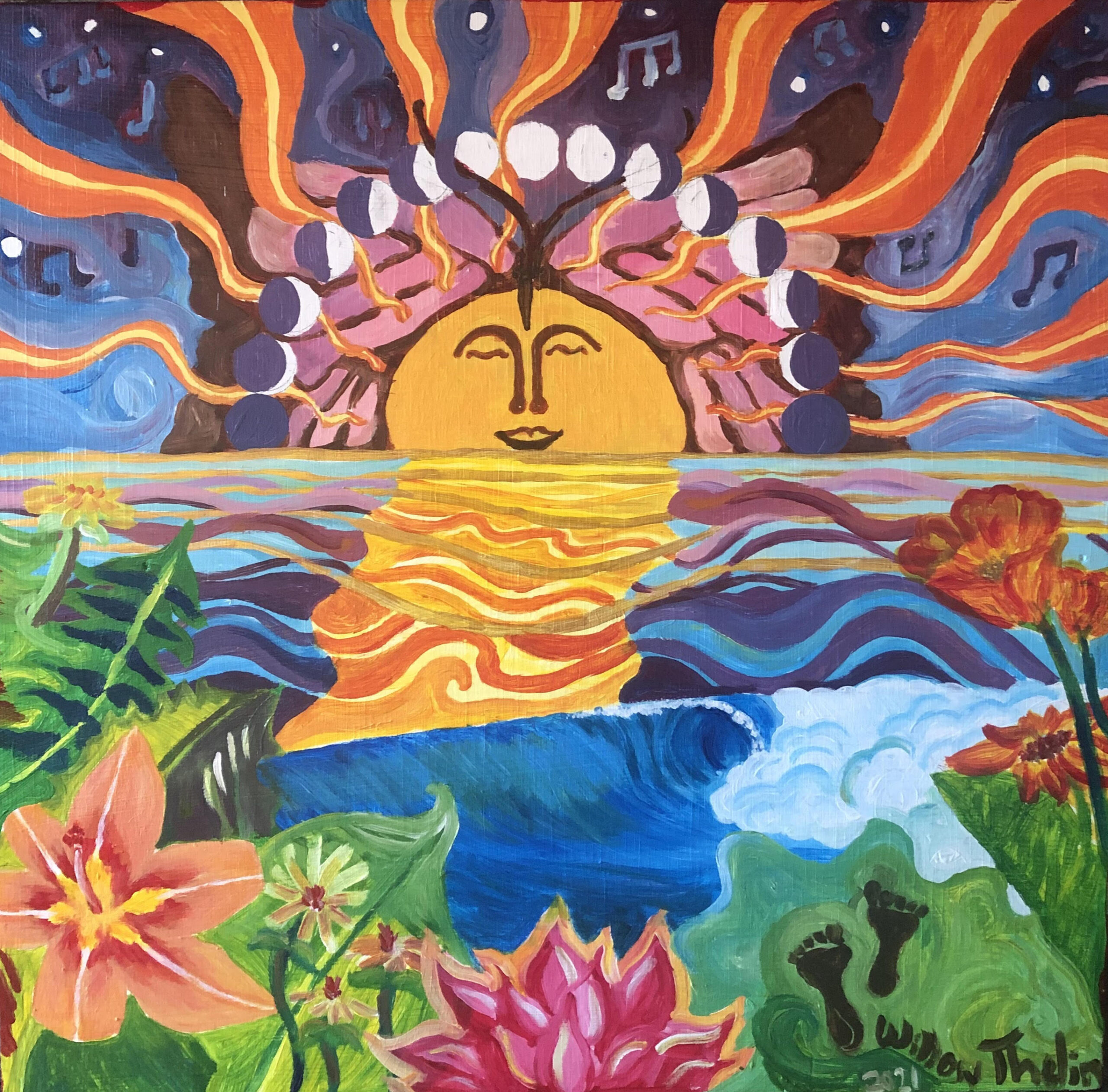 Making our own useful possessions is a way of life so many people lack and have forgotten in this society. At Kroka, we made our own personal knives, canoe paddles, leather shoes, journal bags, necklaces, crochet hats, and backpack baskets; giving them use every day, knowing they will last us forever. Before every meal we circled and sang a blessing song. We did this no matter where we were. Once we were in public with tourists all around us and we still sang in our circle, holding true to how we lived our life. 
Every student in my group had a "Big Job." These are a big deal and unique to Kroka. Our Big Jobs included: Bikes and Boats Manager, Camp Manager, Navigator, Food Managers, Hygiene Manager, Scribe, Water/Finance/Van/Trailer Manager, Kitchen Manager, Fire/Energy Manager, Repair Manager and Sweep. Each Job is essential to living life in this group and when everyone does their job, our group works smoothly. Each person is responsible for their job and the group relies on them. My Big Job was Food Manager along with another student. We had many learning opportunities, from forgetting food on expedition to having to shop at weird Texas grocery stores to simply being in charge of all the food for fifteen people for three and a half months. This job was essential and I'm so happy to have had it because I think I will use it way more in my life than I will use stuff that I would be learning back at "normal school." 
On our numerous expeditions, I became part of the land around me and learned how to live so simply and be the most happy I have ever been. We weren't surviving in the wilderness, we were thriving in the wilderness. Everyone knew what needed to be done when we found a flat camp spot and did their Big Job work efficiently. The camps we created were beautiful. Each Big Job had a certain pro tip way of camp set up and we learned all of them. If there was too much firewood then we would have to throw the extra away leaving a trace that we had been there, so we learned how to gather only the perfect amount of firewood. The fire manager learned how to see which way the wind was blowing before setting up the stove so that the smoke blew away from the circle when we sat. We enjoyed the home space we had created, and we rewilded it in the morning.
"I long, as does every human being, to be at home wherever I find myself." ~Maya Angelou.
We ended each day by hearing everyone share. We poured our love and attention into each person as they spoke openly. We reached a point as a group where we did "long shares." We had 15 nights, each one for a different person, giving 10 minutes and letting them share their "life story," however they wanted to go about that. It was really special to see that deeply into someone as they spoke and to feel so much trust within each connection. After finishing with your sharing you say, "I have spoken." The group takes a breath and says, "I have heard," in a resounding chorus. 
I have learned how to live. I have jumped off cliffs naked. I have cried under the bright twinkling stars. I have fallen into cacti. I have slept in a bed of hay, slept on the hard rocky ground, and slept with charcoal ingrained in my hands and face. I have sat with my thoughts in the night and in the forest. I came across a lunar eclipse in the middle of the night. I have gone four weeks without a shower. I have felt the echo of a splitting log in my thoughts. I have learned how I can do anything because my mind is so strong. I have never thrived more than I did during this semester with Kroka. I know that because of this experience I will continue to grow and be inspired in everything I do. 
I want to encourage people who can, to step out of that brightly lit box, step away from the habits of this life full of technology, and go find what you are good at. Don't think you aren't capable of a happy life just because you are stuck in a system. Don't confirm your weaknesses; look for challenges that meet you. Go find a teacher who will teach in a way you understand. Because there are other options out there. Follow the bliss you dream of. 
Essay and Artwork by Willow Thelin